DakhaBrakha, Barbican, stage review: 'Riotous explosion of colour and reinvention'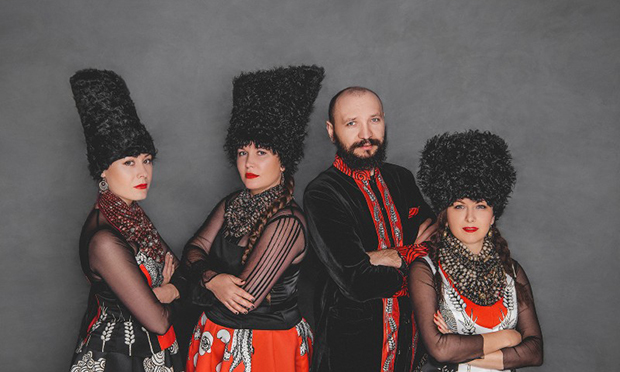 I find myself pleasantly surprised as I take my seat at the Barbican with what seems to be much of London's Ukrainian population.
DakhaBrakha may technically be a folk group who wear traditional Ukrainian costume, but there's nothing old-fashioned about what I witness.
Created as a theatre project in 2004, Marko Halanevych (vocals, goblet drum, tabla, didgeridoo, harmonica, accordion, cajón, jaw harp), Olena Tsybulska (vocals, percussion), Iryna Kovalenko (vocals, djembe, flute, buhay, piano, ukulele, zgaleyka, accordion) and Nina Garenetska (vocals, cello) have gone from strength to strength. World tours, four albums, and a lot of instruments.
Theatricality has never left the band. They stride on to the stage in heavily embroidered costumes, black and white, with the signature kovpak hats rising above the woman's heads. Halanevych's bald head glints, pointing out of his black cape and backlighted by the kaleidoscopic projection work that accompanies all of the songs.
Musically, the whole experience is a riotous explosion of colour and reinvention. The classic Eastern European folk base is there, with belting, complex and hypnotic harmonies. Layered over this is Halanevych's eerie falsetto and the innumerable instruments that appear in the performers' hands and mouths. Garentska's cello brings an almost rocky kick to the proceedings, and mouth-harps make links to the indigenous Australian-style art on the screen.
People actually get up and dance! In the Barbican. It's a rare and beautiful sight. The band holds us in their hands with the frenetic blend of musical styles and pounding energy. In one section, the audience is asked for "our hearts and hands" as we clap out a beat for the song.
Despite a mainly Ukrainian set, a song in middle English, Shakespeare's Sonnet 77, fits surprisingly well into the group's ever-morphing style. This "absolutely English song" is another triumph and a clever nod to the setting.
The lighting infuses each song with such a wash of feeling. The group dives into a piece as red tones mix with an animation of the Knights Templar behind them, providing a stormy religious feel.
In another moment, we are challenged by the group's introduction "from a free Ukraine", reminding us that they are anything but just pretty sounds – there is real thought put in here. This is partly down to creator Vladyslav Troitskyi's clear vision and direction.
Having arrived with no preconceptions and a vague idea of pleasing harmonies and sad songs about lost loves, I was utterly entranced.
I urge you to download their albums, book their concerts and fall deeply in love (as I did) with this most unique concept. Weird, wonderful, and totally themselves.
DakhaBrakha performed for one night in January at the Barbican.
To find out more about upcoming shows at the venue, visit barbican.org.uk.