Campaigners stage mass rally in last-minute bid to stop deal for controversial new incinerator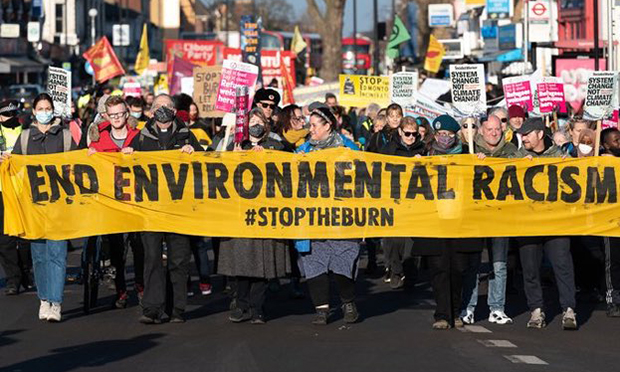 Anti-incinerator protesters took to the streets yesterday in a last-minute plea to stop a deal being signed for an expanded incinerator that will burn waste from north London.
Campaigners from Stop the Edmonton Incinerator Now – made up of 50 groups – gathered in Edmonton to urge the North London Waste Authority (NLWA) not to sign the contract which will green light the plan.
Organisers estimate that 600 people turned up to the rally.
Residents have also been calling on councils to hold emergency meetings ahead of signing the deal.
Some people are also staging a council tax strike.
Campaigners say the incinerator will damage the environment and pose a risk to health. They say the location means it will also disproportionately affect Black people living nearby.
Ben Griffith from Islington Environmental Emergency Alliance is amongst eight borough residents participating in the council tax strike by holding back £10 from his payment a month.
"It's a token protest against being asked to subsidise this incinerator. The numbers of strikers are going up," he said.
Campaigners talked to passers-by about their concerns during the march from Edmonton Green to the North Circular.
They are launching a crowdfunder to raise £6,000 for legal advice about challenging the NLWA decision in the courts. It could see them take the waste authority to a judicial review.
The NLWA, which is made up of seven councils – Barnet, Camden, Enfield, Hackney, Haringey, Islington and Waltham Forest – is due to sign the paperwork tomorrow.
It says the incinerator is needed to cope with the growing problem of waste collected by the seven councils, and will generate energy to heat 127,000 north London homes. They say it will also prevent rubbish being sent from landfill, and that it is working hard to boost recycling rates and lobbying businesses to cut down on packaging.
The construction plans also include an extended recycling facility and an education centre.
Councillors from the NWLA voted in December for the scheme to go ahead, although members from Haringey were against it.
Campaigners have addressed council meetings throughout north London, calling for a rethink.
They said: "The incinerator is an environmental disaster; it is predicted to emit 700 thousand tonnes of carbon dioxide into our atmosphere every year – the single largest source of carbon emissions in north London. It is unjustifiable in the middle of a climate emergency.
"North London has some of the lowest recycling rates in the country. There is huge scope to reduce, reuse, and recycle much more of our black bag waste instead of burning it.
"Use the money you plan to invest in the incinerator to create a modern waste management system."
Hackney resident Dr Rembrandt Kopperlaar, from XR Zero Waste, said more should be done to recycle waste and harness the latest technology to recycle plastic and turn organic waste into biomass.