'Colourful promise with nothing to back it up': Artist Simon the Last takes aim at high-tech with light show in an empty shop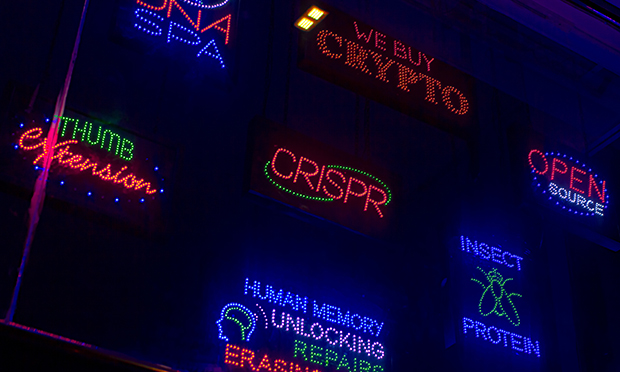 Digital technology has led to colossal changes in our lives, but at what cost?
In a light installation entitled We Will Still Be Here/Will We Still Be Here, artist Simon the Last uses an empty shopfront on Murray Grove in Hoxton to explore the ways in which our material existences have been warped by the upsurge of high-tech.
The window – convenient for safe 24/7 pandemic viewing – is populated by neon signs naming some of the real and imaginary ways that our traditional worlds have been eviscerated.
From 'We Buy Crypto' to 'Human Memory Unlocking Repairs Erasing Here' and 'DNA Spa', the 10 images are between them crafted from over 3,600 individually-installed LED lights.
The very fact of vacant commercial premises so close to central London is a mark of how far our communities have come from the vibrant parades of local shops teaming with grocers, bakers and post offices that were familiar until relatively recently.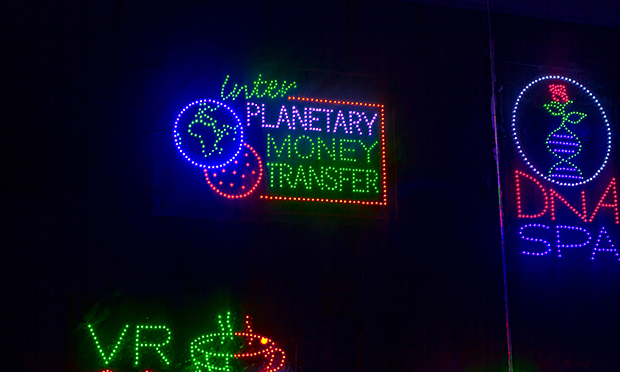 Nestled in between Shepherdess Walk and New North Road, Murray Grove is at the heart of a densely-populated residential area, yet the street is oddly empty and boasts only a handful of occupied units.
The surreal economy of the 21st century is figured in the emptiness of the installation shop itself – all signage, no goods.
The artist explains: "I want to present today's cutting edge/near-future technology as a cheap, pedestrian, high street offering.
"From the outside the spectacle is alluring, but behind it is an empty space – a colourful promise with nothing to back it up.
"I want to present a future where shiny things that once attracted billion-dollar market capitalisations are now run-of-the-mill retail, and nothing has changed for the better."
We Will Still Be Here/Will We Still Be Here by Simon the Last runs until 13 February at 103 Murray Grove, N1 7QP.
For more information, visit simonthelast.com.