Pop-up vaccine clinics are pulling into Liverpool Street station – with health bosses hoping to reach waiting commuters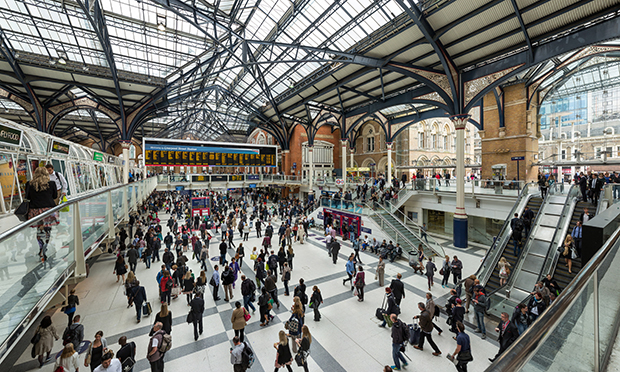 Commuters at Liverpool Street could be encouraged over the public address system to get walk-in vaccine appointments at a pharmacy inside the busy station.
Pop-up vaccine clinics at Liverpool Street and the nearby Boots will be running weekly walk-ins from tomorrow.
City and Hackney's outbreak control board heard that it is hoped these measures can be announced over the loud speaker to attract people waiting for their trains to turn up.
Across the City of London and Hackney, 63 per cent of people have now had their first vaccine, with 57 per cent jabbed twice. The booster, or third vaccine dose, has been given to 61 per cent of eligible people.
The campaign to get more people vaccinated because of the highly transmissible Omicron variant saw 26,222 people get their vaccines in Christmas week – the highest since the programme began. This included 23,696 who had the booster.
Vaccination centres and community pharmacies worked around the clock to get as many people jabbed as possible.
A push in some of the areas with lower take-up than the 65 per cent average for people over 16 helped to boost the numbers, said City and Hackney's Covid vaccination programme director Ben Greenbury.
"We are still continuing to push the first and second doses as well," he said.
The biggest improvement was in Port Soken in the City of London with an eight per cent increase.
Whilst Cazenove, Springhill and Hoxton West wards did not reach the 60 per cent target, Greenbury said "we did see really good improvement of five to six per cent on average for these areas", and work will continue to encourage more people to get protected.
Between October and December, 1,529 people got vaccinated at outreach clinics. These include 1,158 at Springhill practice in Hackney along with 192 vaccines given to Afghan refugees, and 171 at the Vi Forrester Community Hall as part of a pilot to get more people on Hackney's Kingsmead Estate vaccinated.
Teams at the Greenhouse practice in Tudor Road, which specialises in caring for homeless patients, vaccinated 36 people, and 42 people got their jabs at Mansion House.
The outreach programme will continue over the next three months, with more pop-up clinics planned at a synagogue to reach Orthodox Jewish residents.
Other vaccine sessions include more outreach clinics at the Greenhouse and Church Walk practices in Hackney.
It comes as the government announced a £185,000 cash injection for the community champions programme, which is designed to improve vaccine take-up, as part of a package for councils across the country.
Practices in City and Hackney are calling and recalling over-70s who have not been boosted, the outbreak control board was told.