Union protests against suspension of staff member at homelessness charity – and wants Hackney Council to 'demand reinstatement'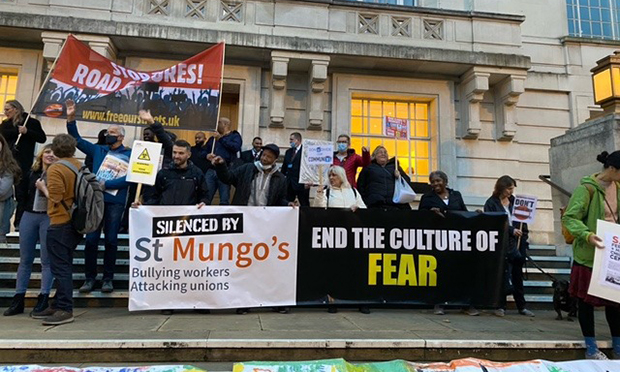 Campaigners are calling on Hackney Council to use its influence with a homelessness charity over a dispute about a union representative.
Unite is battling St Mungo's charity's decision to suspend a manager in the reactive repairs team.
The union claims the suspension came after the manager raised a grievance about alleged bullying.
It wants Hackney Council, which funds 20 projects run by the charity, including outreach projects for homeless people and rough sleepers, to step in.
Unite recently staged a protest on the Town Hall steps to attract councillors' attention.
The manager is a union rep and Unite claims he raised concerns when he was asked to discipline a staff member over her work after her return following cancer treatment.
Unite also claims that St Mungo's is "anti-union", and says several union reps have faced "formal processes regarding their own employment".
A spokewoman for the charity said: "St Mungo's refutes any allegations of bullying, and rejects the accusation it is in any way anti-union."
Unite alleges one of the reasons cited for the manager's suspension was that he ate a biscuit during an online meeting.
The union's regional officer Steve O'Donnell said campaigners want Hackney Council "to use its influence to demand that its partner St Mungo's reinstates our union rep without delay".
He added: "The fact that the bizarre charge of our rep eating a biscuit was cited by management is proof enough of a disturbing attitude.
"However, suspending the rep for raising concerns about being forced to discipline a staff member who had recently returned to work following cancer treatment is absolutely unacceptable.
"It is vital that staff in an organisation working with vulnerable people feel able to call out poor practices and to question senior managers without fear of retribution."
St Mungo's said it has a clear policy on bullying and harassment which applies to all staff.
Its spokesperson added: "We recognise two unions – Unison and Unite the Union – and respect the right of our staff members to join the union of their choice.
"We are aware of Unite the Union's activity to put pressure on those who work hard to support us, and its call for us to reinstate a member of staff who has been suspended in line with our policies and procedures.
"Matters are ongoing, and it is not appropriate for us to comment on individual cases. Our focus remains on our work supporting our clients as they recover from homelessness."
In April, two thirds of Unite members in the property services team voted to strike before returning to work in July following talks with St Mungo's.
The charity said it "committed to undertaking an independent review into the handling of the allegations of bullying and harassment, including the consistency and justness of the process".
It said both unions were involved in the review and it continues to work with them.
Hackney Council has not responded to requests for comment.