Council unveils £400k fund to help Hackney's cultural institutions recover from the pandemic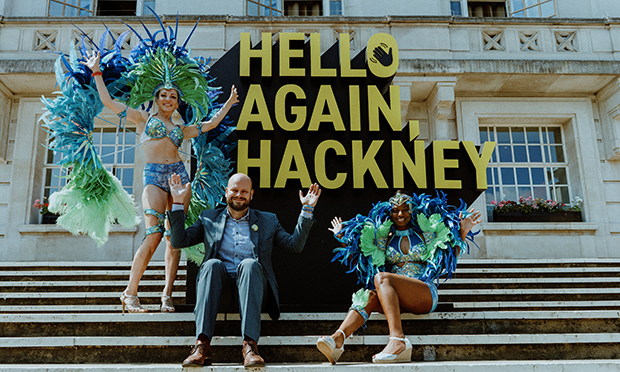 Hackney Council has announced a £400,000 fund to help the borough's arts institutions bounce back from the pandemic.
The money will go towards special offers, discounted tickets and pop-up events at around 80 participating venues, which can take advantage of the one-off £5,000 grants on offer.
The funding is the centrepiece of a new Town Hall campaign called Hello Again, Hackney, which will see adverts popping up across the borough to promote local businesses and encourage people to share stories about their favourite haunts.
The campaign has also put together a calendar of upcoming events and activities, as well as a summer guide for young people and families.
Arcola Theatre is one of the many venues taking part, not long after putting the finishing touches to its brand new outdoor stage.
Co-founder and executive producer Leyla Nazli said: "Arcola is thrilled to be back with our new venue Arcola Outside. Built with audiences' wants and needs in mind, it benefits from being outdoor and sheltered.
"Home to our Today I'm Wiser festival, it currently hosts a lively modern adaptation of Marivaux's The Game of Love and Chance. You can also find us at Hackney Empire, staging Wagner's Die Walküre, marking the return of the Grimeborn opera festival.
"It's great to be back, we hope you can join us soon."
Shoreditch Town Hall is also getting involved following a spruce-up of its façade, with chief executive Beth Byrne adding: "This autumn and winter we're bringing our community Tea Dances for older adults, young peoples' workshops, events for families, and a celebratory programme of performances to be announced soon.
"We're keen to ensure we welcome you back safely and confidently so we will continue to offer the choice to attend socially distanced events within our programme and we will maintain current Covid-19 safety measures to protect the health and wellbeing of all visitors.
"In support of our creative community, we continue to dedicate space within our building to offer free artist workspaces too, supporting artist development and the creation of new performances for Hackney audiences of the future."
And of course there's a #HelloAgainHackney gif/Boomerang https://t.co/Kp2SRzGuIO pic.twitter.com/GHV1l7CCDG

— PhilipGlanville (@PhilipGlanville) July 22, 2021
Mayor Philip Glanville launched the campaign on the steps of the Town Hall alongside Hackney Carnival regulars Tropical Isles – a moment captured in a Boomerang clip that is sure to live long in the memory.
Glanville said: "Our borough is world-renowned for its incredible creativity and culture, but it's the local staff, artists and performers who make it what it is. We must all support them if we want to keep them, and I can't wait for our venues and high streets to safely welcome back audience members and customers from Hackney and across London over the next few months.
"Our local economy and cultural institutions have been hit hard by coronavirus, and that's why we have sought to develop this fund to help support some of our most badly affected businesses and encourage people to rediscover what they love about Hackney again.
"I'm so proud of everything our borough has achieved over the last year – but I know that many people are close to burnout. It's vital that together, we demonstrate the Hackney spirit that has got us through these trials and challenges by supporting each other, our businesses and our communities in the next few months.
"The pandemic hasn't gone away, so it's vital that as people start to book that gig or dinner, or simply visit their favourite Hackney spot, they continue to follow sensible public health advice and respect each other.
"It's time to say hello again, Hackney – see the best our borough has to offer."
Despite the government's decision to end most coronavirus restrictions earlier this week, the council is continuing to urge residents to wear a mask in indoor and crowded public spaces and follow sensible public health advice.
Applications to the Hello Again, Hackney Cultural Venues Reopening Fund close on 30 July. Funded activities can take place at any time until March next year, but those taking place between September and December 2021 will benefit from free council promotion as part of the campaign.
For more information or to apply, visit lovehackney.uk/cultural-venues-reopening-fund.