Community stalwart to replace slave trader's name at public garden in Homerton
A Homerton park once named after a slave profiteer is set to be called Kit Crowley Gardens after a vote by local residents.
Kathleen 'Kit' Crowley, born in 1918 to a Barbadian father and English mother, was a beloved member of the community who worked at Wentworth Nursery and spent more than six decades supporting her neighbours up until her death in 2018.
Her name will now adorn the park that was until recently known as Cassland Road Gardens after John Cass, director of the Royal African Company, which transported approximately 212,000 enslaved people between 1662 and 1731 – 44,000 of whom died on route.
The renaming is the first success for Hackney Council's Review, Rename, Reclaim project, set up last year amid the worldwide anti-racism reckoning sparked by the murder of George Floyd.
Kit Crowley's son John said: "Fifty, maybe sixty, years ago, a college sat close to these gardens – a college where my mother worked as a cleaner. When the college made way for housing, it seemed the bricks had crushed the past.
"Now the past is restored. Her spirit will forever have this haven, free from dust and traffic, a place of peace and trees and flowers to rest and sit and smile."
Around 650 people took part in the consultation to select the new name after signs bearing the previous name were removed in December 2020.
A community steering group of local community leaders, cultural experts, historians, teachers and young people shortlisted the names of four people who reflected Hackney's African or African-Caribbean heritage and had links to the area.
More than half of Cassland Road residents chose Crowley.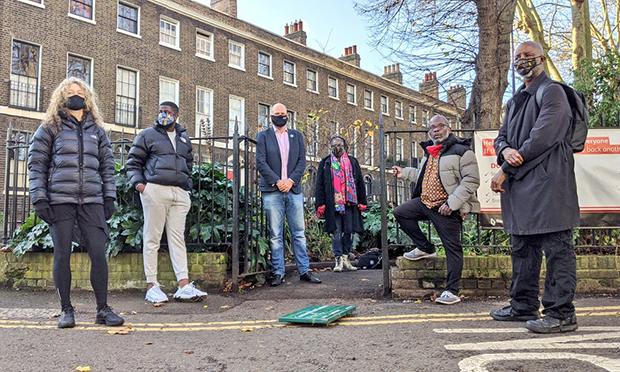 The Review, Rename, Reclaim initiative is looking into three other contested figures: Francis Tyssen (1625-1699), absentee plantation owner, shareholder of the Royal African Company and an active member in the East India Company; Robert Geffrye (1613-1704), an East India merchant and shareholder of the Royal African Company, who directly profited from the trafficking of enslaved Africans; and Cecil John Rhodes (1853-1902), a British imperialist whose policies and practices have had a lasting negative effect on southern Africa.
A statue of Robert Geffrye at the Museum of the Home in Hoxton has been the focus of numerous protests over the past year following the Museum's refusal to take it down.
Town Hall equalities boss Cllr Carole Williams, who has been at the forefront of those protests, said: "Over the last year we've all been on a journey into Hackney's sometimes hidden diverse history, and I'm proud that Kit Crowley Gardens will be the first place to be renamed in our review.
"We believe that after the movement over the last year, it's right that we all take the time to learn about the past and reflect on whether our public spaces best represent the communities that live here.
"2020 will be remembered for a long time to come – the pandemic revealed the extent of inequalities across society. The shocking murder of George Floyd set off a chain reaction which has left the UK asking questions about our own history and structures. The reverberations and responses were visceral, genuine and heartfelt. If we fail to learn the lessons from 2020, we fail our communities.
"In Hackney, we committed to reviewing the names of places and spaces – part of our longstanding anti-racism work. Changing the name of this garden is a start of our journey to ensuring public space reflects who we are and what we stand for – elevating those who have made a positive contribution to our borough while retaining the story of those whose names we are removing."