Protesters demand removal of slaver statue as Museum of the Home reopens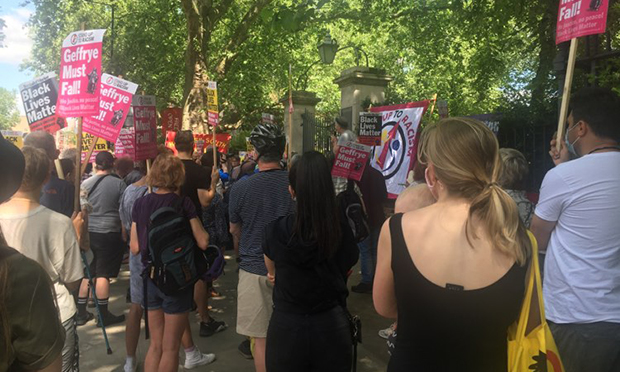 Chants of 'Geffrye must fall' rang out on Kingsland Road last Saturday as demonstrators gathered outside the Museum of the Home as it reopened to the public.
The peaceful protest came in response to the Hoxton institution's decision to keep a statue of slave trader Robert Geffrye above its entranceway.
Speakers at the demonstration included local Diane Abbott MP and Mayor of Hackney Philip Glanville.
Abbott told the Citizen: "The protests against the statue at the former Geffrye Museum are entirely legitimate and peaceful and I support them.
"Robert Geffrye was a slave trader. Honouring his memory in this way is an affront to his victims and offensive to all of us who abhor slavery.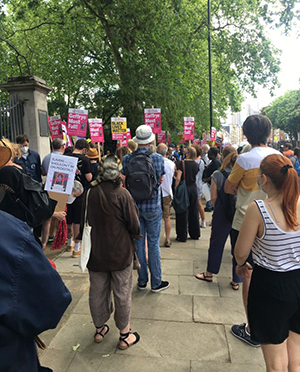 "Museums should be places of learning about our history, among other things. Removing the statue should be an opportunity to highlight and learn from this shameful period of British history."
A petition launched by Hackney Stand Up To Racism urging the museum to move the statue from its current position has so far gained more than 7,000 signatures.
As a result, the museum held a public consultation, with 71 per cent of respondents answering that they were in favour of moving the statue.
However, the Museum of the Home chose to keep the statue where it is.
Documents later revealed the pressure the Museum had been put under by the government to retain the statue.
Legislation has since been introduced that means planning permission is required to remove historic monuments.
A spokesperson for the museum said: "The Museum of the Home fully supports the public's right to a peaceful protest. A protest took place [on Saturday] at the Museum. Our visitors were able to continue to enjoy the new galleries and gardens safely.
"The ongoing debate about the Geffrye statue raises important questions. The Museum is continuing to listen carefully to all the issues raised and is committed to being open about the history of Geffrye on site and online and to confront, challenge and learn from the uncomfortable truths of the origins of the Museum buildings.
"Alongside the debate about the statue, the Museum is committed to a transformative programme of structural and cultural change to become truly representative and inclusive, through our new galleries and displays, creative programming, partnerships and workforce."
Activist Sasha Simic said: "The protest has been a really great success. I think the vast majority of workers at the Museum say 'Geffrye must fall' but it's the government – via [culture secretary] Oliver Dowden – that is defending this monument to a monster and stopping its fall."
Update: this article was changed at 14:00 on Wednesday 16 June 2021 to amend an inaccurate quote attributed to Sasha Simic.