Campaigners call out Town Hall over £35m fossil fuel investments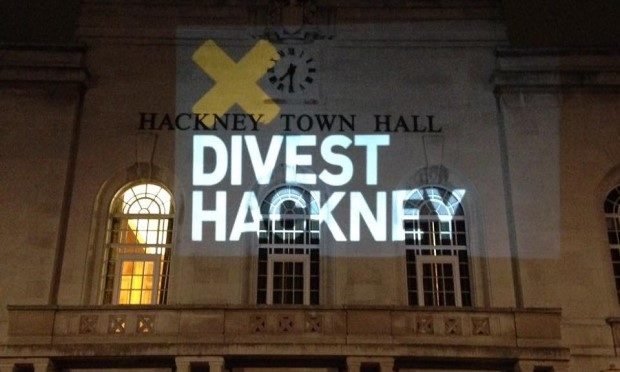 Activists have criticised Hackney Council for its continued £35m investment in coal, oil and gas companies, despite its declaration of a climate emergency last March.
Divest Hackney and Extinction Rebellion, pointing to the Platform and Friends of the Earth report into local authority pension fund investments, are repeating calls for the Town Hall to end their investments in companies including Shell, BHP and BP.
According to the report, the Town Hall's pension fund has £34,810,820 invested in fossil fuels, representing 2.35 per cent of the fund's total value of just under £1.5bn.
The lowest level of carbon investment of a London borough represented in the report is Hammersmith & Fulham, which has a margin of just one per cent of its over £1bn fund invested in fossil fuels.
Stine Wilhelmsen of Divest Hackney said: "Once again, Hackney Council is shown to be failing in their responsibility to protect the future of its residents and safeguard the savings of its pension holders.
"In a year when the world is looking to the UK to show climate leadership, we hope this report is a wake up call for the council and that they will finally put their money where their mouth is."
Divest campaigner Sam Roth added: "At a time when we need strong leadership from local government Hackney is trying to have it both ways. You can't declare a climate emergency and continue to pour millions into climate wrecking companies that destroy communities across the world."
Responding to the challenge, the Town Hall argued against the way the report measures its progress, saying it takes no account of fluctuations in the market value of investments, with a spokesperson adding that a comparison of a value of holdings at two points in time "does not represent a true comparison for measuring success".
The council points to its reduction in exposure to fossil fuels by 31 per cent, which represents 60 per cent of its target, in February 2020, further arguing that the amount invested in fossil fuels in 2015 was £42m, since reduced to £35m, while the fund's total value has grown from £1.175bn that year to £1.682bn by the end of 2020.
This would mean that the level of investment in fossil fuels by Hackney has dropped from around 3.6 per cent of the fund's total value in 2015 to its present level of 2.35 per cent.
Hackney has said its target of a reduction of 50 per cent over a six-year period align with the 'two degrees' scenario set out in the Paris Agreement, calculated by looking at emissions across its entire investment portfolio, rather than its holdings in fuel companies, adding that: "It will take time to move fully away from fossil fuel investments, though this is our aim for the future."
Campaigners, highlighting commitments from Southwark, Islington, Lambeth and Waltham Forest to divest fully, have also pointed out that the report only considers pension fund investments by local authorities in the top 200 "most harmful" fossil fuel companies globally, with the national figure in investment likely to top £10bn if all fossil extractors and companies providing services to the industry were considered.
Extinction Rebellion (XR) activists have also called for an end to Hackney's involvement with Shell, BHP and BP, pointing to investigations over alleged corruption by Shell in Nigeria, BP's responsibility for the world's largest ever oil spill at Deepwater Horizon and planned oil exploration on wildlife reserves, and the lawsuit faced by BHP following the Mariana Dam disaster.
XR Hackney's Dr Juliet Bottle said: "Hackney council declared a climate emergency but use council workers pensions to fund fossil fuel extraction and ecological breakdown.
"If they are serious about climate and racial justice, Hackney Council must end these immoral investments now."
The burning of fossil fuels accounts for 87 per cent of the world's carbon emissions and the air pollution from burning fossil fuels is estimated to cause 3.6 million global deaths every year – six times the annual death toll of all murders, war deaths and terrorist attacks combined.
The report also points to the financial risks that pension funds face by continuing to invest in fossil fuel companies, with the value of oil company shares owned by UK public pension funds falling by £2 billion in less than four years, with Divest questioning the financial prudence of continued investments in fossil fuel companies.
Campaigners have pointed to findings by MSCI, which runs global indices used by 6,000 pension and hedge funds, showing that investors who divested from fossil fuel equities would have earned an average return of 13 per cent a year since 2010, compared to the 11.8 per cent a year earned by "conventional investors".
Divest Hackney has received more than 2,400 petition signatures from residents urging Hackney Council to divest from fossil fuel companies.Rianna Gargiulo, divestment campaigner at Friends of the Earth, said: "Declaring a climate emergency may garner good headlines but too often it seems to stop there. Councils can't make a bold claim about saving the planet while continuing to invest in fossil fuels. Local authorities have the power and duty to ensure local workers not only have a pension for their retirement, but also a future worth retiring into.
"Instead of stubbornly sticking with old systems of investment that worsen climate breakdown, councils should invest in renewable energy and social housing. These are the areas that benefit communities and households and are a better investment in every sense."
Cllr Robert Chapman, chair of Hackney's pensions committee, said: "We are determined that we will remain at the forefront of those pension funds taking action to tackle climate change risk as the world moves towards a fossil fuel free future.
"In recent years, we have reduced our exposure to fossil fuel reserves and are on track to reduce this by at least 50 per cent over six years, in line with the target set by the fund.
"Our target is in line with the Paris Agreement and we see it as a step towards a fossil fuel free fund in the future.
"Alongside this specific fossil fuel target, the Fund believes that engagement with companies on climate change and other environmental social and governance issues is incredibly important. We continue therefore to be active members of the Local Authority Pension Fund Forum, an umbrella body which engages with companies on these issues on behalf of most of the UK's council pension funds."