US takeover of Hackney GP practice sparks fears of 'trojan horse' privatisation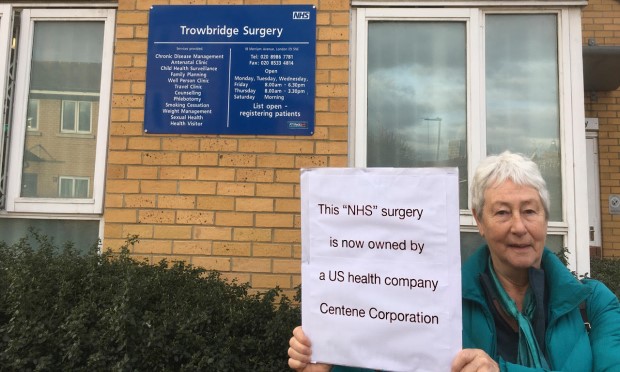 Campaigners are raising the alarm over the change in ownership of a number of GP practices, including 11 in north-east London and one in Hackney, to the subsidiary of a US health insurance group.
Keep Our NHS Public (KONP) is seeking answers from the committee that commissions healthcare across north-east London over a variation to the contract of AT Medics, control of which has been transferred Operose, a subsidiary of American healthcare corporate Centene.
AT Medics' contract includes Trowbridge Surgery in Hackney Wick, which holds a 'Good' rating from the Care Quality Commission (CQC).
When approached for comment, both Operose and the local health system moved to reassure residents that day-to-day operations and care will see no change.
Carol Ackroyd, on behalf of Hackney KONP, said: "Centene's arm Operose [is] now being in a position to change the character of the delivery of this contract, since it is a major conglomerate rather than a group of GPs.
"It is good for neither patients nor for the NHS to have contracts for NHS services viewed as transferrable assets to be bought and sold with little transparency and no chance for the public to make its voice heard.
"Never has there been greater need for the public to be able to trust GPs and primary care. We are shocked to hear that many practices across London are passing into the control of Centene. It seems that AT Medics is being used as a trojan horse to enable this takeover.
"Does the committee governing primary care in north-east London feel comfortable about this change and will they work actively with other CCG commissioners and local authority partners to oppose this and any similar proposals?"
Ackroyd called on the local clinical commissioning group (CCG) to ask its opposite number in north-central London to review the decision to award the contract for services to AT Medics Ltd, and to withdraw from the contract if legally possible.
AT Medics is made up of two companies; holding company AT Medics Ltd, and AT Medics LLP. The change of control will see AT Medics Ltd continue to run its primary care contracts, with the LLP transferring to Operose, which according to minutes on the decision taken by the north-central London CCG will "strengthen work on population health management and digital".
According to the documents, legal advice was sought on whether the change of control would warrant a procurement process, but AT Medics pointed out as part of due diligence that the London contracts remained with AT Medics Ltd.
The decision provoked "deepest disappointment and gravest foreboding" among doctors' trade union Doctors in Unite on the change in arrangements to AT Medics, which is the largest provider of primary care services to the NHS, with the union demanding that the affected CCGs terminate all contracts held by AT Medics/Operose, with a further call for outsourcing to the private sector be stopped.
The union said: "We have been warning for years that US health care firms are circling to swoop on the NHS. Our fears are dismissed by politicians and senior NHS managers.
"The public are constantly told that the NHS is not being privatised. The advent of Centene onto the General Practice landscape across London reveals yet again, the this is a lie.
"In reality the NHS is being parcelled up and sold off under the radar."
A spokesperson for the north-east London collaboration of clinical commissioning groups said: "Whilst the holding company of AT Medics Ltd, which runs a number of GP practices across London including the Trowbridge Surgery, has transferred to Operose Health the contract owner remains AT Medics and does not affect service provision in any way.
"Change in ownership is allowed under the GP contract and there was no legal or contractual basis for the CCG to reject the transfer of ownership of AT Medics Ltd.
"Patient care is our priority, and patients will not see any difference in the way their GP practice is run. They will be seeing the same GPs, practice nurses and other health professionals as they do now; AT Medics have run the Trowbridge Surgery for many years and the practice is rated good by the CQC."
A spokesperson for both Operose and AT Medics said: "At the beginning of February, AT Medics and Operose Health came together as organisations with the aim of achieving high quality clinical outcomes and standards of care for our patients and communities. Day to day operations of Operose Health and AT Medics GP surgeries, the care that we deliver to our patients and the services accessed through our surgeries will not change.
"Only those who are involved in delivering patients' care have access to personal data. Patients' data will not be shared with anyone else, unless we are obliged to by UK law.
"We have followed all the required regulatory procedures, including obtaining consent from our CCGs. As a provider of NHS services, care remains free at the point of delivery. In addition, and as with all other GP services throughout the country, we will continue to be regulated and inspected by the CQC. Our focus has been and will remain ensuring we provide high quality care for the populations we serve."