Town Hall sets out 20-year vision for Hackney's parks and green spaces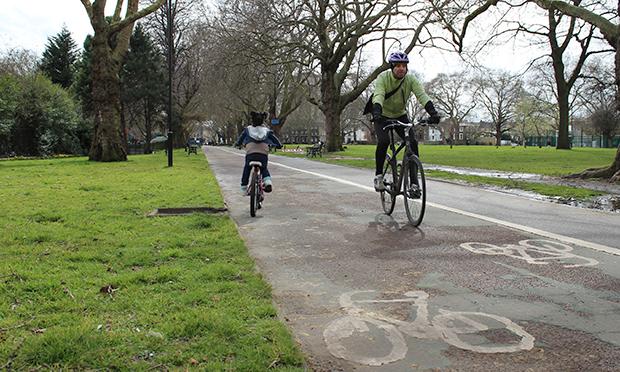 The Town Hall has laid out an environmental vision of the borough stretching out over the next twenty years – at a time when the importance of green space has never been clearer.
Three interlocking strategies in planning, design and management aim to turn the borough's environment into a network of green infrastructure, with councillors this week discussing ways to help the broadest cross-section of people have the widest access to Hackney's parks.
The proposals include the creation of green links to connect parks and open spaces along with new cul de sac parks and pocket parks, strategic planting to minimise air and noise pollution, the diversification of greenery to be drought-tolerant as the climate continues to change, the expansion of sustainable drainage to improve the borough's ability to cope with floods, and the promotion of urban greening including green roofs and green walls.
Shoreditch, De Beauvoir, Dalston and Haggerston are being looked at in particular as areas for greening, and there is a focus on the enhancement and creation of green links on the River Lea and Regent's Canal, with a map currently being put together to identify opportunities.
Public realm strategic director Aled Richards said: "The council has long recognised the significant impact that green infrastructure can have on its vision, and has placed very high priority in the DNA of all the services the council has, in improving the green infrastructure across the borough and the linkages between various infrastructure.
"We have a huge challenge in terms of climate change, and green infrastructure has an extremely important role in cooling the urban environment, reducing temperatures by planting large canopy trees, which in turn would improve the air quality.
"What we have seen over the last year especially during the pandemic and the trauma caused by it, the sheer importance of parks and the green infrastructure we have in the borough for local residents, both in terms of physical and mental wellbeing.
"What we are looking at now in terms of linking all these strategies together to put a robust strategy to get community food growing and also access to nature which has been demonstrated to have a beneficial impact on mental wellbeing.
"We've had more use of [parks] than we have ever seen before, which has raised certain issues over the summer because of the sheer amount of people, but shows what a vital resource it is for residents, many of whom do not have access to private gardens and are utterly reliant on the parks and open spaces we have in the borough for their physical and mental wellbeing.
"By linking these parks together, we are looking at improving the infrastructure we have got for cycling and walking in order to improve the health of the population."
The vision at the heart of the Town Hall's strategy is that by 2040 Hackney will be "a series of liveable neigbourhoods that are resilient to the effects of climate change, provide a network for wildlife to thrive and promote the physical and mental health of its residents".
The plans envisage a system whereby residents would be able to more easily plan and host community events in parks and green spaces, while expanding the numbers of wild areas as well as cafes and food outlets.
The strategies also point to a significant reduction of 50 per cent in a handful of years in the amount of glyphosate sprayed in the borough, with officers noting a consultation calling for a review of all chemicals used by the local authority to kill weeds.
Seven wards in the south and west of Hackney have been identified as deficient in access to open space, with local parks forum chair Cllr Ian Rathbone suggesting green trails to leafier parts of the borough to enable greater access to parks for those living in these areas.
Key to the council's vision is using the planning system to embed new green space and to enrich what already exists through guidleines for new developments, as well as the "innovative repurposing of highways", with council officers pointing to controversial Low Traffic Neighbourhoods (LTNs) as "the beginning of a journey potentially looking at different uses of space".
Hackney Mayor Philip Glanville held up the Woodberry Down regeneration as an example of a council project with green infrastructure at its heart. While acknowledging the "controversy" in the recent felling of the Happy Man Tree in the area, the borough leader pointed to the project combining a tripling of residential density with a large increase in public green space.
Cllr Rathbone said: "Where the rubber hits the road for me is making it easier for people to run their own community events. People need to know if I'm running a community event next year, how difficult is it going to be, because it is rather difficult now.
"In terms of use of space, [the plans] talk about expanding the provision of food and drink. This is another old chestnut, but nevertheless it would be great if we had more tea/coffee places in our parks. How much can local people be involved in that?
"How are we going to keep on trying to get residents involved in our parks in different ways? Food growing is mentioned on estates, but I know some people would say, 'Can't we use parts of parks or other green spaces to grow food?'
"With the way the pandemic is going and the effect Brexit is already having on vegetable and fruit coming into this country, would it be a good idea to encourage more vegetable growing? How do we involve all our diverse communities in our parks as well through these activities?"
While greater involvement of the public in parks is a key plank of the council's thinking in its green infrastructure plans, discussions are already taking place over the borough's parks becoming too popular during lockdown.
Large numbers of people descending on London Fields during the summer caused headaches for locals with a range of antisocial behaviour, alongside unlicensed music events taking place at Hackney Downs, Millfields Park and Hackney Marshes. Cllr Penny Wrout dubbed London Fields "Benidorm" as a result.
Richards said: "The situation we were facing last year was absolutely appalling in London Fields. We did bring more enforcement resources in, but what we have tried to do this year is preempt the issues that we will have.
"What you have at the moment is a perfect storm, as people are being caged in for the next month and a half and when the first warm weather comes in April I expect to see a lot of release of frustration of peopel going to London Fields.
"We carried out a London Fields conversation with local residents, how they see it and what are their main priorities. preparing a briefing note on how to deal with some of the issues faced last summer nad how to resource so that a lot of the issues mitigated that we saw."
Glanville added: "We should remember that while we want to do more as custodians of our public realm and we recognise the term that Penny used earlier, there is a cost to education and enforcement, and we are going to have to recognise as an authority that if we want to manage a space like London Fields it is not easy and sustainable to just have an enforcement response.
"We are going to need residents to support us as we maintain those inclusive spaces for everyone coming out of the lockdown period. We can't just employ private security indefinitely to support the works of our parks and enforcement teams."
The borough leader stressed that making public realm areas more attractive was key to greater community safety, while pledging to weigh the balance in the "dilemma" of thereby making green spaces on estates destinations, creating implications for leaseholders for charging and cleansing.
Glanville also pointed to the volunteering and job opportunities the council is hoping to roll out through the development of such infrastructure projects providing the "green jobs for the future" on which his ambition is for the borough to lead the way.
Responding to the meeting, Hackney Green Party said: "The council is right to introduce a nature recovery plan, however we need to protect the biodiveristy we have, for example the biodiversity loss in Lea Marshes last year.
"We're concerned that by increasing the ease of putting events on in parks and increased commercialisation of the space, the council may reduce access for residents [and] increase noise.
"It's great the council is talking about green corridors in the borough, but it's equally important to campaign to protect the trees and green infrastructure that we already have.
"We're positive about improving green space on estates. It's vitally important that this is resident led. We must also protect green space on estates and wherever possible not build on them.
"It's great that Hackney Council is finally beginning to reduce its use of toxic glyphosate which is a potential cancer risk and could damage biodiversity. We've campaigned on this for years alongside Pesticide Free Hackney. It must end now.
"It's really important that children and young people are considered. If the parks are safe and accessible to young people they will grow up with a love of our fantastic green spaces and studies suggest improved mental health. Poor mental health in young people is an epidemic.
"A huge congratulations and thank you to the park services team for making our parks so wonderful, a jewel in the Hackney crown. They've literally been a life-saver for so many this past year."