Town Hall apologises for Stamford Hill Covid leaflet telling synagogues to close
Hackney Council has apologised for disseminating a leaflet around Stamford Hill that singles out synagogues for closure for all but exempt activities such as funerals, despite government guidance allowing individuals or single households to enter places of worship to pray.
Conservative Cllr Simche Steinberger hit out at the Town Hall this evening for the leaflet, which informed residents that "places of worship such as Shuls must close".
The leaflet has now been replaced with a similar one offering the full guidance for the safe use of places of worship, without referencing a particular faith.
In an interview with the Citizen, Steinberger pointed to high levels of coronavirus elsewhere in Hackney and said that the Charedi community in Stamford Hill is being stigmatised on account of enforcement measures taken in the north of the borough.
Steinberger, who said the leaflet had left him "gobsmacked and scared", said: "It's absolutely shambolic. It's a disgrace, this leaflet. It's just setting communities on communities, giving out false information. They have been asked to work with Conservative councillors to get this right, but they are obviously not interested.
"To give out wrong information and make other people who are not Jewish think that we are doing something wrong, it is stigmatising the community. The community are getting a little bit fed up. There was no mention of mosques or churches in Stamford Hill, only about synagogues. They have to work closer with the Conservative group, as they have failed. They are not doing a good job without it.
"There are quite a few non-Jewish people who live near my synagogue. When they see this leaflet coming into their house, that Jewish people are not supposed to go to the synagogue, and all of a sudden Jewish people go to synagogue, they would look at Jewish people and think they have broken the law.
"They would then quickly call the police, and put in a complaint because of the misinformation. It is a very weak apology. If I was the leader of a council giving out such a leaflet, I would resign."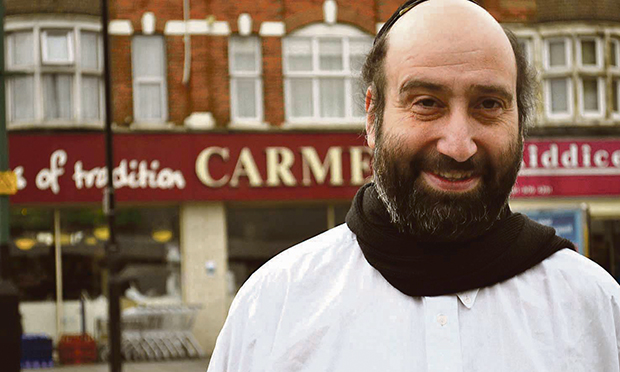 Steinberger, who claimed that last Saturday enforcement action had taken place four times in an hour at his synagogue despite Covid-secure measures being taken, added: "Covid is scary enough. What we are having to go through now because of this leaflet, it's beyond belief. As a resident in Hackney, this is totally unacceptable.
"They had put posters up everywhere on Stamford Hill – 'Beware, there is high Covid'. Obviously you write Stamford Hill, but if you read between the lines, they're pointing to our community.
"All of a sudden it seems that we're all criminals. I have seen the full force of enforcement in action in Stamford Hill for no reason. I feel that I'm trying not to go anywhere, as it feels like whatever I do is not right. There is something here that is focused too much."
The leaflet was sent to every home in Cazenove, Springfield and Stamford HIll in the week of 2 November, with the council saying it targeted areas with the highest rates of positive cases of coronavirus while also having high numbers of people who are digitally excluded due to cultural reasons.
After the original leaflet went out, the council is understood to have decided to update the information to include all exemptions from the guidance for clarity, following discussions with representatives from the Orthodox Jewish community.
The Town Hall has also said that posters warning of high Covid rates have gone up in all other high streets in Hackney, with everyone who receives council freesheet Hackney Life also receiving guidance on the virus.
An updated version of the leaflet is to be published in Heimishe newsheet this week.
According to the Town Hall, the now-withdrawn leaflet is the first communication on Covid in Stamford Hill which had not gone through its Orthodox Jewish communications co-design group, due to the speed at which council officers had to work as the second lockdown bit.
When approached for comment, the Town Hall administration provided evidence that it had invited Conservative leaders to discuss efforts to tackle high rates of coronavirus back in September, but had received no reply.
Since the start of the pandemic, Springfield ward in the borough's north has had the highest rates of Covid-19, with a total overall incidence of 2,992 cases per 100,000 people. Its weekly incidence currently runs at 159 cases per 100,000, with Dalston currently showing the highest rates in Hackney at 271 cases per 100,000 people.
A Town Hall spokesperson said: "We apologise for the omission of independent prayer and this will be corrected in all future communications."
Dr Sandra Husbands, director of public health for the City of London and Hackney said: "Throughout the pandemic we have been working closely with representatives from the Orthdox Jewish community to ensure key communications on Covid-19 are distributed to ensure all local residents can stay safe and do not breach the Coronavirus Regulations.
"This partnership work is key to effectively tackling the spread of the virus and I am very grateful for the continued support and widespread adherence to the coronavirus guidelines within the Orthodox Jewish community."