'More important than ever' for children to be vaccinated against flu, warns Hackney GP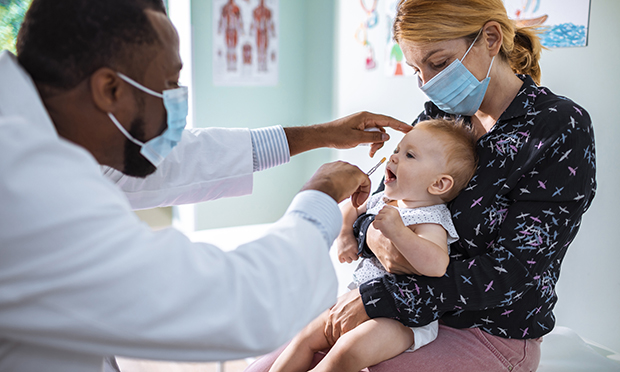 Parents in Hackney are being encouraged to support the NHS this winter by having their children vaccinated against flu with a "simple nasal spray".
Stamford Hill GP Dr Kirsten Brown says young children are "known to be super spreaders", and that having them immunised can make it easier for health workers to diagnose Covid-19, which can trigger similar symptoms.
Children aged two or three, primary school pupils, Year 7s and anyone aged between two and 17 with a long-term health condition are eligible for a nasal spray vaccine.
If a child is between two and three years old, parents and guardians should book them an appointment through their GP.
Schoolchildren can have the vaccine at school as long as the appropriate consent form is completed.
Dr Brown, who is also the flu lead at City & Hackney clinical commissioning group, said: "This year it's more important than ever that everyone who is eligible for the flu vaccination is protected against flu. With rising coronavirus infection rates, we all need to do everything we can to relieve the stress on the NHS.
"Flu is a serious illness and young children are known to be 'super spreaders'. Flu has similar symptoms to coronavirus, and if we know that your child has been vaccinated against flu, we can take that into account when treating these symptoms.
"Today we're appealing to the residents of the City and Hackney to make sure their children are protected by either booking an appointment with their GP or signing the consent form from their school.
"Children are treated with a simple nasal spray – it really couldn't be easier and you'll be helping to protect your child, your family and our NHS this winter."
Homerton Hospital health visitors are offering flu vaccines to two- and three-year-olds in Hackney at children's centres this weekend – to find out more, call 0207 683 2669 or 07787 845702
Below are a few frequently asked questions about the flu vaccine:
Does the vaccine give you the flu?
No. There is a widely-held perception that having the flu vaccine can give you a mild form of flu. This is just a myth.
Will my child have any side effects?
Most people don't experience any adverse effects, however the most common side effects are general aches and pains, a rash at the injection site and feeling tired. These will usually go away within a day or two.
Why is the flu vaccine important?
Influenza – flu – is a potentially serious disease that can lead to hospitalisation and sometimes even death. Every flu season is different, and influenza infection can affect people differently, but millions of people get the flu every year.
An annual, seasonal flu vaccine is the best way to help protect against flu. This year that is more important than ever. Coronavirus hasn't gone away, and the NHS is preparing for its busiest ever winter. We need to do everything we can to protect the NHS and make sure its resources – including hospital beds – are not unnecessarily stretched.
If everyone who is eligible gets the flu vaccine, fewer people will get the flu, giving the NHS more time and space to look after other patients across Hackney and the City.
Who should get the flu vaccine?
From September the flu vaccine is being offered on the NHS to:
Adults 65 and over
People with certain medical conditions (including children in at-risk groups from 6 months of age)
Pregnant women
People living with someone who's at high risk from coronavirus (on the NHS shielded patient list)
Children aged 2 and 3 on 31 August 2020
Children in primary school
Children in year 7 (secondary school)
Frontline health or social care workers
Later in the year, the flu vaccine may be given to all people aged 50 to 64. More information will be available later in the winter. However, if you're aged 50 to 64 and in an at-risk group, you should not delay having your flu vaccine.
Frontline health and social care workers are also eligible to receive the flu vaccine. Workers in this sector should speak to their employer about workplace vaccination dates.
Is the flu nasal spray vaccine okay to use for Jewish and Muslim children?
Yes! Both the adult vaccine and the children's nasal spray have been approved by Rabbi Avrohom Adler from the Kashrus and Medicines Information Service in Gateshead, who has advised the Government on kashrus issues. The Muslim Council of Britain has advice and the British Fatwa Council / Karimia Institute has issued a fatwa permitting children's nasal flu vaccine for Muslims. If you have any questions please contact your GP or pharmacist who will be happy to discuss your options.