Hackney marks Remembrance Sunday with 'small but moving' outdoor service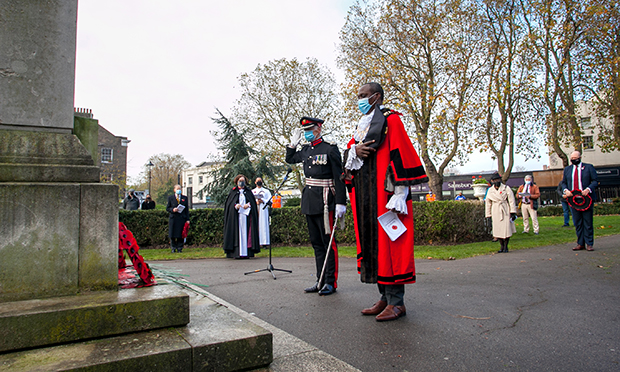 Local politicians came together for a small, socially distanced and moving outdoor service around the war memorial in the churchyard gardens of St John-at-Hackney yesterday to mark Remembrance Sunday.
The national lockdown means large gatherings were unable to physically meet to remember the men and women of the Armed Forces who have died in the line of duty, but wreaths were nonetheless laid at St John's monument in memory of Hackney residents who died in the First and Second World Wars.
Hackney Speaker Cllr Kam Adams and others including Mayor of Hackney Philip Glanville, Deputy Mayor Anntoinette Bramble, community safety lead Cllr Susan Fajana-Thomas, Hackney South MP Meg Hillier and the Queen's representative in Hackney, Lt Col Roderick Morriss TD DL, also laid wreaths at the Hackney Town Hall Cross, which remembers employees of the boroughs of Hackney, Shoreditch and Stoke Newington who died in the two wars.
Deputy Speaker Cllr Michael Desmond also laid a wreath at Stoke Newington War Memorial Hall, which commemorates the names of over 600 people who died in the First World War.
Addressing those present, Hackney Church Rector Revd Al Gordon said: "As we gather today to look backwards with gratitude, we look up in prayer and we also look forwards in hope that in our darkest moments, hope never disappoints.
"So whatever our background and our story, whatever our faith, whatever our belief, that together united we are far stronger than divided.
"That we are able to do so much more when we stand, as we are today, shoulder to shoulder, in giving thanks, and building a stronger world together."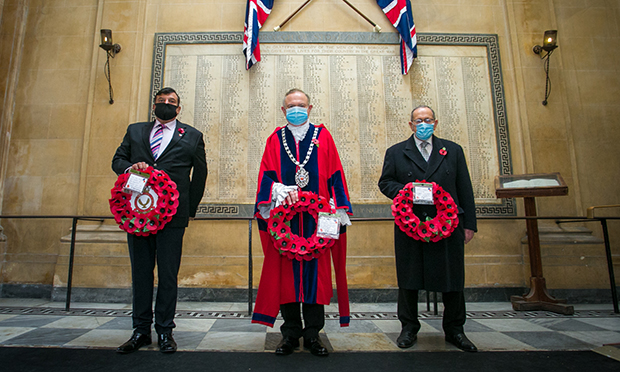 Speaker Adams added: "Although Remembrance Sunday has been different this year, it was very moving and it was an honour to pay tribute to our fallen service men and women from across Britain, Asia, Africa, the Caribbean, the Pacific, Australasia and all other Commonwealth countries who fought to secure the freedom we now enjoy.
"I am especially grateful that we found a way to mark this day in a safe and secure way as there are many local families who have been affected by war and would want to recognise the bravery and sacrifice of those who served in them.
"Residents may not have been physically present, but I'm sure that many will have marked the event in their own way at home."
Previous Remembrance Sundays have seen the participation of larger numbers of ex-service men and women, cadets, emergency services, school children and members of the community.
Tributes were paid following the service, which was led by Bishop of Stepney Joanne Grenfell, by Mayor Glanville as well as Hackney's two MPs, with Meg Hillier saying that while the event had "limited attendance" it was "no less important for that".
Hackney North MP Diane Abbott spoke in remembrance on the day of all those "who gave their lives for democracy", including troops from Africa, India and the Caribbean.
Hackney police officers also observed two minutes' silence outside Stoke Newington Police Station, with wreaths laid at the memorial honouring officers from the area who died in the Second World War.
Mayor Glanville said: "A special thank you to Hackney Church and all those from across Hackney who helped organise this morning's very different, but important and moving Remembrance Sunday ceremony." 
Cllr Fajana-Thomas added: "A small but moving Service of Remembrance in Hackney led by Lt. Colonel Morriss TD DL. At the going down of the sun and in the morning, we will remember."