Traders speak out in distress after crowds force Broadway Market to close early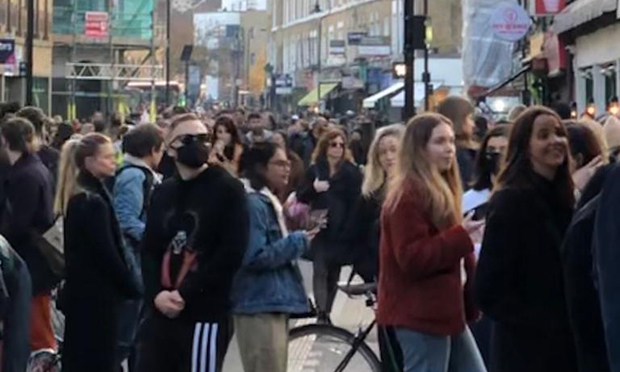 Representatives of the Association of Broadway Market Traders (ABMT) have spoken of their distress at scenes on Saturday, in which the sheer number of visitors forced the well-loved market to close early.
Hackney Mayor Philip Glanville has said that his administration would "reflect" on the events of the weekend, with ABMT today criticising the council for not doing enough to control the crowds.
The Covid-secure reopening of the market has been heavily publicised by the Town Hall, but ABMT's Louise Brewood is now urging it to go further by keeping a footfall count at the market's entry and exit points, with the Mayor saying over the weekend that the council would "review the position" at Broadway.
ABMT chair Irina Mavrodieva, who has had a stall at Broadway for over 15 years, said: "It looked like a disaster was ready to unfold since the moment I set foot in the market.
"All that needed to be done is to stop people entering the street and move along the ones that were there. They had enough barriers to block all the entrances and exits. If they can't control the street, they can't have the market. This was supposed to serve the community, not some ladies from Kensington.
"The council have created this situation, after they have been warned time and time again of the potential for trouble. Each concern was clearly identified to them. They chose to ignore it. For us Broadway Market is not just for profit – it's where we live.
"We did well, although the council kept adding stalls. We maintained a controlled environment under very difficult circumstances. It is delusional to think a market packed with partygoers is good for business."
Broadway Market closed early with an apology for inconvenience on the Saturday, saying that "protecting the community is our utmost priority", with traders praising council officers for moving quickly to shut down trading once it was clear they had become overwhelmed.
It is understood that the hot food market currently being trialled by the council on the Friday also had to close early, with Brewood saying it was clear that evening as well that things were "getting out of hand".
She added: "I was extremely overwhelmed and distressed myself by the volume of calls and messages I received from directly affected local residents. I was disappointed that all the Hackney services did not come together prior to the market on Saturday in readiness for what was raised at the meeting on Wednesday with the council's market department.
"At that meeting, we were reassured that all services, including enforcement, licensing officers, trading standards, environmental health – they should have all been out with large volumes of social distancing officers.
"I have constantly insisted since day one that we have footfall counted in and out so we can manage the flow. I have also fought from the beginning that we keep key fresh produce for local people, and we need to support as many small market businesses to trade as possible, and that needs to be done safely.
"That is why it is so frustrating for me because I'm stuck between trying to protect residents and market traders."
Brewood added she was proud of market traders for acting "quickly and responsibly" on Saturday, despite the shutdown representing a financial hit for those losing produce which could not be sold.
While both the rates of total coronavirus cases and of the incidence of the virus per 100,000 people have both begun to decrease in recent weeks, levels remain high in Hackney, with the most recent figures showing Broadway Market's London Fields ward sitting at 119 cases per 100,000 people, over double the rate at which local lockdowns should be considered under London's strategy.
Broadway was the last of Hackney's markets to open back in early August, due to its ability to attract large crowds down its narrow road, and has been the focus of alarm during lockdown as images have been widely shared of visitors thronging through the street.
Traders asked visitors in early August to "queue, shop and go", with the Town Hall currently running a survey over its trial of a food market on either the Friday or the Sunday, something that Brewood, while welcoming the opportunity for these traders to return to work, has previously raised concerns about. She fears a potential loss of the character of the original Saturday market through any expansion, as well as the impact on the neighbourhood of an increase in visitors during the summer months.
Speaking on Saturday, Mayor Glanville said: "We closed the market early and will reflect on what happened today. Not everyone in these images is breaking social distancing, but I can see the issues with the cumulative impact.
"Throughout the crisis and different phases of lockdown, the markets team have worked hard on safe operation.
"We have ensured our public toilets remain open and will review the position at Broadway Market.
"I would urge people to not gather in this way. Only the police can enforce social distancing and lockdown measures."
Community safety lead Cllr Susan Fajan-Thomas said: "We made the decision to close Broadway Market early on Saturday to protect customers and stall holders. While there were only 29 market traders operating out of 150, in line with our Covid secure guidelines, there were large numbers of people buying takeaway food and alcohol from nearby shops. This was the case across London over the weekend.  
"We will deploy additional enforcement and licensing officers to Broadway Market this weekend to ensure shops in the area are trading in line with government guidance.
"Given the small area between the market and shops, it is challenging to fence off the market as suggested by ABT, however we are working with traders on alternative layout options. This is reliant on visitors to Broadway Market observing government coronavirus guidance."
You can shop at Broadway Virtual Market through clickitlocal.co.uk and broadwaymarket.co.uk
EDIT: This article was updated at 12:24 on 11 November 2020 to include a statement from Cllr Susan Fajana-Thomas.