Stamford Hill residents raise concerns over Covid test centre on their block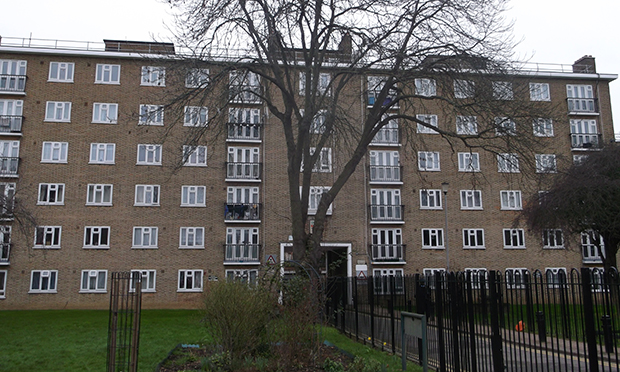 Residents in a block of Stamford Hill flats have raised concerns over a Covid testing centre being erected on their land.
People living at Sandford Court, understood to be a council block, claim there were just twelve hours between the Town Hall telling them that the centre would be put in place and work beginning on the site.
Photographs circulating on social media show metal hoardings cordoning off green areas and footways on the block, which is located in the north of the borough – a continuing hotspot for transmission of the virus as both local and national government make efforts to ramp up testing.
One resident said: "The tenants of Sandford Court were given twelve hours' notice by the council. I live thirty seconds away, and I was not notified at all. I got a leaflet slipped through my door last Thursday from the people that were starting the campaign, not the council. 
"Other test centres are safely away from residents, so it is really odd they didn't think of the implications of using the grounds for children who live on the property who now can't play in their leisure area, and that it is on a residential area. 
"It seems really careless and silly that Hackney Council decided to just dump this in a residential area. It doesn't make any sense given we all have to follow social distancing and Covid rules. We're meant to stay at home, but you look out your front door and you have people possibly infected by Covid. It's crazy. 
"There wasn't the option to debate it and see who opposes it and who doesn't. We're not saying we're against Covid test centres. We're just saying, 'Please, can you relocate it somewhere more considerate and not just dump it in our sleepy little neighbourhood with residents everywhere?'" 
Morning @SadiqKhan & @hackneycouncil! My friends & residents at #sandfordcourt are perplex that a #CovidTesting centre has been set up right at their backyards?? 1/1 pic.twitter.com/IlUmi5KM5p

— Itxaso 'Taz' Moreno🎗#FREEAltsasukoak (@QueenoftheClyde) October 24, 2020
Responding to concerns from residents on social media, with some also worried that the site, which will be open seven days a week from 8am to 8pm, will increase traffic in the neighbourhood, Hackney Mayor Philip Glanville said that while the council "really tried" to find another place for the centre, he stressed that the site itself was not a risk to public health. 
Glanville wrote: "A huge amount of work has gone into this from [health lead] Cllr Chris Kennedy, including the recent public meeting. I appreciate communications could have been better. We want to work on design and other issues, but it can't now be moved in short term and is not unsafe. This extra testing capacity also vital. 
"There is no public health risk having the facility there, though that in no way offsets the disruption I accept, and we are committed to looking at communication, design, compensation, and also alternatives again in the longer term." 
Some suggested other sites in the area including car parks, with the Mayor making clear that according to the specifications dictated by the Department for Health the centre needs to be on a "securable area of hard standing". 
Residents have also pointed to regulations for permitted development which allow emergency works to take place on local authority land, but is not permitted if "any moveable structure, works, plant or machinery" is located "within 10 metres of any boundary of the curtilage of a dwellinghouse". 
It is understood that while the centre itself is not yet in place, the plans are for it to be a semi-permanent, flexible and adaptable local station with tests to start for an initial 13 weeks, and with the site to be taken down if, after that time, transmission rates in the area do not necessitate its presence. 
While the council has accepted that the testing centre does have an impact on Sandford Court in taking away the accessibility of its land, it has stressed that it presents no increased Covid risk to the community. 
Covid-secure measures at the site, as at all sites, include having a secure perimeter with entry and exit into the testing station managed by trained security personnel, with all on-site staff adhering to enhanced protective measures and strict cleaning procedures.
Sites are similarly unable to open without NHS approval certifying that the testing station does not pose an increased risk to the safety of members of the public. The Town Hall has also said it will set up the site in order to accommodate social distancing, and to prevent queueing in the area, with 24/7 security also to be in place. 
There is the potential for it to move if the council identifies an alternative in the area, if a different part of the borough becomes a hotspot, or if a commercial premises comes empty in the coming months. The centre could also stay for longer than 13 weeks if the need for it continues.  
@hackneycitizen there are car parks which could be used that don't block children's play space https://t.co/jEYASRnGCP pic.twitter.com/UDgLW4FcUH

— Angela Phillips (@AngelaELL) October 26, 2020
In response to images shared of a car park near Springfield Park, Glanville said that he would ask officers to "take a look", with the suggestion of a car park on Portland Avenue also welcome as "really helpful". 
According to specifications, any centre must be accessible, on solid ground and not on a grassed area, have separate entrances and exits or the capacity for them, be available 24 hours a day, seven days a week, and must not be a risk to members of the public, with the council saying that Sandford Court is the only option currently available which meets these criteria. 
The Town Hall says the station at Sandford Court will remain segregated from the estate and publicly accessible areas, with access to be clearly signposted from Bethune Road to prevent interaction with local residents, and with the layout approved by City of London & Hackney's public health service. 
The testing sites on Bentley Road car park in Dalston and in Hackney Central are now permanently open seven days a week from 8am to 8pm.  
The incidence rate of coronavirus for the borough as a whole sat at 146 cases per 100,000 people for the week ending 16 October, up from 132 cases in the week ending the 9 October.
The most recent R value of between 1.1 and 1.4 for London suggests that, on average, every 10 people infected will infect between 11 and 14 others. 
The most recent data shows that wards in the north of the borough, where Sandford Court is located, are the most heavily affected, with Springfield ward having the highest levels at 439 cases per 100,000. 
Stamford Hill is a coronavirus hotspot, and has one of the highest coronavirus infection rates in London and in the UK. 
A council spokesperson said: "Stamford Hill is already a coronavirus hotspot and has among the highest infection rates in London and the UK.
"A seven-day-a-week testing station in the area will ensure local people can get a test when they need it, support those who need to self-isolate to do so quickly and stop the spread of the virus, and – most importantly – help save lives
"The decision to use space at Sandford Court follows in-depth consideration of every potential site for a testing station in the area, and thorough efforts to mitigate the impact on neighbours. This is one of a number of testing sites across Hackney, all of which have been installed and operated safely, and we will use this experience to ensure the facility does not pose a public health risk to Sandford Court residents."