Sistah Space and Hackney Council 'agree to move on' from premises dispute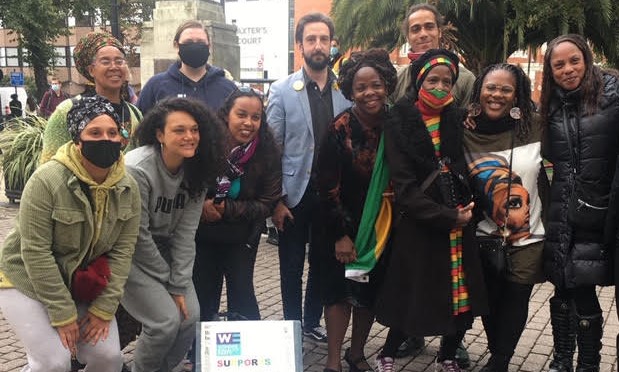 Hackney Council and specialist domestic violence charity Sistah Space have "agreed to move on" from a bitter dispute over premises between the two organisations which, at its peak, saw hundreds of protesters fill the Town Hall square.
The charity had been denied access to their most recent premises after challenging the council to let them stay in their current site rather than return to their former shopfront, which Sistah Space has maintained is unsafe, and had been working out of a range of temporary sites.
Now after a process of independent mediation, the Town Hall and Sistah Space have announced a new temporary licence of two rooms in Hackney Central, ending on January of next year, and at no cost to the charity, who in a joint statement published by the council say they understand that all of their belongings will need to be removed by then.
The statement reads: "Sistah Space have accepted that the council is unable to guarantee further temporary or permanent accommodation beyond this date and they have commenced their search for a more permanent venue that is safe for the women it serves.
"Sistah Space understand that they will be free to take part in any competitive process for council buildings as they become available, alongside other voluntary and charitable organisations.
"Sistah Space also understand that the council will continue with its plans to market and ultimately let [the Hackney Central premises]."
The cross-party campaign of the Green, Liberal Democrat and Women's Equality parties supporting Sistah Space have pointed to a petition signed by over 20,000 people asking that a temporary lease be granted for the charity until March of next year, voicing concerns at the agreement now expiring in January.
A joint statement from the campaign responding to the news said: "We welcome the agreement that has been reached in mediation between Hackney Council and Sistah Space following enormous public pressure and demonstration of support for this vital domestic violence charity.
"Sistah Space's campaign was not just a dispute over premises, it also challenged structural racism, sexism and classism at play in the council's treatment of this vital service led by and for African heritage survivors of domestic violence and abuse.
"It's clear that many of the wider issues around the dispute are still unresolved and we hope that Hackney Council will now engage with the community to ensure this can never happen again. We are very concerned that the new temporary agreement only runs until January 2021 and by the council's lack of clear commitment to support Sistah Space in their search for new premises.
"Given the uncertainty in the midst of the Covid-19 pandemic, we are shocked that the current agreement falls short of commitment beyond January. Therefore, we will continue to hold the council to account on their responsibility to engage in good faith and help Sistah Space secure a new long-term location. We reiterate our offer to work collaboratively with the council in finding a solution for the benefit of the Hackney community."
The campaign went on to congratulate Sistah Space "for their strength in campaigning for the best possible space for their service users while continuing their work with survivors under enormous challenges".
The council has said it will agree to cover Sistah Space's removal costs when the arrangement expires in January "up to a predefined cap".
The joint statement from the charity and local authority spells out that three risk assessments of their former Clapton premises were procured by Sistah Space in September, with the organisation making it clear to the Town Hall that "in their view the Clapton premises are not suitable or safe for their type of work", with no further work possible to make them so.
The announcement concluded: "Sistah Space do not wish to return to the Clapton offices as a result of their safety concerns and understands that these will, therefore, be marketed to other voluntary sector tenants in the usual way.
"Both parties have agreed to move on from this regrettable dispute in relation to Sistah Space's use of rooms at 280 Mare Street and agree to make no further public comments about the dispute beyond this statement. Hackney Council and Sistah Space look forward to working together in the months and years to come.
"Sistah Space (recipients of the Mayor's Civic Award) are pleased to be able to refocus their time and resources on providing specialist support to victims of domestic abuse in the African and Caribbean heritage communities during this unprecedented time."