London Renters Union plans courthouse protest to call for eviction ban extension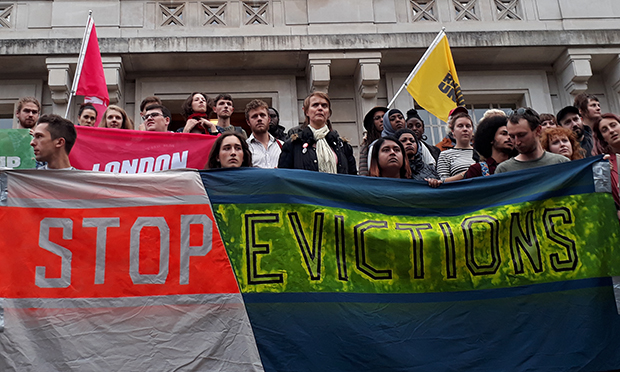 The London Renters Union is to protest against the restart of eviction hearings outside the Clerkenwell and Shoreditch County Court on Monday 24 August.
The day of action is part of the union's Can't Pay, Won't Pay campaign, which, since the beginning of the crisis, has called for rent suspensions, the cancellation of Covid-related rent debt, the introduction of rent controls and a permanent ban on Section 21 'no fault' evictions.
The union is joined by Hackney Council and the Labour Party in its demands for the eviction ban to be extended beyond the 23 August, with the Town Hall preparing for a potential surge in homelessness as a result of hearings restarting and calling for wider support for renters to be put in place.
The LRU's Lee Burkwood said: "By lifting the eviction ban without any real alternative measures in place to protect renters, the government is creating an homelessness and evictions crisis that will make it impossible for many people to keep themselves and their family safe during the pandemic."
"The government's failure to protect renters is inextricably linked with public health.
"The government is prioritising the profits of landlords over public health and everyone else by giving landlords a green light to evict the half a million tenants who are in arrears due to Covid."
"It is people of colour and working class people in areas like Newham and Brent that already worst impacted by the housing crisis and a decade of austerity that are being put most at risk by the government's recklessness."
LRU member Danny Hayward added: "During the coronavirus pandemic and economic recession, the UK government is faced with a stark choice.
"Either it prioritises keeping people safe, housed, and able to self-isolate if necessary, or it prioritises landlord's profits. It cannot do both. Renters are taking action to protest the decision to place private gains over public health.
"If Hackney Council was to get strongly behind rent forgiveness for people who have run up rent arrears because of demonstrable loss of income linked to coronavirus, it would be good to see them doing that."
The union has warned that Hackney's high rent levels will see the end of the ban hit the borough "particularly severely", and could see health outcomes become poorer for locals during the global pandemic.
Hackney Council has continued to call for a ban on no-fault evictions, which let landlords evict tenants without giving a reason, and which the government committed to ending last year, a pledge it is yet to uphold.
Other campaign platforms for the Town Hall include a call to require landlords to provide assistance with rent shortfalls and to offer more time for overdue payments, as well as a ban on non-payment of rent due to coronavirus as a basis for eviction.
In its own capacity as a landlord, the council recently passed a new debt policy which aims to provide advice and support to residents early if they are struggling with debt, while drawing down on the use of enforcement agents or court action against those on low incomes or on benefits.
Hackney Mayor Philip Glanville recently spoke out in support of the Somerford Grove Renters, who will also be attending Monday's protest, with the borough leader challenging billionaire landlord John Christodoulou for serving the group's members with an eviction notice after they sought rent reductions during lockdown.
A spokesperson for Somerford Grove Renters said: "We are participating in this day of action that the London Renters Union is organising.
"It also directly concerns us, because if the eviction ban is lifted, then that will make it easier for our landlord to evict us, which is what he is trying to do."
For more information on how to get support from the London Renters Union, head to londonrentersunion.org/get-support
If you are a private renter in need of financial support, housing advice, or need to report an issue with your home, you can find more information on council support at hackney.gov.uk/better-renting