GSCE Results Day: Education boss 'incredibly proud' as Hackney pupils celebrate success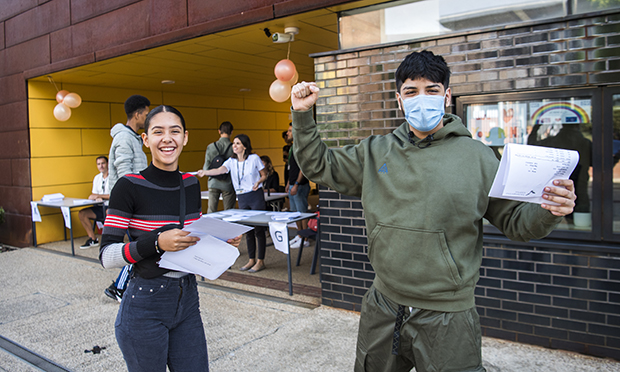 Hackney's education chief has spoken of her pride in students who picked up their GCSE results today after dealing with coronavirus, cancelled exams and the government's 11th-hour grades U-turn.
Pupils were awarded results based on their teachers' predictions, with exam regulator Ofqual's much-criticised algorithm only kicking in where its grade was higher than a school's projection.
The number of GCSE passes – grade 4 or above – has jumped by 8.9 per cent this year to 78.8 per cent, with a record one in four papers receiving a top grade of 7 or above.
The Town Hall's education lead Cllr Anntoinette Bramble, who visited schools across the borough today with Mayor Philip Glanville, said: "It was fantastic to share this exciting time with pupils – and lovely to see them back with their friends after being apart for so long. 
"I'm incredibly proud of each and every one of our GCSE students today. They have been through so much over the last few months, with the impact of coronavirus, their exams being cancelled and then fearing they would be unfairly downgraded as a result of the government's unfair algorithm."
Bramble also thanked teachers and families who have supported students amidst all the disruption.
There were individual success stories aplenty, with three pupils at Clapton Girls' Academy celebrating straight 9s.
One of them, Laura Nutley, said: "I'm really happy. My results are great. When the new grading system came in I was worried because I had worked hard to do well."
Urswick School's Andrew Fratczak came to the UK without being able to speak English and today earned GCSE at grades 9-5.
He said "I'm so thankful to my friends and the teachers at The Urswick School. Without them I wouldn't have been able to learn how to speak English and be where I am today."
A spokesperson for City Academy, where students achieved excellent results today, gave an insight into its process for predicting grades.
Over two months, staff carefully reviewed a combination of classwork, homework, mock exam results and an estimate of the progress that would normally be expected leading up to the final exams.
Principal Mark Malcolm said: "2020 has been a year like no other. Students, parents and staff have shown incredible stamina and resilience in the face of unprecedented circumstances. I am delighted that the professional opinion of teachers has prevailed.
Schools are continuing to provide support and advice about careers, training and further education, and students should contact their school if they have questions about their results or their future plans.
Young Hackney is hosting its annual Summer Careers Festival on Friday 21 August, where young people will be able to access free expert advice and guidance. Local colleges and training providers will also be on hand to talk about the opportunities they are offering.
The festival will be a combination of face-to-face and virtual sessions.
For more information, visit younghackney.org/summer-careers-festival