Council leaders 'deeply disturbed' by scrapping of Public Health England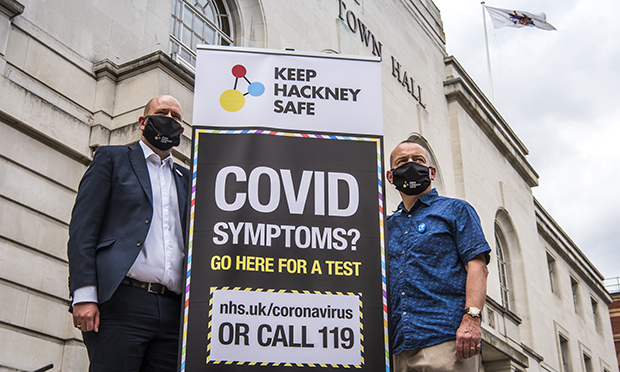 Hackney's leading councillors have challenged health secretary Matt Hancock over plans to replace Public Health England (PHE) with a new body during the global pandemic, claiming it could cost lives.
Hackney Mayor Philip Glanville and health lead Cllr Chris Kennedy both wrote to the government yesterday condemning plans to merge NHS Test & Trace and the Joint Biosecurity Centre as "deeply disturbing".
Council bosses are demanding more clarity on the plans and a reconsideration of the policy direction, as well as voicing alarm at the nature of the announcement itself, which they say has been made "by stealth, without proper engagement, trailed through the media and while parliament is not sitting".
Glanville and Kennedy said: "Dismantling, reorganising and rebranding the critical national agency during a global pandemic is at the very least a significant distraction to the staff who should be otherwise focused on combating the coronavirus and responding to the next stage of this crisis.
"At most, this distraction will impact on the ability to effectively combat the virus and stop a second spike in infections – a decision which will ultimately cost lives.
"As a Good Practice Network borough in London working closely with PHE on local best-practice in response to the coronavirus pandemic, it feels like PHE is being made a scapegoat for the wider failure of the government's response to coronavirus including NHS Test and Trace with which they are now being merged."
The councillors went on to urge the government to learn lessons from the good practice network, which they said demonstrated the importance of a localised response, while calling for Test & Trace to be delivered through the public health structures already existing in local government and primary health rather than through the private sector.
The calls on the department came as Hackney's public health professionals announced that the number of coronavirus cases in the borough appears to be decreasing, following a period when it had seen the highest two-week rise in cases in London.
Sixty-three new positive cases have been recorded over the fortnight between 5 to 18 August, compared to 100 new positive cases in the previous two weeks (22 July to 4 August).
Public health director Dr Sandra Husbands, who has been vocal in highlighting the quality of the data necessary to effectively fight the virus since May and has been working with the NHS and Public Health England to stop the spread locally, said today: "[The apparent decrease in cases] is great news and testament to the fact that most people have been adhering to government guidelines.
"Though numbers look to be decreasing, it's early days and Hackney still has one of the highest rates of coronavirus in the capital. Although the risk of catching the virus is still generally low, we must all continue to take precautions to keep the risk low – following the 3Ws: washing our hands, watching our distance by keeping 2m apart and wearing a mask in shops and on public transport. If the virus can't physically go from host to host then it will be stopped in its tracks.
"I want to say to all of Hackney, keep up the good work, but there is still more to do, and we still all need to work together to prevent the virus from spreading in the community and keep Hackney safe."
People in the north of the borough, where most infections are located, are still being asked to not meet or socialise with others outside of their support bubbles.
The government has acknowledged the "vital leadership role" of directors of public health such as Dr Husbands, promising that the new planned National Institute for Health Protection (NIHP) will continue working closely with local authorities and public health directors in the 'local-first' approach developed by PHE and NHS Test & Trace.
According to the Department of Health and Social Care, staff working in health improvement in PHE will not transfer to the NIHP, with their future employers to be decided through consultation with staff and health system partners.
The scheme is intended to be formalised and operating from spring of next year, with the government saying its intention is to increase investment in public health services and grow capacity as a whole, with an associated pledge that there will be roles available in the new structure for PHE staff.
Hancock's department has also said that its intent is to determine "the most appropriate future home" for public health improvement work on obesity, mental health, reducing smoking, health inequality and sexual health, areas around which Glanville and Kennedy say the decision to abolish PHE raises "significant questions".
They said: "Hackney like many more deprived parts of London faces significant health inequalities and challenges in these areas of public health. We are still, despite support for interventions such as PrEP, above the national average in HIV transmissions and almost 60% of adults in Hackney are overweight.
"In response, local public health teams in City & Hackney have led on innovative programmes to support our communities, from supporting the 'Undetectable = Untransmittable' HIV awareness campaign, to the 'Healthier Hackney Framework for Change' to tackle obesity.
"But our strong local action must be supplemented by a national strategy with a clear agency lead that is committed, not just to tackling coronavirus and other future pandemics, but to driving localism and improving public health outcomes. Scrapping PHE throws into question this clarity of responsibility which Mr Hancock's announcement failed to address."
A Department of Health and Social Care spokesperson said:"We will be engaging extensively on the future options for PHE's health improvement work, but this work continues to be a priority.
"The organisational structure for NIHP and the future arrangements for health improvement have yet to be determined, changes will be made in full consultation with both PHE staff and unions, with the aim of being formalised and operational from spring 2021.
"The expectation is that there will be roles available for those who want to be part of the organisation in the future. "