Padella, Shoreditch, food review: 'Buzzing addition to East London – even if the food is slightly underwhelming'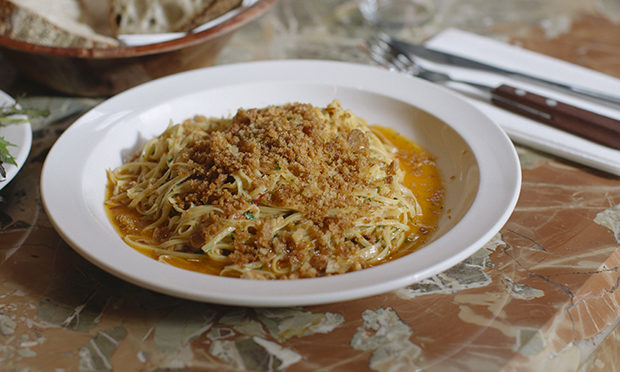 The new offshoot of Borough Market favourite Padella had just opened in Shoreditch when the Covid curtain descended.
But since 4 July, this buoyant little pasta joint has been flinging its doors wide open to the hot summer nights.
Beautiful people flock like black-clad moths to this flame of unpretentious if slightly underwhelming food.
We are greeted by a friendly, masked maître d' and guided into the airy concrete space. A tasteful perspex wall sprouts from a vintage sofa, which prompted a gripping debate with my dining partner over whether this was added or original – the fiery conversations we have.
The space is cavernous and industrial yet delicately decorated in a deep maroon wash, punctured by gold detailing.
Outdoors, people lounge about like Mediterraneans, with flushed cheeks and uncomfortable panting the only giveaways – you can always spot a Brit.
Devouring some luscious green Castelvetrano olives that looked more like miniature apples (and just as quenching), we started the festa.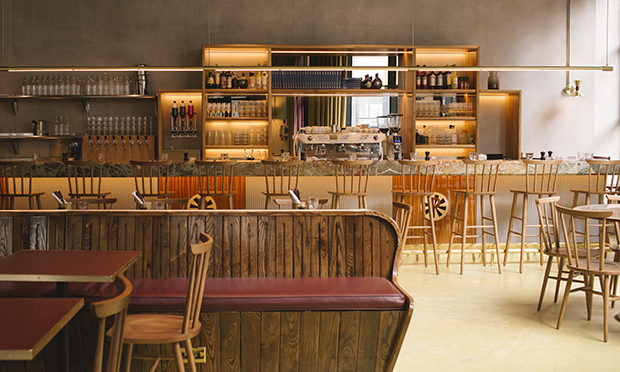 Mopping up the first of many gallons of Fiorano oil with some dense, freshly baked sourdough and layers of cured garlic and fennel salami, we begin to relax and finally cool down, settling into the quietly buzzing atmosphere.
Like the centre of a beehive after the beekeepers' smoke, waiters glide back and forth giving the feeling of efficient calm, but maybe a smidgen of impersonality.
A better Covid response I have yet to see, and the evening takes on the welcome relief that being kept away from strangers can bring – what am I becoming?
Sipping our Bernardi prosecco as daintily as possible, we are ready for the signature mains. 'Bring in the pasta', we scream. We didn't scream, but we did smile furiously.
The pasta is all hand-made, and it's the only option for a main, so you either eat it or go hungry.
My tagliarini with Dorset crab nestles gently onto the table, followed by my partner's pappardelle with slow-cooked beef shin ragu, and we tuck in.
The tagliarini is light and noodle-esque, and the flavours of crab are present but a touch too light. The pasta is cooked to perfection but the seafood is more of a whisper than an outright shout, perhaps too subtle for my crustacean-loving palette.
The pappardelle and its beautiful folds of slippery pasta surrender to our gnashing jaws. Yet the meaty dish is sadly left unfinished, because the aftertaste brings back not-so-pleasant canteen flashbacks.
A nutty Session lager is sacrificed to the gods of internal body temperature, and dessert is ordered with glee.
The chocolate and salted caramel tart are what dreams are made of. Served with crème fraîche, this indulgent pud could cause a family feud if bought for sharing.
My partner's salted caramel ice-cream cools and calms all the right places.
Pasta and pizza have become synonymous in the capital for the hip yet cultured evening out, and have consequently rocketed in price and pretension.
From something your mum overcooked and under-seasoned on a Friday night, it is now an increasingly violent competition between restaurants making the freshest pasta or singeing customers' eyebrows with the fanciest indoor kilns.
Padella, interestingly, is not only reasonably priced – a subjective term that has probably lost all meaning – but gloriously cheap. There are mains from as little as £4 and cocktails starting at £6, if you like Campari.
Although some of the food is disappointing, the price, service and style of the place make up for any culinary missteps.
This is a great addition to East London and a buzzing nightspot to lurk under the parasols, slowly filling with oil and negronis.
Living la dolce vita without needing pockets as deep as Donatella Versace's? Sign me up!