Street artist brings some colour back to Shoreditch as borough slowly opens up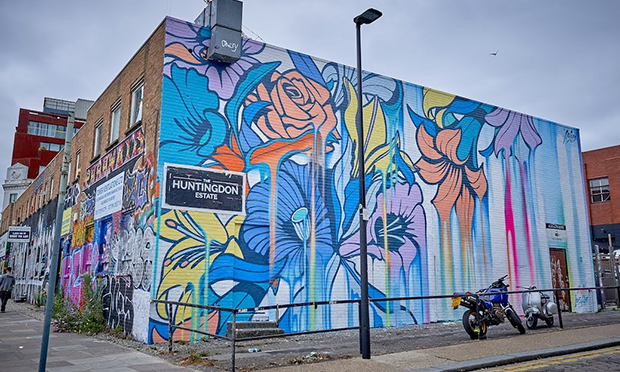 The streets of Shoreditch have a new splash of colour after world- renowned French street artist Nerone marked the denouement of the coronavirus lockdown with one of his signature vibrant displays.
Nerone, who is based in London, has creations that can be found around the world, including in Seoul, Marrakech, Cartagena, Berlin, New York, Paris and Bangkok.
His work began back in 2007 when he founded Le Coktail collective, and his past projects have included street art, graffiti, graphic design, painting and set design.
However, he is now best known for his unique and colourful flowers with fluorescent tubes, inspired by the "vibrancy of the city and its crazy nightlife, with the never-ending labyrinth of neon lights and music clubs".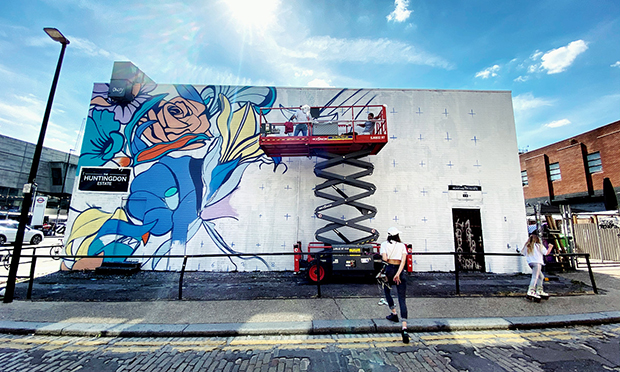 Nerone explained that the idea for his new piece took hold when he pondered the large, empty billboards which have cast a gloom over the city during lockdown.
These huge spaces are typically filled adverts for international companies, but because of recent events, have been left empty for several weeks, with many painted over in black.
But one of the largest, located on Chance Street in Shoreditch, now plays host to one of Nerone's signature outlandish flower murals.
After discovering the empty wall, Nerone decided not to wait until another company filled the space with an advertisement, and instead transformed it into a work of art which reflects the city he now calls home.
The wall is 24 feet high and 62 feet long, equating to 426 square feet in total, and displays Nerone's first official project after four months of lockdown. The scale of the work was such that a scissor lift was required.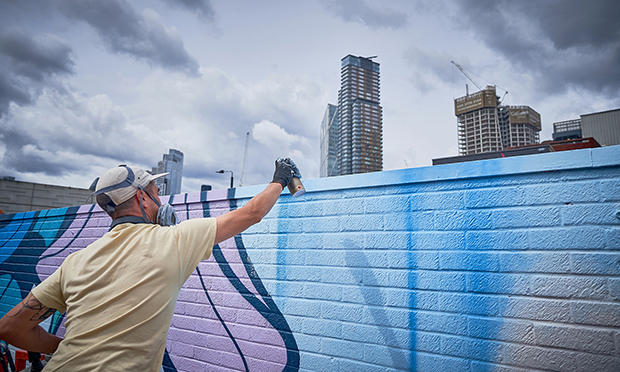 The artwork was created with the help of German-based company Montana Cans, Nerone's frequent collaborator. He also worked in partnership with Lee from Global Street Art, who helped Nerone gain the right to paint that particular wall.
The entire painting process was captured by East London videographer Louis Thornton, whose documentary is expected to be released soon. In the meantime, short clips can be found on Nerone's social media feeds.
Talking about his work, Nerone said: "I really think art should be part of people's lives every day, and even more so during these challenging times."
He hopes that upon seeing his "colourful, dreamlike flowers up on this wall", passers-by will look up, smile, and remember the beauty and vibrancy of the city they are in.
He also expressed his hope for his art to spread a message of positivity during these difficult times.
And so, as life flows back into the city, so does colour, and with any luck, Nerone will be just the first in a long line of artists bringing their creativity back to Shoreditch's famous streets.
His colourful display can be seen at Chance Street in Shoreditch until 16 August.
For more information about Nerone's work, head to nerone.fr