Youth worker raises alarm over 'punitive' approach in Hackney schools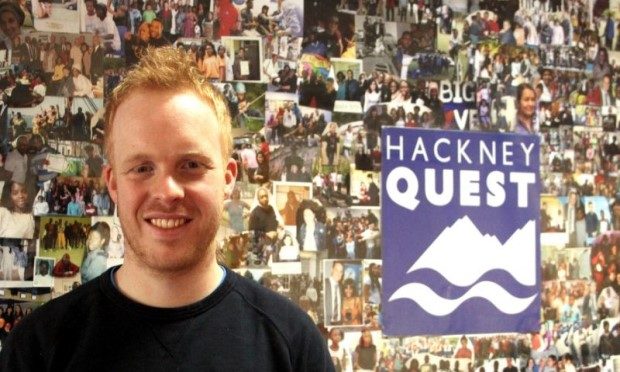 The interactions some families and young people have had with their schools during lockdown has provoked "concern and worry" at long-running community and youth centre Hackney Quest.
Youth and community worker Luke Billingham was speaking to the Citizen in a personal capacity soon after the Department for Education's (DfE) 16-point plan for the full reopening of schools was revealed.
It includes "a new focus on tackling 'persistently disruptive' pupils because increased poor behaviour is seen as more 'likely' due to a lack of regular schooling and discipline in lockdown".
Though the leaked draft plans signal a desire to move away from what was characterised as a "softly softly" approach to education during lockdown, Billingham warned that some schools he has worked with in the borough appear to have doubled down on a "punitive" education style despite the crisis.
One Hackney mother and key worker, speaking to the Citizen anonymously, described how the immediate detention their child could face on returning to school had impacted on the family.
The mum-of-two said: "For the first few weeks of lockdown we were so shocked we couldn't do anything. We kept getting assignments from the school, and it was quite a lot.
"We got extra study assignments, and my child couldn't do that on their own. They kept falling behind. The lockdown was stressful, and we only had one laptop. The work I do is quite intense, but I was able to help on afternoons and weekends, while cooking, shopping and cleaning.
"My child has now received three more assignments with only a few days to finish it. The email I received told me it was compulsory, and that if it was not done on time, she would get detentions until the evening from the school when it returns, as well as having to go to Saturday school."
Billingham positively named a number of schools including Clapton Girls' Academy, Leaways School and Stoke Newington School for being "incredibly sensitive, flexible and supportive" to families during the crisis while providing them with high-quality learning resources and education.
However, the Youth Voice project lead spoke of his dismay at the "incredibly rigid" approach seen at certain other Hackney schools, with "unreasonable" expectations of students being online consistently throughout the day, and pressure on some parents to provide "intensive educational support" to their children despite the pressures of work during lockdown and a lack of confidence or resources to help with study.
Billingham is now concerned that the leaked DfE guidance, which was reported to be recommending up to £120 fines for parents with absent children, to contrast with a perceived "softly softly" lockdown approach and "robust" measures for persistent non-attendance, could reinforce a "punitive" attitude in some schools.
Branding the practice of fining parents for absences "disgusting", Billingham pointed to parents of his acquaintance who are saving up to be able to do the citizenship test, need help to buy necessities such as mattresses, suffer food poverty, have no wifi or laptop, and have one smartphone between five.
Billingham said: "Throughout the pandemic, we have been very concerned and worried by the way in which some schools have been interacting with families and young people, and we have also been concerned about what the return to school will be like for those who have had an incredibly difficult time during the pandemic and lockdown.
"We were hoping that some of the schools who do seem to be punitive and zero-tolerance, and show a limited understanding of the lives of young people beyond the school gates, that they might do things a bit differently and recognise need for increased sensitivity, care and support in light of the pandemic.
"The indications we've got from parents who are interacting with these schools is that that is not the case. This DfE guidance is very concerning, as it would seem to impose a certain model of education as a coercive necessity for all, partly based on an economic perspective on what education is for.
"The tunnel-visioned academic vision seems like a bizarre and myopic approach to the lives of parents and young people, as if every energy that they have could be channelled into this narrowly academic idea of progress. It's really concerning to see that during lockdown, and that the DfE are encouraging a continuation of that on return to school.
"Many young people who have gone through the most traumatic time of their lives, more than ever need warmth, care and support from their school."
The community worker called for a more "tailored approach" for pupils returning to school following lockdown, with some families reporting an uptick in wellbeing as a result of not being physically present at school, while for others with whom Quest works lockdown has been "devastating".
Concerns over so-called 'zero tolerance' disciplinary codes in school were being discussed at council level ahead of the crisis last year as the borough continued to break its own records for school exclusions year on year amid warnings over 'off-rolling', or hidden exclusions.
There were 52 exclusions in total in Hackney in 2017/18, the highest since current DfE records start in 2006/7, when there were 20.
The borough was also highlighted in a children's commissioner report for a 238 per cent increase in children moving into home education from Hackney academies between 2016/17 and 2017/18, raising concerns of off-rolling taking place.
Billingham added: "The schools that have a rigid approach don't seem to recognise that even if all you want to achieve is good results for all of your students, that necessitates trauma-informed practice and family support, and a wide range of provision for students that is not provided, as some feel a sergeant-major style approach to education can produce good results for everyone, which is fundamentally flawed.
"A trauma-based approach is important, especially given the heightened attention of racial injustice at this time is also quite traumatising for the young people who have personal experience of it and are reliving it due to what they're seeing on social media and ongoing discussion, as well as having ongoing experience of new and fresh racial injustice on daily basis."
The youth worker attributed such an approach to encouragement from central government, in particular under former Ofsted head Sir Michael Wilshaw, as well as austerity policies resulting in schools not having the resources they need to fully support each student.
He also warned of a "deeprooted educational philosophy" in certain of the borough's schools that students must be "remoulded", with parents viewed as obstacles if that philosophy is challenged.
According to Billingham, a rigid approach in schools contributes to the 'school-to-prison pipeline' by which disadvantaged young people are disproportionately more likely to be incarcerated, as well as heightening a sense of helplessness, hopelessness and anger towards the system and an accompanying lack of faith in it.
The improvement of Hackney schools over the past few decades is widely regarded as a success story, with only 14 per cent of the borough's students receiving 5 or more GCSE grades A to C in 1990, and 42 per cent of lessons in primary schools deemed "unsatisfactory" in the same period.
However, Billingham stressed that such a progression must be seen in tandem with the rising exclusion rates, describing as an "exaggerated myth" any idea that deprived children in the borough were saved by "gleaming academies with a new vision of education".
He said: "The same young people who have struggled most in the underperforming schools previously are not in a better situation now, as far too many of them are getting excluded or managed moved, or just not coping with the rigidity of the schools.
"There is a philosophy which has developed in Hackney which is that 'we are here to civilise the young people in this deprived area, and it does not matter what is happening outside the school gates, our goal is to effectively remould these young people into academically-successful civilised young people.'
"This is based on a white middle-class perception of what success is, and on a very patronising attitude towards Hackney, and a demeaning attitude towards parents viewed as barriers if they challenge the remoulding these schools wish to achieve.
"It is long overdue to have a serious reckoning about what we want education to achieve in Hackney, as it is achieving great results for a large number of students, but for those who cannot cope or those who silently suffer, the consequences are devastating.
"What we've got now is an opportunity to reimagine how school works and what it is, and how schools can most flexibly adapt through technology and engage students of all kinds."
Cllr Anntoinette Bramble, Deputy Mayor and Cabinet Member for Education, Young People and Children's Social Care, said: "I have heard first hand about the challenges our young people have faced as a result of coronavirus and their heartfelt concerns about how this will impact their long-term life chances.
"As we work towards reopening Hackney's schools in September, our priority must not be to increase discipline or to sanction parents, but to support the learning, health and wellbeing of pupils who have already faced unprecedented disruption to their education.
"We are all keen to see school routines back in place and pupils back learning in class. We are committed to working with schools, children and families to offer reassurance about coming back to the classroom, encouraging reasonable adjustments for those who need extra support, and – importantly – giving pupils the time and space to reflect together on the experiences of recent months once they return to school."