Photographs of London in lockdown unveiled by Historic England
Historic England has revealed 36 photos of London in lockdown, taken by professionals and members of the public, which have been added to its famous archive and made available online for free.
The heritage body put out a week-long call for submissions in late April, eventually totting up around 3,000 responses from across the country.
Two hundred photos make up the final Picturing Lockdown Collection – 100 from the public, 50 newly commissioned works by 10 contemporary artists, and the remainder from Historic England's photographers.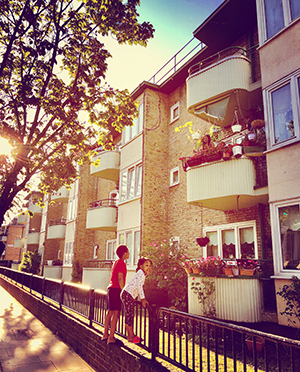 The 36 photos of London, which include some of Hackney, are made up of 21 public submissions, five each from artists Polly Braden and Roy Mehta, and a further five from the heritage body's London snapper.
The call-out was the first time the public have been asked to capture photographs for Historic England's archive since the Second World War.
The responses provide a visual record that it is hoped will help shape what we remember about this time.
Hundreds of images sent in by people across London included an NHS 'Superman' mural, a rainbow made of balloons, and gardening efforts.
The concept of emptiness features strongly with plenty of pictures of abandoned streets, while the loneliness of social distancing was also captured by many.
Polly Braden and Roy Mehta were the artists chosen for London
Braden cycled into the City of London during her daily exercise to photograph its "uncanny" empty streets, finding clean architectural lines and eerie quiet.
Roy Mehta, working in the early morning and late afternoon light, explores the moments of transition in our "locked down" days. He captures the natural landscape and the changes in air quality, noise pollution, birdsong and sensations of slowed down time, combining this with prose and poetry.
Claudia Kenyatta, director of regions at Historic England, said: "The fascinating response to our Picturing Lockdown call-out sheds light on our collective and individual experiences of lockdown and provide a snapshot into this unusual time that will be accessible for future generations to see and learn from.
"Our thanks go out to all who submitted their work, to our 10 contemporary artists, and to our photography team who have produced an inspiring range of images."
The Picturing Lockdown Collection is available to explore for free on Historic England's website.