Six local organisations share £85k in second wave of Town Hall arts funding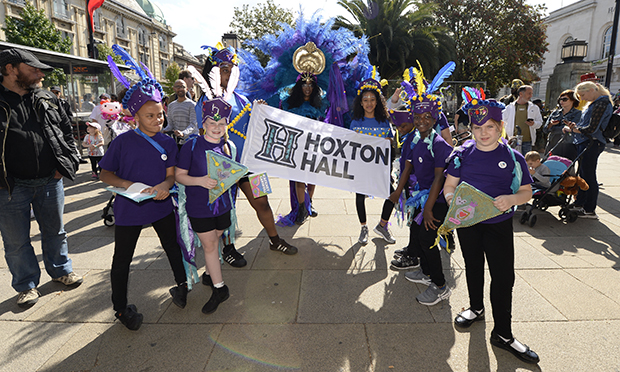 A youth literacy charity and a photography gallery are among six local organisations who will share £85,000 in the second round of Hackney Council's Shoreditch and Hoxton Art Fund.
Ministry of Stories, Autograph ABP, Grand Union Orchestra, Hoxton Hall, Snooze Fabric and Studio Wayne McGregor are the successful applicants.
The ideas that won over the Town Hall include a new festival exploring working class identity, a photography exhibition on the concept of home, a cross-cultural orchestra, a sensory dance film, a community mural, and a guerilla poetry project.
The Art Fund launched last year and is built up by levying new developments in the area. It has so far collected £300k.
Rob Smith, director of literacy charity Ministry of Stories, said he was "thrilled" to get the backing for its 'Unexpected Poetry' project.
He added: "We can't wait to see where over 100 young writers' imaginations will take us – creating original poetry for our neighbourhood, to be uncovered and discovered from bus stops to cafes to pavements, to be enjoyed by our community."
Dr Mark Sealy MBE, director of photography gallery Autograph ABP, was similarly "delighted" to win funding for its #HackneyisHome exhibition.
He said: "With our partner Mouth That Roars, this project will bring together people who are newly arrived in Hackney with long-term residents, to create photographs exploring what home means to them.
"These will be displayed prominently on a digital billboard at Old Street, and our building Rivington Place in Hackney.
"The communities living and working in Shoreditch and Hoxton will be invited to share back what home means to them via social media, in response to this public art project."
Both organisations will receive £20k.
Arts venue Hoxton Hall will get £6k for a festival of live performances exploring working class identity called #CLASS. The cash complements its current work on Hoxton Street, an interactive live drama which was successful in the first round of funding.
Grand Union Orchestra has been awarded £17.3k to create an intergenerational, cross-cultural orchestra. From summer, it will recruit participants to form a street band to perform in parks and at Hoxton Market.
Artist duo Snooze Fabric will use their £6k to produce a mural on Hoxton Street with the help of local youngsters. The pair will also host workshops that will include participants who do not normally have access to the arts.
Rounding things off is £15.5k for Studio Wayne McGregor, who will work with the Museum of the Home and Shoreditch Trust to create a 20-minute dance film called HOME. Using the talents of local young people, the sensory piece will explore the ever-changing concept of home, including personal interpretations of gentrification, displacement and migration.
Cllr Guy Nicholson, the borough's culture chief, said of the funding: "Hackney's objective is twofold. The first is to commission the arts and cultural community to connect residents and businesses in Tech City and to create a lasting relationship based on understanding and mutual support.
"The second is to ensure that Hackney's creative community is supported in these very challenging times by bringing forward the Art Fund to commission what they do best, using the arts to reach out to and connect people."
He added: "We know how hard the arts and cultural sector is being hit right now. We hope these grants will provide some fraction of reassurance to how much we value their work and demonstrates the importance Hackney places on their talents and skills."
For more information, visit hackney.gov.uk/culture