Unions accuse Hackney Mayor of 'hypocrisy' over sick pay for outsourced council cleaners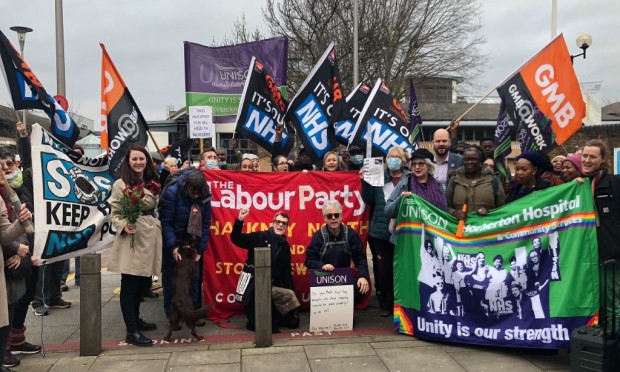 Trade unions have hit out at Hackney Mayor Philip Glanville this week with claims that outsourced staff cleaning council buildings have to come into work despite being sick due to their low pay.
A joint statement from Unison, Unite and the GMB accused the borough leader of "hypocrisy" over the situation, which the unions say has left cleaning, security and parking staff unable to receive full pay if they are sick, isolating or shielding as a result of Covid.
Glanville is an outspoken supporter of employees of facilities company ISS at the Homerton Hospital, where in February he joined picket lines decrying circumstances in which he said staff are "scared of not coming to work because they won't get sick pay".
He offered the hospital the Town Hall's assistance in bringing its workers back in-house.
One cleaner of a Hackney Council building, speaking through their union, said: "I think I've already had it, me and my child. I couldn't take time off though.
"I still came into work, I was so sick, but what could I do? I felt guilty, but I couldn't afford to stay home. I know there are a few of us in the same situation."
It is understood that the pay differential between staff wages starting at £10.75/hr, and statutory sick pay at £95.85/wk, could mean a loss of £334.15/wk for workers, all of whom would be defined during the current crisis as key.
Unions have also pointed out that the majority of cleaning staff are black or from other ethnic minority groups, with wide agreement that BAME people are significantly more likely to die from Covid-19.
Mayor Glanville told the Citizen that the council "sadly cannot dictate HR policies for external companies with existing contracts in place", and added that it has "already made plans to bring our cleaning service in-house at the end of the current contract".
Unison, Unite and the GMB say they wrote to the Town Hall leadership back in March asking for a list of outsourced companies providing their services, in order to find out how these companies would be supporting their staff financially during the crisis.
According to the unions, the council's leadership responded only that those working for outsourced service providers are not council staff, with the Town Hall unable to confirm to the unions how many such providers they have.
The council's current position is understood to be based on the fact that, through the terms of contracts for these services, it is up to companies as private bodies to determine their own pay settlements, though all must provide the London Living Wage if undertaking work for Hackney Council.
Pointing to Mayor Glanville's support for cleaners at the Homerton, the unions said: "These employers are not only putting the health and safety of their own staff at risk, they are also putting the health and safety of all staff at risk. Every time someone sick is forced to come to work they spread the virus, especially at a time when cleaning is at the forefront of controlling the virus.
"We know that faced with a choice of full pay or statutory sick pay, most staff haven't got the luxury to suffer the pay drop. These cleaners are cleaning the offices and schools where staff then go on to work in the community and children go home to their key worker parents.
"The council must do something. The cost of doing nothing is so much more than it would ever cost for the council to ensure the safety of its staff and the communities they serve."
The unions went on to urge the Town Hall to compile a list of best and worst practices undertaken by its outsourced service providers, which would then be used to inform a decision on whether or not to re-tender the contracts to these companies, as well as making a call for the council to top up workers' wages where companies will not.
Of five cleaning companies contracted to Hackney's schools, it is understood that only one has confirmed that staff receive full pay, with the two companies providing cleaning and security services to the Town Hall both saying they pay statutory sick pay rates to those sick, shielding and self-isolating as a result of Covid-19.
It is further understood that schools, even council-managed ones, are free to set up their own cleaning contracts without Town Hall control.
The council's sustainable procurement policy commits it to bringing contracts in-house wherever possible, with its cleaning contract for its buildings due to come to an end and be brought under Town Hall control once it does, which at that point will give workers the same conditions as other council employees.
The current security contract has two to three years left to run, with the Town Hall unable to change conditions midway through.
The unions added: "The health crisis has shown, once and for all, that public services must be run by public bodies. The council must bring these services back in-house in line with the Mayor's manifesto promises without delay – such is the urgency of the situation.
"Only then can the council truly guarantee the safety of its staff and the wider community. Only then can all workers receive the fairness, dignity and respect at work that they deserve."
Mayor of Hackney Philip Glanville said: "In Hackney we have taken a lead with insourcing services to ensure control over pay and conditions for staff – we have already made plans to bring our cleaning service in-house at the end of the current contract, and brought over 100 school cleaners onto council contracts at the beginning of this year, ensuring they got a fair deal during the lockdown.
"I have actively been campaigning on these issues and will continue to do so. While we sadly cannot dictate HR policies for external companies with existing contracts in place, our sustainable procurement strategy aims to ensure that all workers are treated fairly and receive the London Living Wage and that insourcing is a priority as contracts are reviewed.
"We wrote to our cleaning and security contractors prior to the lockdown to remind them of their duty of care to their workers, and we would never expect their staff to have to choose between their livelihood and their health."