Campaigners up pressure over hospital cleaners' pay with Valentine's Day protest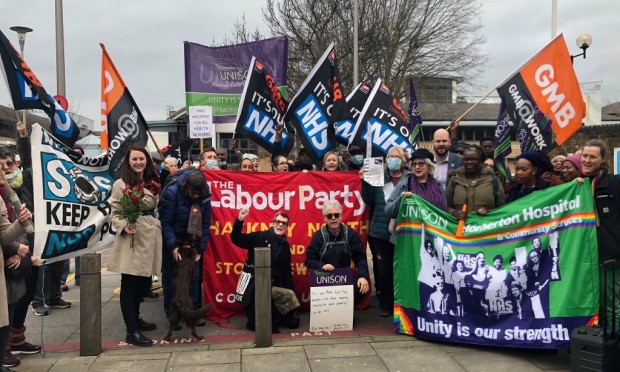 Calls for "basic pay" rang out by the main entrance to Homerton Hospital on Valentine's Day last week, as the campaign demanding a better deal for its outsourced cleaners, porters and catering assistants continued.
Both the Homerton's chief executive Tracey Fletcher and facilities services company ISS have been pressed to resolve a situation whereby staff employed through the outsourced contractor do not receive pay for the first three days of sickness, forcing them to go to work while ill.
The campaign has been supported by the Town Hall, with Hackney Mayor Philip Glanville speaking out at Friday's demonstration in defence of workers "scared of not coming to work because they won't get sick pay, and scared of being intimidated by management".
One Homerton Hospital cleaner speaking through the trade union GMB said: "We're part of the NHS family, and provide a valuable public service – all we want is to be treated the same as other's who work day in day out to keep our health service running.
"I clean the wards, get to know the patients and look after people at their most vulnerable. It's not right that if I catch something in the hospital, which happens all the time when you're working with patients, I have to take a pay cut to get better.
"We want to work with the trust to be brought back in-house like so many NHS cleaners are."
Staff employed through ISS at the Homerton receive Statutory Sick Pay, which is no pay for the first three days, then £94.25 per week after the fourth day.
Campaigners are now asking that all 300 ISS staff at the Homerton be uplifted to the same terms and consitions as in-house NHS workers, with the hospital also facing renewed calls to bring the staff in-house as soon as possible.
Mayor Glanville said: "Staff keeping our public services running every day deserve a fair deal at work. It's a no-brainer, especially in a hospital where we are asking them to support patients when they are at their most vulnerable.
"At Hackney Council we've made it clear that contractors who want to work with us have a choice – pay proper wages, sick pay and pension contributions or lose the contract and be ineligible to bid for new ones.
"We have pledged to review all our outsourced contracts with a view to bringing them in house, just like the school cleaning contract we recently started to in-source.
"I'm keen to support the trust with our body of evidence and case-studies to bring the cleaners at Homerton back in-house at the earliest possible opportunity."
The Homerton confirmed at the end of January that it would be "following up" with ISS on concerns raised by staff with their managers, along with seeking "detailed and documented assurances" from the company that they are meeting legal requirements and achieving employers' best practice.
A Homerton Hospital spokesperson today declined to comment on the status of talks with the company.
ISS was approached for comment but had not responded by time of going to press.
Cllr Yvonne Maxwell, vice chair of Hackney's health scrutiny commission as well as a governor at the Homerton, said: "It is not acceptable that we have outsourced staff working in our hospitals, doing vital work keeping our hospitals clean, with poorer working conditions than those on NHS contracts.
"All workers at the Homerton , as across the NHS more widely, should be paid the London living wage . No workers should be coming into work sick, as they won't get paid for three days with only minimum statutory sick pay after that.
"I call on the Homerton to work to resolve this . But more than that, to give a commitment to insource these workers at the soonest opportunity."
On insourcing, the Homerton's spokesperson pointed to comments made in January by Tracey Fletcher, who said that the hospital is not currently "geared up" to manage the process of analysing how bringing staff inhouse would work, or what the "potential costs or savings" of such a process would be.
Fletcher added at the time: "It doesn't rule out in the fullness of time that being something that we should be considering in the future, and we need to make sure we have the ability and depth within our organisation to be able to consider that properly."
Lola McEvoy, NHS organiser for the GMB, said: "The pressure is on the Trust and ISS to sort out this injustice. It's not rocket science, if you work in a hospital, you're going to get ill at some point.
"These people do a tough job, really well. They're asking to be respected as all other NHS staff are, be brought back in-house and stop being forced to choose between coming into work sick – risking patient safety, and being able to cover their basic bills."