Locked up in lockdown: How coronavirus has exposed the flaws in our prison system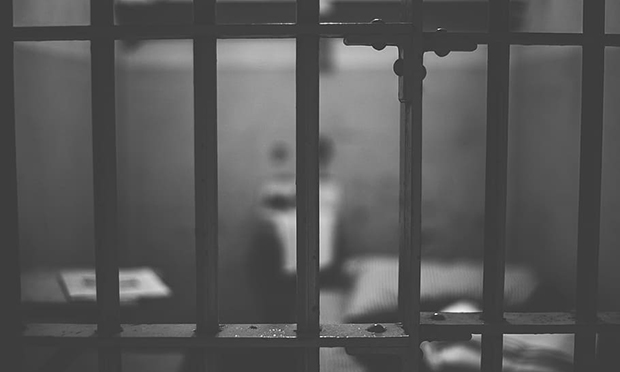 For those not intimately acquainted with the prison system, it can seem obscure and remote – a world where the barriers separating those inside and outside are more than architectural.
Paddy Wivell's recent Bafta-nominated Prison series has illuminated the manifold pressures facing the system, but prior to this, knowledge of UK prisons felt easier to glean from distorted, commercialised portrayals in popular films than from real people's experiences.
At a time when coronavirus is devastating prisons, in the context of an already pressing urgency for prison reform, the need for wider public understanding could not be more critical.
Charities have warned the Citizen that they are increasingly worried about the physical and mental welfare of inmates, with lockdown measures upending external visits and workshops, and severely restricting their movements inside prison.
Charities have also called on the Ministry of Justice to immediately speed up the implementation of the Temporary Release Scheme which is designed to stop the spread of Covid through prisons by releasing a number of prisoners where it is safe to do so.
As with so many other societal issues, the pandemic has laid bare the fractures and fault lines pulsating beneath the surface of the criminal justice system.
There is fresh scrutiny on the efficacy of short-term prison sentences, whether jail time is the best way of rehabilitating non-violent offenders, and if there is adequate support for staff.
Pentonville prison is one of the closest to Hackney. An Ofsted inspection in 2019 deemed it so unsafe that inspectors considered triggering the Urgent Notification process to alert the Justice Secretary to the difficulties it faced.
The inspection noted that many prisoners were forced to live in unsanitary conditions, 29 per cent of those randomly drug tested posted positive results, and one third of the population reported feeling unsafe.
A follow-up visit in February this year found few constructive changes.
The report found Pentonville was characteristic of a generation of Victorian prisons struggling to contain an entirely different cohort to those they were initially designed to house.
Prison populations can magnify the social challenges of wider society, and the physical configuration of prisons can exacerbate these problems.
Prisons are increasingly confining a disaffected younger population who have had limited educational, community and mental health services available to them, having come of age in the era of austerity.
Many inmates have gang affiliations which are further consolidated within the confines of prison walls, driving up rates of serious violence and drug use.
In 2015, the government announced prison reforms, which then Chancellor George Osborne declared would "modernise the prison estate".
He said at the time: "So many of our jails are relics from Victorian times […] we are going to reform the infrastructure of our prison system, building new institutions which are modern, suitable and rehabilitative."
Despite these promises, many of London's prisons – Pentonville, Wandsworth, Wormwood Scrubs, Brixton – continue to occupy Victorian buildings poorly designed for 21st century needs.
The Prisoners' Advice Service (PAS) is a charity which provides specialist guidance to inmates and their families on their legal and human rights.
Director Lubia Begum-Rob told the Citizen: "The Covid-19 pandemic is having a devastating impact on prisoners and their families. 
"Despite introducing various early release schemes, the government has been extremely slow to actually release any prisoners under them, and has only released the guidelines on the schemes in the context of legal action."
She added: "Our advisers are responding every day to many queries from prisoners and their outside supporters, who are anxious both about the threat to their health and about the consequential effects of prisons being in a complete lockdown with no end in sight.
"This is having a terrible toll on prisoners' physical and mental health, and that of those trying their best to support them from the outside."
Although there are many commonalities in the experiences of those in prison, women face a unique set of challenges, which research suggests the the system is poorly equipped to address.
Women in Prison, a charity founded to support and advocate for women negatively impacted by the prison system, has identified a significant increase in the harshness of UK sentences.
Its research shows 80 per cent of women in prison have been incarcerated for non-violent offences.
The charity also discovered that women constitute five per cent of the overall prison population, but are responsible for 18 per cent of the total number of self-harm incidents.
Worryingly, Women in Prison found there is no centralised system to monitor the proportion of imprisoned women with dependent children, raising concerns that they are more likely to fall through the gaps.
Women also face more structural obstructions than men as they try to rebuild their lives once prison ends.
Although it is widely accepted that employment can be a key conduit to rehabilitation, the Prison Reform Trust's Working It Out report in February found women were three times less likely than men to be employed in the six weeks after leaving prison.
The Trust found that difficulties in obtaining childcare, punitive social attitudes, and the impracticality of Universal Credit all contributed to women finding it difficult to attain employment.
It also reported that women exiting prison find it harder to procure stable accommodation or bank accounts, which are prerequisites for entering formal employment.
Prison has an especially adverse impact on those from already marginalised groups like BAME women, Muslim women and those with substance dependencies who can face further social discrimination once they have a criminal record.
Women are also more likely than men to be the principal carers for children, meaning even in ordinary circumstances, a prison sentence can have a devastating impact on family units.
In the era of social distancing, the most basic physical interactions between mothers and their children are now ruled out and replaced by limited, sporadic telephone contact.
Whilst lockdown has led to many families spending increasing amounts of time together, for those in prison, even the most intrinsic manifestations of parental love such as hugging, touching and kissing have now become an impossibility.
Women's charities have raised serious concerns about the physical, psychological and developmental implications of this for children.
Kate Paradine, CEO of Women in Prison, told the Citizen: "Parental and caring roles often do not end when a woman is imprisoned – many women continue to care and look after their children and families through regular phone calls and prison visits.
"The lockdown has ended this – visits have stopped, and in some prisons, people only have very limited time to call their families, collect their medication and get lunch."
She added: "This has a devastating impact on both the children and the mother. Children have lost a vital support during an already uncertain and scary time, while mothers will be locked in their cells for almost 24 hours a day, worrying about whether their children are safe and well.
"This is why the government must include people with caring responsibilities in their plans for release and release them urgently.
"Failure to do so will deny children their right to a family life and cause unnecessary pain and trauma."
The Ministry of Justice is yet to respond to the issues raised by the Prisoners' Advice Service and Women in Prison.
A Prison Service spokesperson did, however, state: "We have robust and flexible plans in place across England and Wales to keep prisoners, staff and the wider public safe based on the latest advice from Public Health England."
Addressing concerns about those who are leaving prison, a spokesperson for the Prison and Probation Service told the Citizen: "Probation officers are continuing supervising in person those who pose the highest risk, ensuring the monitoring of high-risk offenders remains as tough as it always is.
"If staff believe it is the right thing to do, offenders can always be recalled to prison […] At the same time, we are using technology more to supervise lower-risk offenders to reduce the spread of the virus."
The conundrum of how prisons should be organised is one of the most fundamental questions in any society.
There are certainly no straightforward answers and the debate will rumble on well after the pandemic.
Those who want to see further prison reform will hope that this pandemic has exposed indisputable flaws in the system, paving the way for one that is more humane and rehabilitative – not just for prisoners, but for society as a whole.