Art in the time of coronavirus: The best of London's galleries – online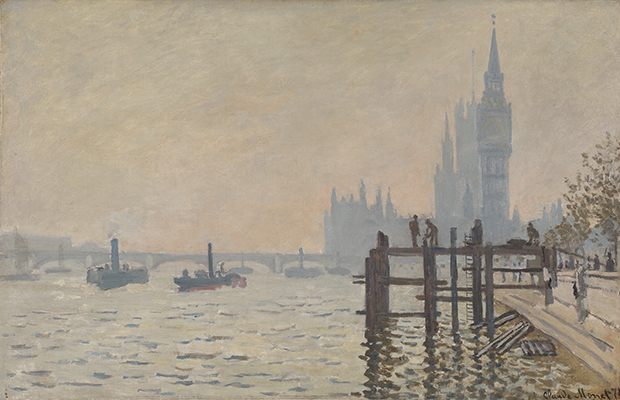 I wrote last week about how you can access the best of music, theatre, and art from your home during quarantine.
Understandably, many of Hackney's local venues – from theatres to galleries – don't have the resources to offer much online at this time, although the Whitechapel Gallery is regularly updating its blog with everything from artist interviews to short films.
But if you're looking for a choice of art, it's best to head for the big London galleries – the Tates, the National Gallery and National Portrait Gallery, the British Museum, the V&A, and so on.
These galleries all offer something different and are worth taking a look at, but three stand out for me: the Tate Britain, the National Gallery and the National Portrait Gallery.
This trio offers a huge range of art to browse and reams of information on pieces and artists, but they are also user-friendly and a pleasure to navigate. I'm enjoying dipping in to their collections during this time at home.
Tate Britain
The Tate's online content is pretty extensive, and one of the most engaging offerings is the 'Walk Through British Art', which will keep you busy for hours.
Arranged in chronological order, you 'walk' through the virtual rooms and in doing so, walk through time.
The first room contains artworks from 1540-1650, spanning a turbulent time in history.
Henry VIII was on the throne in 1540 but by the end of the period, six more monarchs – Edward VI, Lady Jane Grey, Mary I, Elizabeth I, James I and Charles I – had all been and gone.
Having beheaded the last of these, England didn't have a monarch at all in 1650, but was in an Interregnum governed by Oliver Cromwell. So, hardly a peaceful century.
Unfortunately, the art in this room doesn't reflect the excitement of the times.
The pieces are fairly same-y, consisting mostly of portraits of the nobility – they were the only ones who could afford them.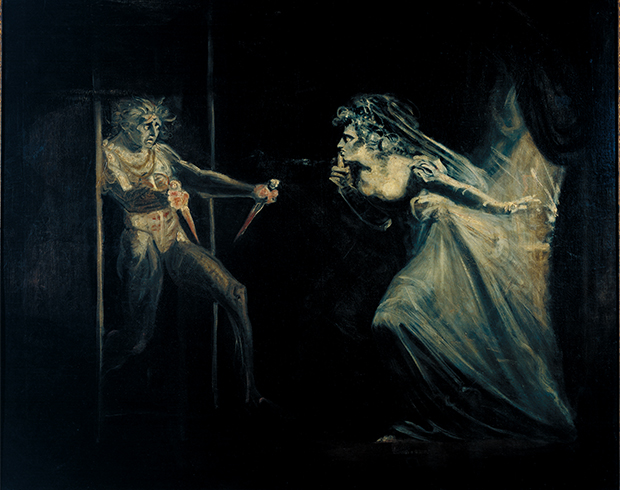 I prefer the later rooms such as Room 5, which covers the period from 1780 to 1810.
By this time, Britain was more outward-looking, involved in international conflicts and events.
The French Revolution of 1789 sparked political and social upheaval far beyond the borders of France, the Battle of Trafalgar in 1805 saw Admiral Nelson claim a victory against France and Spain, and in 1807, Parliament finally abolished the slave trade after over 200 years.
Shakespeare, although he died in 1616, was a popular inspiration for painters during this period, and Henry Fuseli's rendering of the cursed Macbeths is fantastically spooky; the figures look more like ghosts than living people.
Room 8, with art from 1930 to 1940, is also worth a look.
This was another period of political uncertainty, with the Second World War to begin before the end of the decade.
Here we see more modern and abstract designs, including Ithell Colquhoun's Scylla, a double-image which functions both as a seascape and as an image of the artist's own body, and Ben Nicholson's utopian white relief.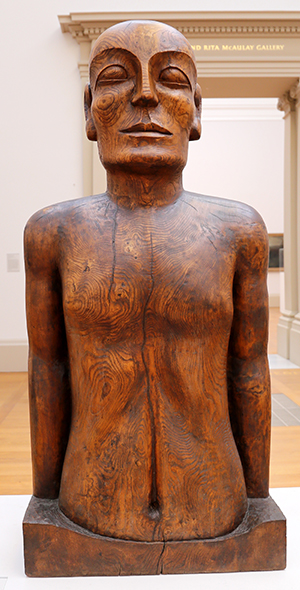 My favourite is Ronald Moody's Johanaan, a life-size sculpture of St John the Baptist which Moody carved from a single block of elm over the course of a year.
Born in Jamaica, Moody lived in London and Paris before the Second World War broke out, and was one of only a handful of artists from the African diaspora who found fame in Europe during this period.
Rather than modelling and casting in the tradition of academic sculpture, Moody favoured 'direct carving', seen by some to be a more authentic mode of sculpting.
This piece was originally titled Alles, which in German means 'all', leading to speculation that Moody's sculpture was intended to represent all of humanity.
National Gallery
The National Gallery (NG) has a lot going on as well; it looks like their entire collection is available to search or browse online via the 'Search the Collection' feature, and there's even the option to download a low-res image of each piece or buy a print from the NG shop – a great piece of marketing there.
If you had your eye on one of the exhibitions – or if you're still hoping to go once lockdown ends – there is plenty of information about these, too.
Titian: Love Desire Death is the most high-profile exhibition the gallery had planned for this year, and there is a lot of content to browse on this one, including blog posts and video explorations by experts such as Mary Beard.
The '30 must-see paintings' feature is great, too; the curators have assembled a collection of the Gallery's most popular pieces and you can click on each to learn more about the piece and its artist.
The page on Vincent van Gogh's Sunflowers, which includes some of his other works, is cheering with its bright colours and free brushstrokes.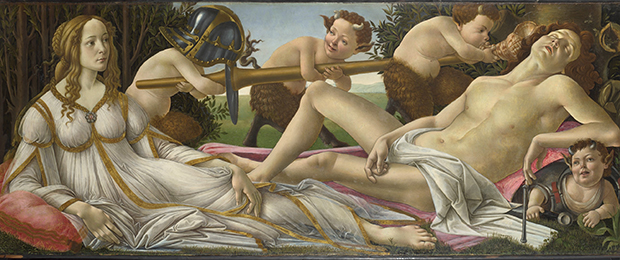 Meanwhile, fans of Renaissance Italy can look to the collection of Sandro Botticelli paintings, accompanied by a YouTube lecture on his Venus and Mars.
Finally, there is a lovely Claude Monet collection, including his painting The Thames below Westminster, which captures the misty river and the Houses of Parliament in the background.
As Monet said of our home city: "Without the fog, London would not be a beautiful city. It's the fog that gives it its magnificent breadth."
I'll be digging this painting out when autumn rolls around again – perish the thought – to remind myself of London's beauty even when the weather is terrible.
Lots of galleries have been uploading virtual tours of their collections, and the National is surely a forerunner with no less than three on offer: a Google tour, a tour of the Sainsburys wing, also available via VR headset, and a Virtual Tour of 18 rooms.
The last of these is the best; great quality, easy to navigate, and conveniently integrated with the website's information pages.
One small gripe: the touch-sensitivity is ramped up too far; one tap of the mousepad and you find yourself whizzing round the room at breakneck speed.
However, none of these can replicate the experience of physically standing in front of the art, so I prefer not to try.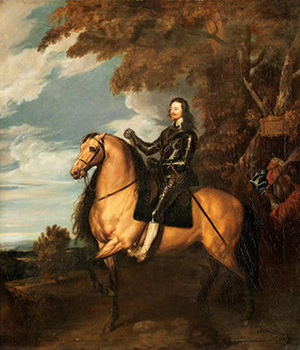 Instead, I'd recommend the 'Behind the Scenes' videos from the Gallery's Conservation department, which offer an interesting insight into the materiality of art.
Many paintings we now see as very valuable were not always treated with the best of care during their lifetimes. As they changed hands, they were lugged from house to house, or even country to country; Anthony van Dyck's enormous Equestrian Portrait of Charles I, painted in 1638, travelled from England to Flanders and Bavaria before returning to the UK.
Conservators also have to deal with mistakes made by previous restorers; a NG conservator explains that a damaged patch on van Dyck's painting was caused by a restorer who thought they were removing 'overpaint' when in fact they were scrubbing away the original masterpiece. Eek!
National Portrait Gallery
Like the National Gallery, the National Portrait Gallery (NPG) has a great search function, allowing you to search by sitter or by artist.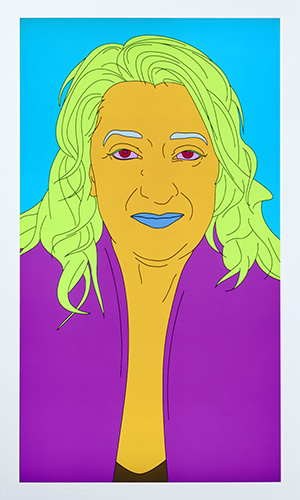 Portraits are also gathered together by era; I like the 'Contemporary Portraits' selection which showcases art created between the year 2000 and the present day.
Along with a video introduction from the director of the NPG, you can browse information about the handful of portraits the gallery commissions every year, of people who have made a significant contribution to British art or history.
Michael Craig-Martin's digital portrait of trailblazing architect Dame Zaha Hadid is a particular favourite. I've seen the portrait in real life, where the LCD screen on which it is projected allows the colours to change over time in randomised combinations.
You can't see this online, unfortunately, but the still captured on the website is very striking nonetheless.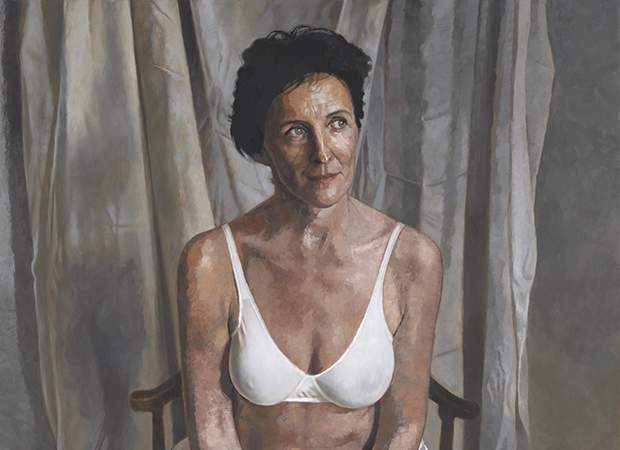 Finally, the NPG has some interviews with the artists and sitters of recent portraits. Fiona Shaw, the first-rate classical actress of recent Killing Eve fame, features in a magnificent portrait by Victoria Russell.
What do you think of London's online art offerings? Do you have something else you'd like to recommend? Let us know in the comments.