Hackney needlesmiths help patch up scrubs shortage in the NHS
A Hackney sewing studio hit hard by the coronavirus crisis has become a hub for volunteers crafting new NHS uniforms.
Make Town opened just six months ago on Morning Lane but recently joined Scrub Hub, a nationwide, volunteer-led initiative to plug a shortage of NHS uniforms.
Like many small businesses owners, founder Brooke Dennis, 33, felt compelled to help despite concerns that her studio may not survive the economic effects of the pandemic. 
She told the Citizen: "I have no prospect of staying afloat without access to government assistance at this point, but the NHS is going to look real spiffy."
Medical professionals who don't usually wear the special hygienic medical uniforms now need them, but have been unable to get them from the normal suppliers.
A Homerton Hospital spokesperson confirmed that it is not short of scrubs, but suggested the demand could be driven by health workers returning to the NHS, or the thousands joining the newly built Nightingale Hospital in nearby Newham.
With scrubs, medical staff need not wear their own clothes in the hospital, and therefore reduce the risk of spreading the virus at home.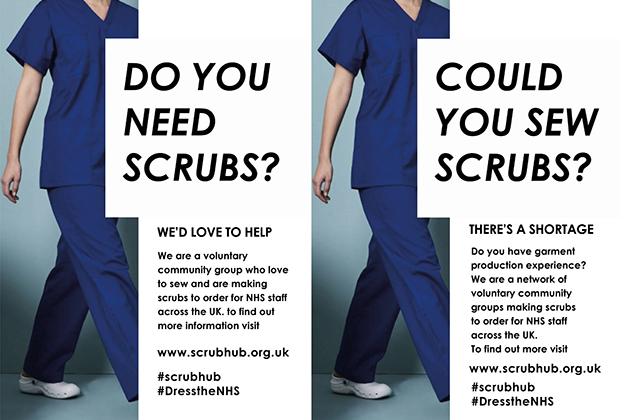 In just a few weeks, six hubs of around 100 proficient sewers have formed in London and an additional six groups now exist across the rest of the country. 
Make Town helped get the Hackney production line up and running after a doctor requested help.
NHS staff or generous supporters can order £25 scrubs online. Dennis then orders the fabric, cuts out patterns and a team coordinated through Whatsapp distributes them to around 11 proficient volunteer sewers. 
Once made, they are returned to Make Town for Dennis to distribute to NHS staff in the area or further afield.
The first delivery of 20 Hackney-made sets went out to hospitals on 1 April, and Dennis immediately got to work preparing 100 metres of fabric for another 30 uniforms.
Hundreds of scrubs have been made across London so far.
Dr Katie Ward, who is working at the Nightingale Hospital, said: "I'm very tired after a day at the hospital but I'm thrilled with my new scrubs. I'm sure they will help me work better and keep my family safe."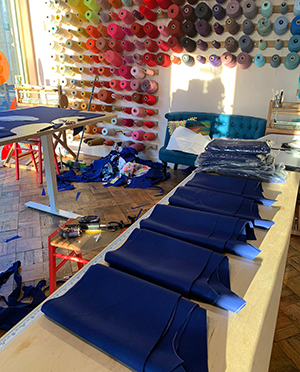 The project was a natural pivot for Dennis, who understands the creative potential of a community in crisis. 
After being caught up in the catastrophic 2011 Christchurch earthquake, which killed 185 and injured several thousand, the New Zealand native used it as an opportunity to bring people together.
And when wildfires ravaged Australia over the winter, she organised a group to make pouches for injured animals.
Whilst the future of Make Town remains uncertain, the Hackney hub of sewers will keep stitching until the orders dry up.
Dennis said: "It's kind of bittersweet. I'm not sure my business will exist in two months' time. But it's nice to give back to the people who are actually doing the hard work on the front line.
"It's given me a reason to get out of bed in the morning."
A spokesperson for Homerton Hospital said: "We don't have a shortage of scrubs. It may be that more of this clothing is being made locally for the expanding numbers of returning staff coming back into the NHS and the Nightingale Hospital of course will have several thousand staff.
"Our laundry service renews our existing stock for use on a regular basis.
"What our hospital is getting from local companies and individuals are many gifts of food, sweets and (highly valued at the moment) hand moisturiser.
"These are real morale boosters for hard working staff."
North-east London residents or employees of Charing Cross and Imperial Hospitals can place orders directly with Make Town. 
Donations cover only materials and deliveries. Any funds leftover at the end of the crisis will be donated via GoFundMe to a campaign to support mental health services for NHS workers.
For more information, visit Scrub Hub online.