Coronavirus: Victoria Park closes amid warnings of 'displacement effect'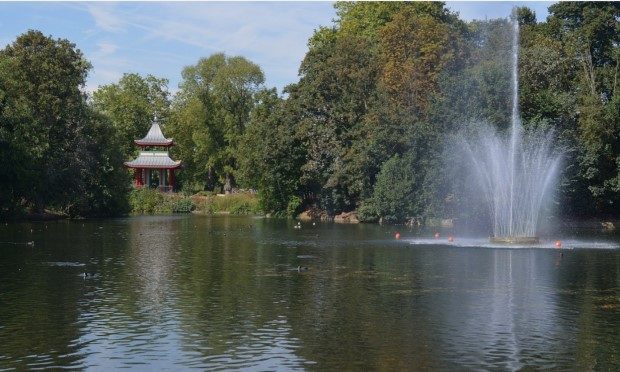 Victoria Park remains closed to the public this evening following a decision by the police and Tower Hamlets council to close it after visitors failed to follow the government's social distancing guidelines.
The decision was met with "dismay" by local ward councillors in Hackney, who have made known their preference for the problem to have been handled with strict warnings and penalties for rulebreakers, rather than the closure of the whole park.
The three representatives for Victoria ward also warned that sealing off one of the most widely visited parks in London could displace visitors into other smaller parks – a concern echoed by Hackney's public realm chief Cllr Jon Burke.
In a letter to Tower Hamlets Mayor John Biggs, Cllrs Clare Joseph, Katie Hanson and Penny Wrout said: "We are really very concerned that taking the park out of use will mean families, dog walkers and people just trying to follow the advice and get their permitted exercise will have nowhere to go. They may now crowd dangerously onto much smaller green spaces, such as Well Street Common, which cannot be locked.
"Whilst it is crucially important to try and stop the spread of this virus, it is also vitally important to protect the general wellbeing of our citizens. Both Tower Hamlets and Hackney have many residents living in overcrowded flats around the park.
"They are now confined to their flats all day, often with many children off school, and we must continue to support them to get a little bit of fresh air, sunlight and exercise and see some green space. If we do not, we may help create a different kind of mental and physical health crisis."
The group of Victoria councillors added that a number of their constituents are "begging for the park to be reopened", and made a number of suggestions for opening it back up, including using park rangers and community police with megaphones to enforce the rules, or the allocation of different areas and times to different user groups.
The decision to close is known to stem from a request to Tower Hamlets from the police, who have been tasked by Prime Minister Boris Johnson with enforcing social distancing guidelines in response to the coronavirus crisis.
It is understood that the police, struggling with limited staff, played cat-and-mouse for much of yesterday afternoon with park users not heeding the advice, with the biggest problem for officers said to have been those sat in groups on the grass who would move when asked, only to sit elsewhere.
Hackney's own parks are set to remain open, with Cllr Burke making clear that he has given his officers "the strongest steer possible" that any proposal to close the parks would not be satisfactory to the Town Hall administration, and that were the government to introduce a curfew keeping people at home at certain parts of the day, Hackney's parks would remain open short of government diktat.
However, speaking later today Hackney Mayor Philip Glanville sounded a contradictory warning note that some parks in his own borough such as Clissold Park could be forced to close if people failed to respect two-metre social distancing rules.
Going on to voice his "utmost respect" for the challenges faced by the Met in enforcing the social distancing advice, Clle Burke underlined that he does not hold the police responsible for the situation, but remained unconvinced that the closure of Victoria would make their job easier.
Burke said: "On the whole people appear to be observing social distancing rules quite closely apart from a tiny minority, and I'm not willing to go to a single mother with two kids in a one-bedroom flat in Hackney and no outdoor space and tell her that we'll prevent her from using the park.
"If you reduce the net amount of green space available in which people can reasonably socially distance and take the air, it's a basic arithmetic exercise – if the same number of people are attending parks but there are fewer parks to attend, you can expect a net increase in visits to Hackney's and Tower Hamlets' parks.
"The police have an incredibly difficult job to do at this time, but this is potentially creating more enforcement problems, because even if its not displacing people into the parks of Hackney, then it will certainly displace people onto the streets where they're more likely to be in close proximity.
"I foresee a circumstance where this creates more problems than it solves, particularly to the police, on whom this unenviable task has fallen, to enforce social distancing rules."
Signs are now appearing across Hackney's parks calling for their users to respect the two-metre social distancing rules, with the Town Hall working with police to task police and enforcement officers to the busiest areas.
Hackney's Mayor has said that the maintenance of his council's own services is becoming "harder", and is actively hindered by people ignoring government guidance on social distancing.
Cllr Burke also called on residents with gardens to stay at home to free up space for those who have no private open space of their own, and is understood to be writing to Tower Hamlets Mayor John Biggs on the issue today, having called on the neighbouring borough to reopen Victoria "as soon as is reasonably practicable from their perspective".
Hackney's mayor has said that the borough will "do everything in its power" for parks to remain open, but called out the "selfish actions of a minority" putting pressure on police and council resources during the coronavirus emergency.
Mayor Glanville said: "Parks are vitally important for our wellbeing, especially in urban areas where so many residents don't have access to outside space.
While I fully understand the concerns of local residents and councillors, I am not going to second guess why Tower Hamlets Council and the police took the difficult decision to close Victoria Park.
"We are working with Tower Hamlets Council to explore options that could lead to a reopening of the park, and welcome the news that they are seeking an early reopening with the police. This is dependent on people following the clear advice on social distancing.
"People must only use parks for exercise and must keep more than 2 metres away from others to limit the spread of Coronavirus, protect the NHS and save lives. If they fail to do this – as we saw in Clissold Park yesterday – we may, despite the extra signage we have put in place, also be left with no choice but to close some of our parks."
The Metropolitan Police said: "Police are out patrolling the streets of London and speaking to people about the restrictions to help reduce the spread of COVID-19.
"While we fully anticipate the public and business in London will want to adhere to the restrictions, if we suspect anyone to be in breach of the restrictions we will speak to them, explain what the restrictions require them to do and ask them to comply in order to help prevent the spread of the virus and ultimately save lives."
A spokesperson for Tower Hamlets Council said:"Yesterday at approximately 6pm, a joint decision with the police was made to close Victoria Park until further notice.
"While many visitors to the park were behaving responsibly and exercising individually as recommended, a significant number of visitors insisted on gathering in groups, holding picnics, drinking, sunbathing and playing football and team sports.
"These visitors ignored requests from our park and community safety teams to stop their activities. There was a consistent failure to both understand and adhere to social distancing guidance. When the crowds of people became unmanageable, our response was escalated to involve the local police.
"Other parks in the borough remain open for exercise, such as a run, walk or cycle, alone or with other people you live with.
"All visitors must maintain social distancing guidance and stay at least two metres away from all other visitors at all times.
"Stay at home. Protect our NHS. Save lives."
EDIT: This article was updated at 18:04 to include comment from Hackney Mayor Philip Glanville.