Coronavirus: Made in Hackney launches free food delivery service for vulnerable people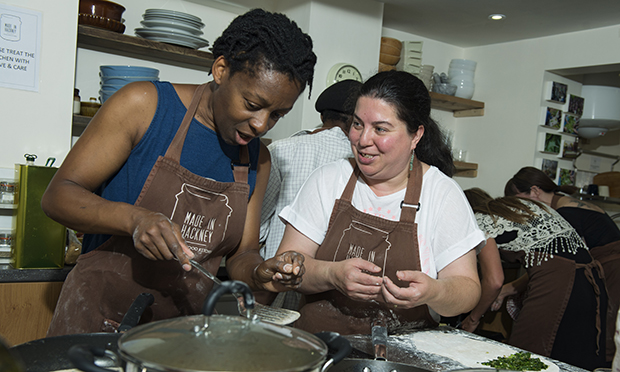 Community cookery school Made in Hackney has launched its free food delivery service for those most in need during the coronavirus outbreak.
The charity came up with the idea just nine days ago when it realised it would have to close its school, and has since raised over 80 per cent of a £50,000 crowdfunding goal.
The money will allow the team to provide 12,000 meals and deliver them directly to people's doors over the next two months.
To pull this off, Made in Hackney has teamed up with local fine dining restaurant Angelina, which has quickly switched from satisfying an affluent East London crowd to cooking up nourishing, plant-based dishes for vulnerable households.
The daily meals are made using recipes taught by the cookery school and recommended by one of its teachers, Hannah Walker, who is also an NHS dietician.
Cycle couriers will arrive to collect the food and then deliver it to a list of households collated with input from frontline NHS staff and local grassroots charities and support services.
Made In Hackney founder Sarah Bentley said: "This is an emergency. There is a very real risk of our most vulnerable community members going hungry and becoming extremely isolated.
"If we can't teach cookery classes – then we need to get nourishing food delivered to the people who need it most another way."
To support Made in Hackney's crowdfunding campaign, head to crowdfunder.co.uk/made-in-hackney-4