Families of children with SEND take challenge over funding to Court of Appeal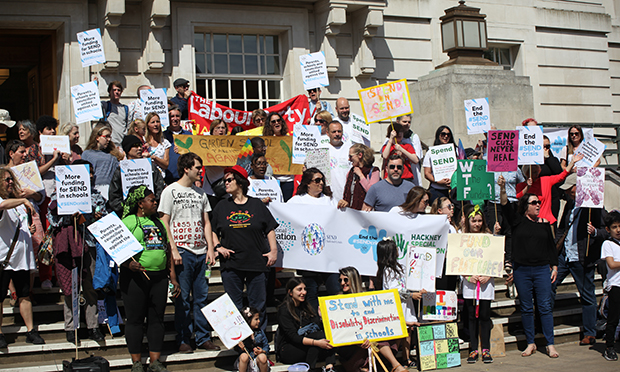 Four families of children with special educational needs and disabilities (SEND) challenging Town Hall funding policy had their case heard at the Court of Appeal today.
The appeal centres on a challenge brought by the families against a 2018 council decision to reduce by five per cent funding given to schools to meet the needs of children with SEND, a decision which the families say was made without consulting them.
Mum Dana Thompson, whose 17-year-old daughter Sade attends New City College and has narcolepsy and cataplexy, causing excessive sleepiness in the daytime and loss of muscle control, said she had to apply four times before she was deemed eligible for an education, health and care plan (EHCP) in April.
Thompson said: "As parents and carers of children with disabilities we feel that important decisions which directly affect our children's education, like the decision taken by the council to cut SEND funding, are often taken behind closed doors.
"Our children are vulnerable and we have to be their voice, but if we aren't given the opportunity to speak up for them before decisions are made, then our children's voices go unheard. When those decisions are made and we are excluded from the process, it's too late and we can't do anything about it.
"I sincerely hope that this will be resolved so that in the future so that vulnerable children and their parents and carers will not be excluded from the decision–making process, but will be given the chance to have their views heard and to be taken into account."
The families' judicial review was dismissed by the High Court in 2019, which determined that Hackney's decision to reduce the funding had been taken lawfully, with the Court of Appeal granting permission for a hearing following submissions by specialist public law and human rights lawyers at Irwin Mitchell on behalf of the families.
A judge will now rule on whether the council should have consulted parents and schools before reducing the funding allocated to EHCPs, with the Town Hall pointing at the time to an "effective funding freeze" for SEND by the government going back to 2011.
The hearing took place by remote video link due to the coronavirus emergency.
Caroline Barrett, expert lawyer at Irwin Mitchell representing the families, said: "Families in Hackney remain concerned that there is not enough funding in place to support the needs of children with SEND.
"Our clients believe that when cuts are made to resources that are vital to meet the needs of children with disabilities, that appropriate consultation should be undertaken before any decisions are reached.
"This appeal will specifically look at whether councils should be required to undertake such consultations under section 27 of the Children and Families Act 2014.
"This is an important issue because it will help clarify what councils should do in the future when they are proposing to make cuts to services in their area, and whether they should be consulting with parents and schools before making changes, cuts, and reductions."
National campaign group SEND Action has said that consultation is "vital" in order to fully understand the impact of austerity-led cuts on disabled children and young people.
A spokesperson for the group added: "As in previous years, we're seeing a number of local authorities make covert cuts by reducing High Needs funding band levels, in some case significantly. This leaves mainstream schools with insufficient funding to meet the cost of provision for pupils with SEND, and undermines inclusion.
"The Government's recent proposals to constrain local authorities funding flexibility is likely to lead to further SEND cuts, so it's particularly important that the duty to consult is protected."
Hackney Council declined to comment.