Coronavirus: Town Hall suspends all 'non-essential' market stall trading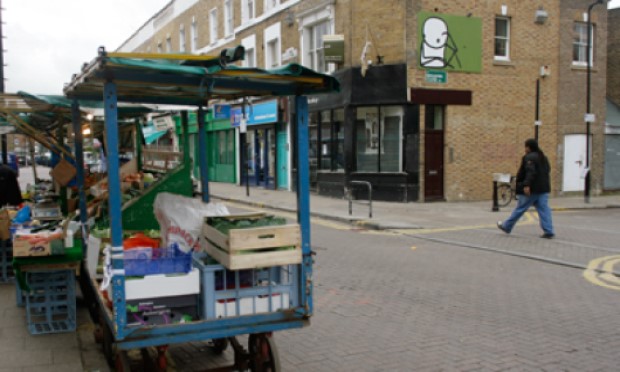 Hackney Council is calling a halt to all market trading of stalls not carrying "essential goods".
The move follows alarm over the weekend at widely shared images of crowded open air markets in London in contravention of the government's social distancing guidelines.
Many stalls are being severely impacted by the economic impact of the coronavirus crisis, with the Town Hall's markets service reporting many traders have told it that they are "making little or no money at present".
Ridley Road Market, which is the only one of six council-managed markets to run on weekdays, will from today host only traders in fruit and vegetables, fish, and household essentials, with all other traders encouraged to stay at home.
Those not trading, as long as their licences are renewed, will not have to pay for their pitch, with the arrangement maintained for at least the next four weeks, after which time the situation will be reviewed.
Remaining stalls Ridley Road will, subject to central government advice, spread out along the length of the street in order to address concerns raised by traders around the challenges of social distancing in bottlenecked or overcrowded conditions.
Larry Julian, chair of the Ridley Road Market Traders Association, said: "I think it's a good thing. We're for it, because we're still serving the community. Some stalls are encouraged not to trade, and won't have to pay rent while they're not trading. This will make it a bit safer for people when they come shopping.
"I'm going to carry on trading for the period of time that I need to. I want to give people the benefit of my experience in buying my commodity, which is toilet rolls and things like that.
"Unfortunately, those who are selling things that are not necessary for people to buy are struggling in a big way, the same as the whole country is struggling. It's hard.
"To be truthful, my family want me to self-isolate, so I'm just trying to do a couple of hours, keep my distance, do as little as I can while serving the community as much as I can."
The Town Hall's markets service has pledged to support stall-holders during the coronavirus pandemic, at what it says is "an unprecedented time for all traders within Hackney".
The council hopes that in keeping the stalls available to the essential minimum, those who rely on the market in Dalston can retain access to vital goods, adding: "These are not steps that we wish t have to take, but they are necessary to enable the market to stay open and continue providing an invaluable service to our local community."
The council manages five other street markets – Broadway, Chatsworth Road, Hoxton Street, Kingsland and Well Street markets, all of which will be subject to the same principles, with all luxury, hot takeaway food and other non-essential traders asked to suspend trading "to make social distancing easier and ensure those most at risk are able to buy what they need safely".
Residents are asked not to visit the markets unless they have to.
Hackney Mayor Philip Glanville, said: "In the current circumstances going to a market is not a leisure activity – people should not visit unless they have to, and only then to buy the items they need before returning home.
"We've asked all traders selling street food, more luxury items or other non-essentials to close, making social distancing easier at the limited number of stalls that will remain open to provide fresh food and essentials for residents who most need them near where they live.
"I cannot emphasise enough how important it is to follow the Government's advice – stay at home, apply social distancing and save lives."
You can find guidance on social distancing for everyone in the UK here.