Shoreditch Park parents fight playground redevelopment plans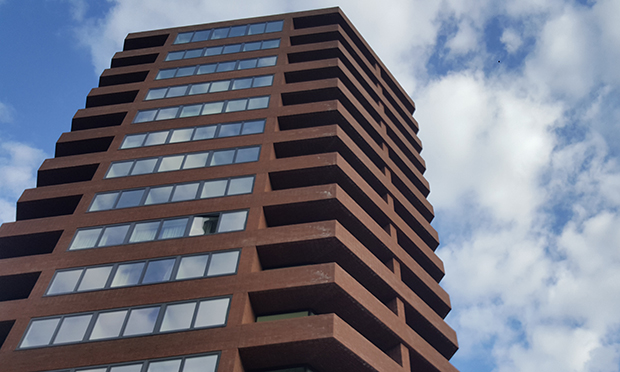 Parents at Shoreditch Park Primary School are campaigning against council plans to redevelop part of the playground.
Mary Seleznova, 35, is leading the roughly 20-strong group in trying to prevent blocks of flats being built on a section of the school's play area as part of the wider redevelopment of the Britannia Leisure Centre.
Proposals approved by Hackney Council in 2018 overruled previous plans to return the space to the school after its use as a marketing suite for developer Anthology Hoxton Press.
Instead, two blocks of largely affordable housing will be built, permanently reducing the current playground by 6.33 per cent.
Parents say a temporary building site will further infringe upon the school's grounds.
Seleznova, who has two children aged five and one, is worried that the loss of space will contribute to ill health and increased obesity.
She said: "The years of construction will be lost years. They are not thinking of the coming generations."
Her group has set up a petition to stop the plans, which has so far been signed by 820 people.
Hackney Council has made efforts to compensate the school and its parents for loss of playground space through refurbishments, the promise of over £2 million in investment and a pledge that the school will have sole use of a ballpark across the road. 
The Town Hall also plans to open a new early years centre in the ground floor of one of the new blocks, which is the only site of affordable housing in the Britannia Masterplan. 
However, the parents' group remains sceptical that promises to upgrade existing play space will be fulfilled.
Anthology Hoxton Press had promised to improve the playground habitat when their marketing suite first occupied the corner of the playground now designated for redevelopment.
The firm's project director David Newey said: "Through our engagement with the school, we were proud to have helped clear their playground to transform it into a space for the pupils to safely play outdoors." 
Peering through the wire fence at a patch of dirt and daffodils, Seleznova told the Citizen: "They didn't do anything."
Anthology Hoxton Press last week vacated the marketing suite, which is due for demolition in April to make way for the new towers. 
Hackney Council has defended the move and is pushing ahead with the build.
In response to claims from parents, a Town Hall spokesperson said: "There is no breach of planning permission. The planning conditions for the Hoxton Press marketing suite no longer apply as they were superseded by the planning approval for the Britannia Masterplan in 2018, which gave permission for the construction of genuinely affordable council homes and community facilities on this land."
The parents' group's petition to save the playground can be found here