Union calls for council to bring traffic wardens in-house as further strikes threatened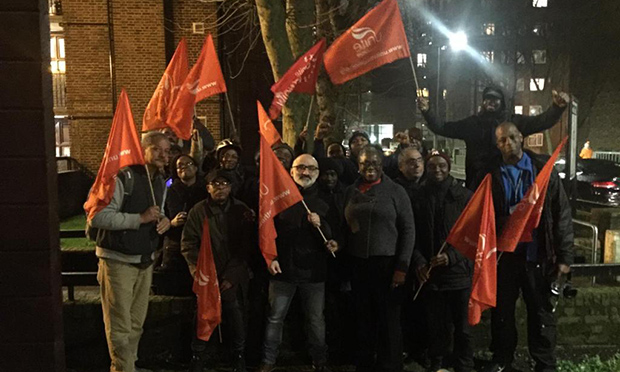 Trade union Unite has called for Hackney Council to bring its parking contract in-house, following two weeks of strike action by traffic wardens employed through outsourced private company APCOA.
Unite has asked all Hackney councillors in an open letter to persuade APCOA to "negotiate in good faith", after talks mediated by arbitration service Acas broke up without agreement.
Unite's regional officer Onay Kasab went on to call on Hackney Mayor Philip Glanville to use his "real, direct influence" to bring in the contract, following the Mayor's own pressuring of the Homerton Hospital to do the same with its outsourced cleaners.
Kasab said: "This is a Hackney contract where the contractor is providing a service at cost on the basis of poor pay and conditions for workers.
"Ultimately we believe that the contract should come in-house. In the short term, we ask Hackney councillors to intervene to persuade their contractor to negotiate in good faith.
"Recently the Mayor spoke of his pride in leading an insourcing council. He rightly supported a demonstration at the Homerton demanding that contracted-out staff be insourced by the NHS.
"Well, he can start where he has real, direct influence and insource services that his council privatised."
Speaking earlier this month, the Town Hall boss had called in-sourcing staff at the Homerton a "no-brainer", as well as pointing to a promise to review all external contracts with a view to bringing them under the council's roof.
The Homerton were offered support and advice on insourcing by the Mayor, and recently celebrated bringing a contract for school cleaners inhouse.
Glanville added in February: "At Hackney Council we've made it clear that contractors who want to work with us have a choice – pay proper wages, sick pay and pension contributions or lose the contract and be ineligible to bid for new ones."
Traffic wardens working through APCOA are paid the London Living Wage of £10.75/hr, as well as statutory minimum annual leave and sick pay, with "virtually non-existent" pay differences between supervisors and those they supervise, according to Unite.
The unions are calling for an increase in the wardens' pay, who it was reported in January face physical violence as a "regular occurrence", to £15/hr, with better conditions on sick pay.
Unite has threatened "further, extended strike action" if APCOA do not return with better conditions in the next couple of weeks, with Kasab adding: "We do not believe that the council can stand aside and say that this has nothing to do with Hackney."
Cllr Jon Burke, Hackney Council Cabinet Member for Energy, Waste, Transport and Public Realm, said: "As a result of our sustainable procurement strategy and the culture of radical insourcing that the council has developed a reputation for, consideration is always given to the prospect of bringing services back in house whenever outsourced contracts are up for review.
"Insourcing is not suitable in all cases, but the council has a preference for it given its proven ability to reduce costs, improve service delivery, and allow for direct employment."

"This is not a dispute between the council and those choosing strike action. Civil enforcement officers (CEO) are employed by APCOA. However, as with all council contractors, they are guaranteed the London Living Wage, and CEOs can also earn up to 6.4% as an additional bonus every year, which is paid every month subject to factors such as attendance and punctuality.
"We are committed to protecting and supporting our contractors, and do not tolerate any form of violence against staff. Enforcement officers are trained to deal with public aggression and attacks, and are equipped with GPS devices, video badges and short wave radios. In high-risk areas, enforcement officers patrol together.
"During the strike period, there was only a minimal impact on parking services – with most services fully covered."