Hackney playwright's film wins Best Screenplay at illustrious Lift-Off awards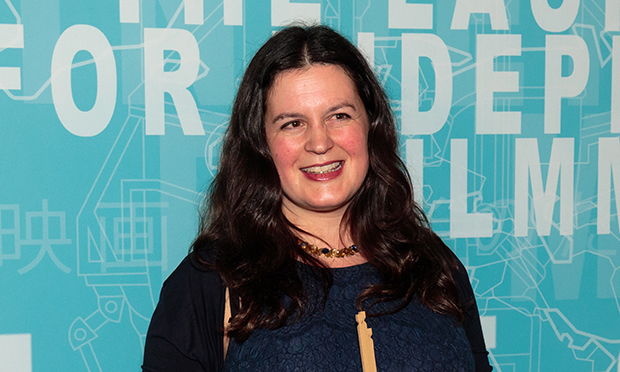 The remarkable journey of a Hackney playwright's first short film took another triumphant turn this month after it was named Best Screenplay at the prestigious Lift-Off Festival's season awards.
Tamara von Werthern, who lives in Homerton, adapted her mini-play Sharks are Terrorists for the big screen following a chance meeting with local film director Marcus Liversedge.
The renamed 10-minute short, I Don't Want To Set The World On Fire, was selected for the Cannes Film Festival last September, before featuring in the London arm of the global Lift-Off Festival in December.
The dark comedy follows a couple as they plan to survive the impending end of society in the UK by waiting it out in their garden bunker.
After earning a special mention from Lift-Off which will see it screened in Tamara's home country of Germany, the film took home Best Screenplay at a swanky awards bash at Pinewood Studios on 18 January.
Tamara, whose long-form plays have been performed at theatres such as Dalston's Arcola, told the Citizen: "It was a bit of a shock to win, I honestly hadn't expected it, especially since we'd only entered the season on the last festival, and it was only the second festival to screen us after Cannes.
"But it's absolutely brilliant, of course. I'm over the moon. It could not have happened at a better time."
She added: "I am so grateful to Marcus Liversedge, for responding to my script and deciding to create the film version, and also to my amazing cast Josephine Starte, Graham O'Mara and Tim Larkfield and the brilliant crew, as well as everyone who supported the original script, especially Suzette Coon and Anna Marsland, the director of the original production of the short at Southwark Playhouse."
Liversedge, an Emmy Award-winning director, paid tribute to Tamara, saying: "There is for me a keen crossover from modern English to modern German sensibility in her work.
"The real setting and modern characters lead you smoothly into a dystopian future, where citizenship can be revoked on a whim from above and the cracks in society really start to split open.
"Like all good dystopias, it trains a startling spotlight on where we are now. We live in dark times so dark humour is the best way to honestly process this."
The film screens at Lift-Off Berlin in February, and Tamara is hoping it could go global from there.
She said the award has given her writing career an "incredible boost", adding: "Not only has it opened the world of film and TV to me, connected me with some amazingly talented people, but it's also brought the production of the stage play of the original story, Sharks are Terrorists, another step closer to production."
The playwright is in the early stages of pulling that production together, along with Steph Weller, part of the Old Vic 12 talent scheme, and Lily McLeish, who is currently directing Scrounger at the Finborough Theatre.
Tamara says all three are "extremely thankful for the recognition of the writing from Lift-Off Global Network".
Tamara's play The White Bike, and climate change book Letters to the Earth, featuring her contribution, are available at Pages of Hackney bookshop on Lower Clapton Road.