'More regulations than Brexit': Ridley Road traders hit out at Town Hall's market plans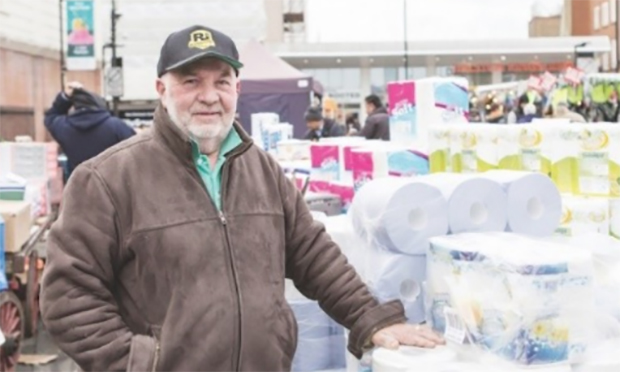 Ridley Road market traders have hit out at a drive by the Town Hall to tighten up existing regulations and introduce new ones for their businesses.
The council ran a consultation at the end of last year on updating of the operating terms for street market traders in the borough, saying the rules do not currently reflect professional requirements.
However, Larry Julian, chair of the Ridley Road Market Traders' Association (RRMTA), is arguing that the changes amount to overly stringent enforcement rather than helping the market thrive, and is calling for the system to be "reasonable".
Julian said: "I've worked here all my life, and was born and bred in Ridley Road. I want to know that when I leave this market as a proper one, as it's always been. I believe that this council have got a hidden agenda for this market.
"If any developers come in and want to anything in Ridley Road, they can just at a drop of a hat move traders away from where they've been working for thirty years, and you can't challenge it.
"They'll be able to do it with the new regulations. If you compare the size of Ridley Road to the size of the country, it's more regulations than Brexit.
"You can't work under 280 regulations without breaking one of them, it's impossible. Back in 1975, we had twelve regulations on the back of our licences, and the market was thriving."
Julian, who has worked in the market for over 50 years and has led the group for 20, pointed to rules tying traders to their stalls for 51 per cent of the working day, claiming that in the past this had been interpreted as 51 per cent of the week.
The Association is calling for terms that would allow traders leniency to leave their stalls in order to purchase supplies or manage other parts of their business such as accounting or tax calculations, claiming that the proposals would sign them up to an "unreasonable" 90-hour week.
Also coming in for criticism are expectations to sign in and out of the market at 6am and 8pm, with campaigners arguing at the end of last year that for some this could amount to a 16-hour day, taking into account the journey some food traders make to Spitalfields.
Julian added: "It's like being a schoolkid. I've never seen a markets team as bullish as what we're looking at now, it's horrendous. They're making you stand to attention when they walk around.
"The market's just about surviving, and if you look right across the country, everyone in the retail business is struggling. All traders are miserable at the moment, because everyone's worried they might be suspended tomorrow.
"You can't just suspend someone when they've got a livelihood and a family to feed, because of whatever silly reason. We're self-employed, but they want to control us."
The chair admitted the subletting of stalls is a continuing problem in the market, but argued that honest traders should not be penalised for the infractions of a minority.
Hackney has argued that the 51 per cent rule, which is in the existing terms and conditions, ensures markets are "busy, inviting places to visit", pointing out the requirement is lower than with other local authorities, with a 60 per cent rule in Camden and 100 per cent in Westminster.
The Town Hall is also proposing an increase in trader fees of between £2 and £3 per day, and a decrease in charges for some traders, stressing that fees have not changed since 2016 despite annual storage, waste and maintenance costs increasing by £100,000 in the same period.
Officers have pointed out that if a trader holds more than one licence, they can split their 51 per cent attendance across the different locations.
Public realm director Aled Richards said last year: "There is no term or condition in the licence that enables the council to revoke a street trading licence to enable private development."
Julian and the Association, however, remain unconvinced, arguing that not only is there no flexibility within the proposed regulations for traders to work part-time, but that they fear they could lose their licence for not being present at their stall for any reason.
The political leadership in the Town Hall has restated its pledge to protect the market.
At a full council meeting this week, Hackney Mayor Philip Glanville (Lab & Co-op) said: "I would like to reiterate that Ridley Road Market is safe under this administration.
"It is also safe under the Labour councillors in Dalston who champion it, not just in the papers, but week in, week out in their work in Dalston ward.
"Dalston's unique character, physical, economic, built, and its diversity are safe, and we will continue to stand up for it against all the challenges that it faces."