Abney Park set to become major venue after council wins £4.4m in funding
Ambitious plans for Stoke Newington's Abney Park Cemetery are set to become a reality after the council was awarded £4.4 million by the National Lottery to fund further improvements.
Proposals signed off by cabinet last year include a new building with a café and events space, an accessible entrance on Church Street, and more refurbishments to the historic chapel, which could host weddings, stage productions and community get-togethers.
The Town Hall, which will contribute an additional £710,000, will install an environmentally friendly heat pump in the park to provide heat and hot water to the new buildings. 
Mayor Philip Glanville said the council is "thrilled" with the funding, describing the cemetery – one of London's 'Maginificent Seven' – as a "special place" for Hackney residents.
He added: "Radicals, anti-slavery campaigners and dissenters all form part of its incredible history, which the new cafe, classroom and restored chapel will help to open up to more people and generate income towards the ongoing improvement of the park.
"I'd like to thank the National Heritage Lottery Fund and the National Lottery Community Fund, as well as the Abney Park Trust, Abney Park User Group and officers in the council's parks service for their belief in this project and work to make this happen."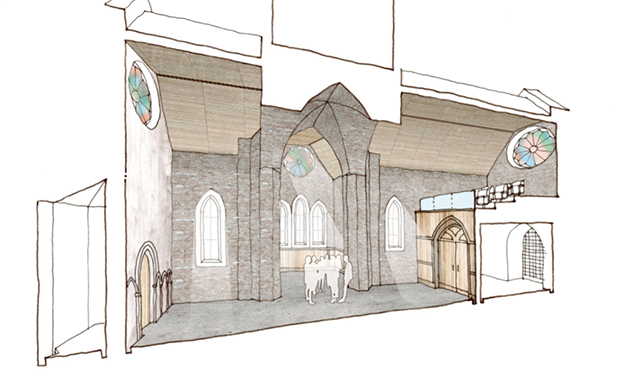 Abney Park Trust chair Shelagh Taylor said: "We are delighted at the award of this funding which will greatly improve the facilities at the park, make it more sustainable, and enable us to put on more events and activities."
Lorraine Tillett, secretary of the Abney Park User Group, said the funding is "excellent news".
Abney Park Cemetery Chapel is the only surviving public building by architect William Hosking, according to the Victorian Society.
It is also the oldest non-denominational chapel in Europe, and only reopened to the public in 2017 following extensive repair work. It remains on Historic England's 'Heritage at Risk' register.
Work to restore the chapel's interior will include a new floor, toilet facilities, electricity, lighting and seating at balcony level.
To find out more, head to hackney.gov.uk/abney-park