New images offer glimpse into Abney Park's future – if bid for more funding is successful
Newly released images offer a glimpse of what Stoke Newington's Abney Park could look like if Hackney Council's application for further funding is successful.
Plans signed off by cabinet last month feature a new building with a café and events space, an accessible entrance on Church Street, and the second stage of restoration work on the chapel, which would allow it to play host to weddings, theatre productions and community get-togethers.
The proposals will now be submitted to the council's planning committee and the National Lottery Heritage Fund (NHLF) for consideration, following a successful earlier bid to complete initial design work. 
If more funding is forthcoming, the council will contribute £710,000 towards the expected £5 million renovation of the park.
Deputy Mayor and Town Hall parks chief Cllr Feryal Clark said: "Abney Park, one of London's magnificent seven garden cemeteries, is the home of radical dissenters, dense woodland and incredible biodiversity.
"We want to protect its unique character and open it up to more people by creating a new public building, a new accessible entrance and by bringing the chapel back into use.
"I love the plans and I look forward to seeing the amazing improvements in the park if the bid is successful."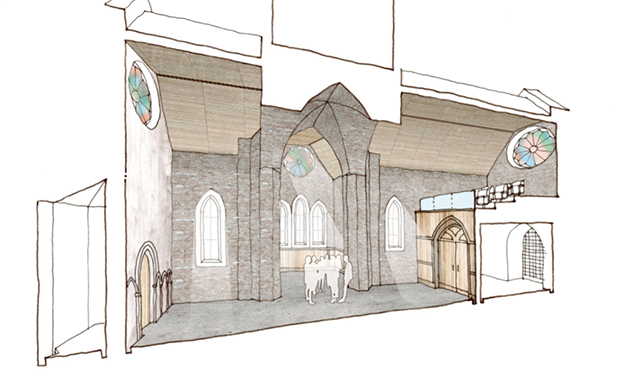 Stoke Newington's Abney Park Cemetery Chapel is the only surviving public building by architect William Hosking, according to the Victorian Society.
It is also the oldest non-denominational chapel in Europe, and only reopened to the public in 2017 following extensive repair work.
The park was affected by fire and vandalism in the 1980s and fell into disrepair.
Numerous music videos have been shot in the cemetery over the years, including one for Amy Winehouse's famous hit Back to Black.
A spokesperson for Abney Park User Group said: "At our meeting in June the response was very positive to the plans.
"Although there is no guarantee the funding from the NHLF will be granted, we are hopeful it will happen as it will bring great improvements to the facilities while, because of close working with the council's organising group from an early stage, the [Abney Park] Trust has  been able to ensure that no inappropriate elements often associated with large developments will be allowed to spoil people's enjoyment of the site.
"Work will be restricted to the front entrance, the chapel and improving the Church Street entrance. We should know the outcome by the end of the year – fingers crossed."
Update: this article was amended at 10am on Thursday 8 August 2019 to include a comment from Abney Park User Group.