'Glastonbury moment': Hackney Carnival could take a 'one-year rest'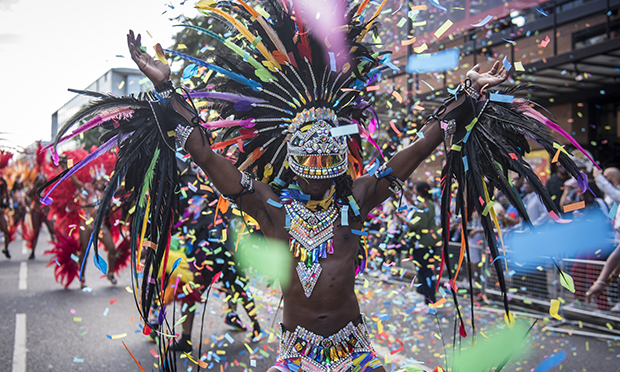 The Town Hall is weighing up the possibility that the hugely popular Hackney Carnival could take the year off in emulation of the Glastonbury Festival.
More than 60,000 people attended the last carnival, the biggest yet, which had the theme of global sustainability.
The news came during a discussion about the allocation of just over £3.5m of so-called Neighbourhood Community Infrastructure Levy (nCIL).
The council agreed last year on an nCIL Fund which will be split between borough-wide projects such as the Carnival, and neighbourhood-level allocations which would be open to bids.
Cllr Guy Nicholson (Lab, Homerton), cabinet member for planning, culture and the inclusive economy, said: "We shouldn't be distracted by the fact that this event is getting bigger and bigger – we need to think about that.
"We have to recognise that as it gets bigger, it requires more resources of all descriptions, not just policing, but also the volunteering that goes around it, the participation programme around it starts to expand as well.
"So there are a number of questions that are about what the Carnival could look like going forward in the years ahead, and does it happen every year?
"Does it suddenly become, a bit like a Glastonbury moment, with three years on and a one year rest? We would go off and do something else for a year and come back in Year 5 to do the next cycle."
The culture boss added that in his view there was "a challenge to be put to the council" to look at other investors into the carnival, pointing out that as the event is now "positioned as one of the leading cultural events in London," the Metropolitan Police must bear some of the cost of policing it.
Councillors quizzed Nicholson as to why just over £3.5m had been accumulated across the past five years but not spent.
Cllr Steve Race (Lab, Hoxton East & Shoreditch) said: "I think I'm missing something. We've been accumulating nCIL since 2015, essentially, and we're now getting to the point where we know how we're going to spend it.
"I'm a bit confused about why it's taken us years to get to the point where we're nearly ready to decide how we're going to spend it."
The culture responded that a "policy framework" giving a basis on which the money could be invested had not existed under the administration of former Hackney Mayor Jules Pipe, saying that it was only the arrival of Philip Glanville as Mayor under which this changed, allowing the money to be spent.