Hackney North candidates grilled on climate crisis at Extinction Rebellion hustings but Diane Abbott a no-show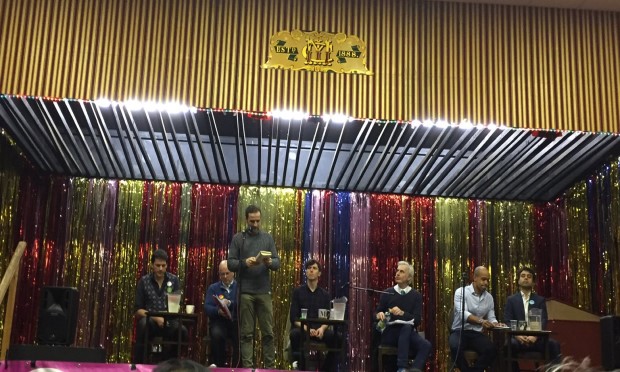 A selection of candidates for Hackney North and Stoke Newington were held to account on their policies on the global climate crisis at an Extinction Rebellion (XR) hustings yesterday evening, though a number of candidates seeking the electorate's votes were not on the panel.
Incumbent Diane Abbott, as well as recently suspended Liberal Democrat candidate Ben Mathis and independent candidate Lore Lixenberg were not in attendance, with the audience left to question Abbott's stand-in Mick Burke alongside Alex Armitage (Green), Benjamin Obese-Jecty (Con), Richard Ings (Brexit) and Haseeb Ur-Rehman (Renew).
Mick Burke sent apologies for Abbott, saying she was called away because she has "national obligations, and was doing all day the launch of Labour's race and faith manifestos".
Some in the audience heckled Burke, saying 'She's in Tottenham', referencing her appearance at the Bernie Grant Arts Centre to launch her party's policies on faith and race. Abbott was later pictured doorstepping in central London that same evening.
Former Hackney Gazette editor Ramzy Alwakeel informed the audience that Mathis, who will still appear on the ballot paper as a Liberal Democrat, had been disinvited by Extinction Rebellion due to his suspension from his party.
Sources close to the organisers said after the meeting that XR felt that, in the same way as a representative from an extremist party would not be welcome, that the withdrawal of his invite had been due to the nature of the offensive statements which had led to his suspension.
Issues both local and global were debated at the meeting, which in true XR style was run differently to a traditional hustings – the format of the evening (set to be repeated on Thursday for Hackney South) involved preprepared quizzing, followed by workshops amongst the audience to reformulate further questions which were then out to the candidates.
All candidates agreed on the need for action over environmental issues, divided only over policy of how to approach said action, and in the case of the Brexit Party's Ings, the characterisation of the issues faced by the planet as an "emergency".
Labour's Burke, on behalf of his candidate, following a piece of audience interaction conducted by Ings challenging the audience to recognise the name of the EU's commissioner for the environment Karmenu Vella, framed the election as a choice between the Conservatives and Labour.
Burke retorted: "Hands up all those who know who the US energy secretary is. Probably very few in the audience, but you'll get to know who they are, because if Boris Johnson and Donald Trump have their way, they'll be setting our environmental standards.
"That's the real choice of this election – either Boris Johnson and Donald Trump, a hard Brexit and an environmental disaster; or Jeremy Corbyn, close alignment or remaining in the EU, and protecting our environment and our living standards. That's what's at stake."
Abbott's understudy slammed many of the world's political leaders as "absolutely failing" to address the climate emergency, referencing catastrophic floods, wildfires, toxic air, and the impact on climate change on the world's poor and the global south.
The Labour campaigner called on the audience to "direct [their] anger" against the global rich and corporations, saying that sweeping nationalisation was the way to direct investment into renewable forms of energy, and promising that Labout would invest £250bn into greening the economy, transport and housing.
The Tories' Obese-Jecty defended the current government's climate record as being on an "upswing", and promised that under his party the country would be able to become "a global beacon for the change we want to see in the world".
The Conservative candidate said: "As a successful adult in a Western nation, I've often felt strong and in control. As an army officer in operations, I strive to effect change at a tactical level in support of a strategic aim, and I felt strong and in control. In both of these environments, that strength came from sharing a common direction of travel.
"In order to feel that same strength with regard to our response to the climate emergency, we must align to a common target. We've had our Industrial Revolution, and to stand here now and pull up the ladder as others undertake theirs is at best disingenuous, and at worst undermines globalisation. Other nations, notably those with the highest populations, lack the current infrastructure to reduce reliance on fossil fuels. We must show them the way."
Obese-Jecty added that when thinking about the climate emergency he personally felt "detachment, driven by the relative privilege of living in a Western nation", underlined to listeners the importance of being "appreciative of what we have, and what we stand to lose", and signalled his support for investment in cycling infrastructure and green buses, as well as nuclear power.
Green candidate Armitage pushed back on Burke's arguments that the 2019 general election should be viewed as a Johnson versus Corbyn contest, pointing out that such a struggle would only be playing out in marginal constituencies, of which Hackney North is not one.
Armitage said: "The Green Party is the choice we shoudl all make to put as much pressure on the Labour Party and Diane Abbott, possibly the future home secretary, as possible. If she's looking over her shoulder and seeing a strong Green Party challenging her electorally, that will have a huge effect on the way that she conducts her policies.
"The climate and ecological emergency is still something we need to draw people's attention to. Voting system drowns out important voices like the Green Party in our politics and I think we need to be voting for the Green Party in seats like Hackney North in order to do that."
Armitage, a practising paediatrician, said that he was "absolutely terrified" by the climate emergency, and sometimes questioned the point of treating the children under his care as a result of scientists' warnings of what impact the crisis will have on humanity, compared, the threat faced by the UK to that faced in the 1930s, and promised the Greens would put a 'carbon chancellor' in Number 11 Downing Street and set a carbon budget for the UK's emissions.
Armitage added that through his involvement with XR he had brokered a meeting between the group and Abbott, who he claimed had told him 'You've done a great job in drawing our attention to this issue as it's much more important than Brexit', to which Burke nodded his agreement.
Brexit party candidate Ings expressed his surprise that he had not spoken about his party's titular issue until the end of the evening, but urged the crowd to recognise that change in environmental regulations could be brought about by the UK unilaterally once the country had left the EU.
Ings said: "The problem that we have is that if we have to have control over the democratic process, and the problem is we don't. The EU can make trade agreements and we have very little say in it, in fact arguably the people in this room have no say in it at all.
"I think we're all competent enough in this country to impose air quality directives and legislative framework that provides checks and balances – we don't need the EU to impose those things. If we want to do that, and have better environmental regulation in this country, we don't want to follow what the EU says."
Ings said he disagreed with the use of the term "climate emergency", prioritising the development of technological solutions to "environmental problems" such as the ditching of CFCs from industrial and consumer products to protect the ozone layer, and dismissed "green politics" in favour of "more development", going on to quote The Hitchhiker's Guide to the Galaxy: "Don't panic."
Haseeb Ur-Rehman represented the Renew party on the panel, and identified more stringent regulation of the corporate sector as the way to solving the climate crisis, about which he expressed his "grief" at the loss of biodiversity globally and the challenges which all societies face as a result.
Ur-Rehman said: "Centrally, the underlying issue behind all of this, is why do corporates behave the way they do? It's because they're unregulated, and nobody's prepared to regulate them.
"The way forward is regulation and a limitation on shareholder value, which is at the root of why people behave the way they do in the corporate world. I think that that's would be ultimately how we would prevent ecological destruction as we face it. Renew envisage a world where corporations, indivuduals nad public entities take more responsibility for the future of our planet. Economic profit and growth should not prevail over the wellbeing of people and the environment."
Ur-Rehman went on to assert that clean air and a healthy environment is a human right and essential for all species, with Renew supporting clean energy, consumer durability, a circular economy in goods and services, a new clean air act, and remaining in the EU in order to better achieve these goals.
Hackney North and Stoke Newington goes to vote with the rest of the country on Thursday 12 December – you can register to vote here.
XR Hackney will also be holding a climate hustings for Hackney South and Shoreditch on Thursday 29 November – more details here.