Once Upon a Time in Brick Lane, Paul Trevor: 'Camaraderie of the East End during a period of strife'
East End street photography has become a genre all its own, and Paul Trevor is without a doubt one of its leading masters.
Abandoning accountancy for his camera at the age of 25, it was not long before the self-taught photographer started teaching others and setting the pace for a style of imagery that has since become iconic.
Once upon a Time in Brick Lane is a collection of pictures taken in Spitalfields and surrounding areas between 1974 and 1989.
This was a time before gentrification set in and before East London became self-consciously commodified.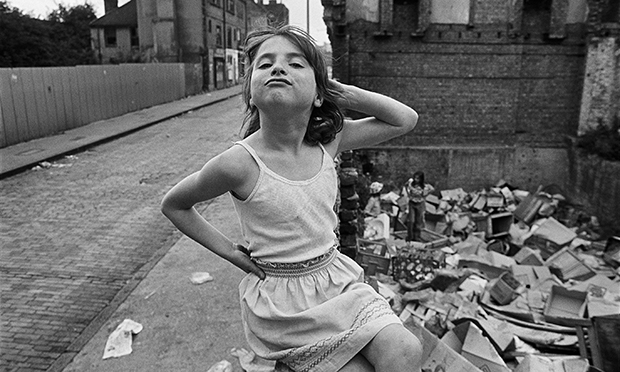 The emphasis in the volume is very much on the people who make the area what it is – their cheek and wit, liveliness and destitution – and on the street themselves.
Rubbish piled high during the 1979 Winter of Discontent frame a man fixing his car in Princelet Street; people stand on Chilton Street selling their worldly possessions; a child brandishes a toy gun in front of a group of policemen on Brick Lane; people queue at a job centre on Settles Street; five children and a dog pose for the camera on Sheba Street; a woman pushes a pram past a man sleeping on a bench in Toynbee Street; a boy clutches a bouquet of flowers on Heneage Street; women rummage through piles of used clothes at a market on Bacon Street; two Asian women walk past racist graffiti on Brick Lane.
The photos capture life during a period of desperation and strife, but they emphasise also the bravado and camaraderie that is woven through the fabric of East End life.
These are people who don't give up in a place that has for generations defined resilience.
Once upon a Time in Brick Lane by Paul Trevor is published by Hoxton Mini Press, ISBN: 978-1-910566-50-3; RRP: £25