Light set to come back on in Shoreditch as 'new gastrobar concept' planned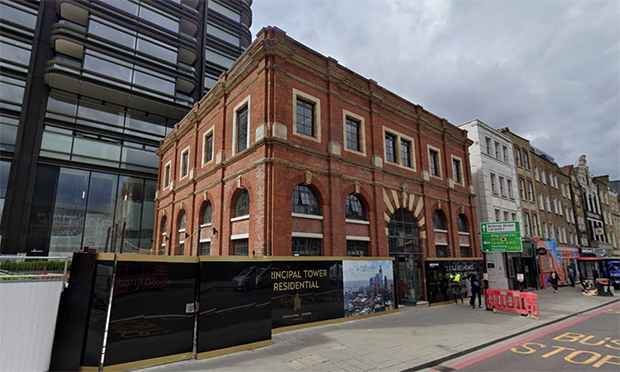 A new "gastrobar concept" is set to open back out the old rail power station on Shoreditch, five years after much-loved watering hole The Light shut its doors on the site.
The Light Bar and Market will feature a "flexitarian menu," in which diners will be able to pick their own ingredients and how they will be cooked from the market.
The building, characterised by the Victorian Society as "one of the only remaining pieces of evidence of an area once characterised by its industrial function," was saved from demolition in 2009 by OPEN Shoreditch, supported by Tracey Emin and Madness singer Suggs.
The area has seen significant redevelopment since then, with Foster and Partners-designed residential block Principal Tower appearing behind it. The website of the original Light, which opened in 2000, now simply reads: "After 14 years the Light has closed down to make way for a tower block."
The Light Bar and Market says in its licence application: "This unique triple height ceiling, 5,000-square foot old rail power station, with all original features, will be converted into a new gastrobar concept.
"The new gastrobar concept is all day and evening service. Contemporary dining proudly features a flexitarian menu boasting a evening seafood BBQ where responsibly sourced catches are cooked to order, as you like it.
"Instagrammable light installations at night [will] highlight and celebrate the outstanding architectural details surrounding the central service area and feature staircase."
The management still have to convince Hackney's licensing committee, with the police raising concerns over the venue being able to sell alcohol for consumption off-site, pointing to "the rising number of incidents involving
violence, anti-social behaviour, crime and disorder."
Heloise Brown of the Victorian Society said of the building in 2009: "The Light has been a pioneering symbol of the East End since it was built in 1893 to generate electric light for the nearby Liverpool Street station.
"Its historic importance to the area is evident from Shoreditch's motto adopted in 1900: 'more light, more power'.
"It is a landmark for the area both historically and now for the vibrant diversity that characterises the East End."