East London Mayors join to condemn local meetings of Turning Point UK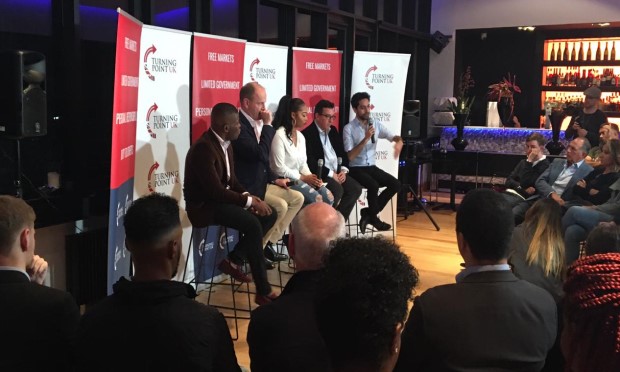 The Mayors of Hackney and Tower Hamlets have joined to condemn the local meetings of right-wing activist group Turning Point UK (TPUK).
The group, which saw its formal launch in February, is the British incarnation of Turning Point USA (TPUSA), a right-wing student pressure group notorious for its blacklisting of "leftist" college professors and reported links to white supremacists and anti-LGBT hate groups.
A public meeting of the group was hosted by Brexit Party MEP Lance Forman at his Fish Island restaurant Forman's, at which Forman sat on the panel alongside independent MP Douglas Carswell as well as three TPUK activists.
Hackney Mayor Philip Glanville and Tower Hamlets Mayor John Biggs said: "Hackney and Tower Hamlets are proud of our diverse communities that celebrate difference and are open to the world.
"Turning Point UK – which are against those values – have no place operating in boroughs with a proud history of solidarity and equality.
"Our communities will always stand against organisations that seek to divide using fear and hatred."
Lance Forman has hit back at both Mayors, accusing them of "spreading fear and hatred" in their turn for not having engaged with TPUK directly, and pointing out that TPUK has held "many meetings across the country."
Forman said: "Turning Point is not associated with any political party but is simply a forum to empower students who believe in free markets and capitalism with the freedom to speak out and not be bullied by the intolerant left on campus.
"I believe strongly in free speech and it important that students are able to explore their ideas and feel safe to do so. It is an absolute disgrace that anyone should consider shutting down Turning Point."
Turning Point separately confirmed it has no affiliation with the Brexit Party, going on to claim that attendees at its events ranged across the political spectrum, "from the Conservative Party, Brexit Party and even the Labour Party."
Conservative MPs including Jacob Rees-Mogg, Priti Patel, and Steve Baker have all endorsed TPUK, which has also received the good wishes of far-right anti-Islam party For Britain.
TPUK fiercely resisted the Mayors' characterisation of its politics when quizzed by the Citizen, saying that it is a group concerned only with "free markets, limited government and personal responsibility."
The group's stated aim is to challenge the idea that students will naturally lean towards the leftwing in their politics, having staged so-called 'campus clash' events in London, Nottingham and Brighton.
A spokesperson has said that the organisation is "very proud" of its diversity, pointing out that the line-up for last week's panel at Forman's had on stage "a Jewish MEP, a Persian pro-Conservative Party YouTuber, a former member of parliament and two of our young black influencers."
The first meeting held at Forman's under the Turning Point banner back in February hosted TPUSA founders Charlie Kirk and Candace Owens, both of whom have faced widespread criticism for their public statements in the past.
The legal advocacy organisation Southern Poverty Law Center (SPLC) called out Kirk last June for "anti-immigrant and anti-Muslim" and "racist dog-whistle" statements on social media, with claims such as: "It would take 40 years worth of blacks killed by cops to equal the number of black [sic] killed by other blacks in one year."
The SPLC also linked TPUSA to the evangelical Christian Alliance Defending Freedom (ADF), which it classifies as an anti-LGBT hate group.
Owens, who according to a Tatler profile is engaged to TPUK chair George Farmer, has also caused controversy in the past with statements claiming that the premise of the #MeToo movement is that women are "stupid, weak and inconsequential", and that the characterisation of Adolf Hitler as a nationalist is "really wrong".
In response to questioning on the Mayors' statement, TPUK seemed to distance itself from its American parent organisation, stating that the two groups are "independently run, governed and financed", though stood by Kirk's statements as "rational and defensible points."
These include the juxtaposition of a white woman and a BAME woman wearing a headscarf with the statement, "Which vision for women do you want? One where women are empowered or suppressed? East VS West. Choose correctly."
TPUK has further argued that Kirk's statements are separate from public positions taken by TPUSA, drawing a distinction between tweets sent from the organisation's official account and those sent by its founder.
A TPUK spokesperson said: "It would be laughable if it wasn't so tragic that the Mayors of Hackney and Tower Hamlets believe that in order to stand up for 'diversity and openness' they should literally shut down groups from voicing differing opinions to them.
"Doesn't that achieve the opposite of 'diversity and openness'? Doesn't that just create a society where diversity is minimised because only certain opinions are allowed?
"Doesn't that just create a society where "openness" to opinions you disagree with are banned or bullied into silence?
"We are proud of our openness, for the vast majority of [last week's] event was about taking questions from attendees. In fact at the events we stress that we want to hear from people that disagree with our values first. So where is the lack of diversity and openness exactly?
"We would be keen to understand from the Mayors what they believe it is we are saying that is so beyond the pale? We believe in free markets, limited government and personal responsibility. That's it.
"We understand if the Mayors don't agree with our message but why ban it? Can we say to the Mayors of Hackney and Tower Hamlets that we believe it is you who are working against the great British values of diversity and openness."