'Tremendous honour': Hackney cadets parade for head of British army at iconic Grocers' Hall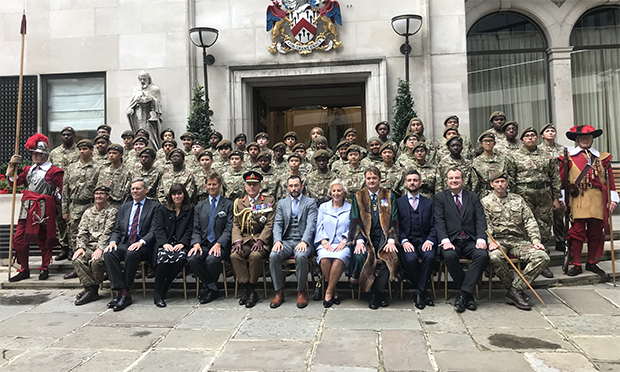 Young cadets from Hackney were afforded a rare honour this week as they performed for the head of the British armed forces at prestigious Grocers' Hall in central London.
A group of Year 8s and 9s from Mossbourne Community Academy and its sister school in Victoria Park paraded with the Coldstream Guards in front of General Nick Carter, Chief of the Defence Staff.
The occasion marked Mossbourne's initiation into the national Cadet Expansion Programme (CEP), launched by the government to fund new cadet units in state-funded schools.
The two academies joined the programme in 2018 thanks to cash from the Honorable Artillery Company, giving pupils the chance to benefit from a range of skills such as teamwork and discipline.
Mossbourne Federation's CEO Peter Hughes said: "It has been a tremendous honour for The Mossbourne Federation Combined Cadet Force contingent to have General Sir Nick Carter, GCB CBE DSO ADC Gen, Chief of the Defence Staff, as their very first Inspecting Officer and for the event to be held at the splendid Grocers' Hall.
"I would like to express my gratitude to the Inspecting Officer, the cadets, many of whom will not have experienced or seen anything like this before, the CFAV staff, the Honorable Artillery Company and The Worshipful Company of Grocers for making this event so memorable."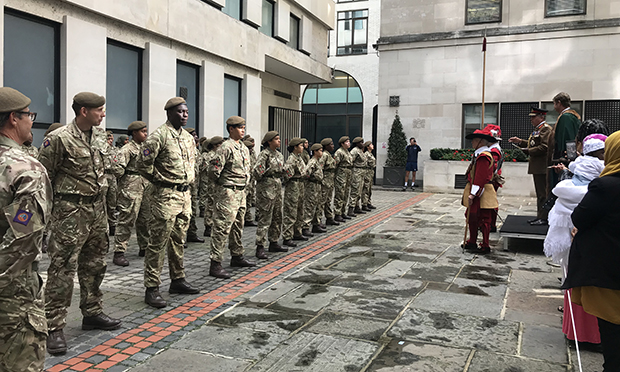 The cadets, all aged between 12 and 14, practiced for weeks after school to polish their drill routine and worked hard to ensure their uniform was well fitted and perfect for the big day.
Zaid Sabah, 13, from Dalston, said: "I was so nervous about the performance, but now that we've done it I'm so proud of myself and my fellow cadets. I can't wait to tell everyone about it!"
The group arrived at Grocers' Hall from Hackney a little bit ahead of time to familiarise themselves with the performance space.
Thirteen-year-old Aminat Animashaun, who lives in Lower Clapton, said: "The cadet scheme is so exciting and challenging. I would never have thought I would be doing something like the drill today or having afternoon tea in such a beautiful place. It's a great opportunity and I'm really enjoying it."
School Staff Instructor Kevin Hall, who has worked closely with the cadets over the past year to ready them for their first inspection, said: "I'm honoured to have been given this opportunity and so glad that the students have been able to perform in such a great place for their first drill inspection.
"I hope that this raises the profile of what we're doing here at Mossbourne and shows the importance of the Combined Cadet Force and the values it can instill in pupils.
"It's no secret that schools are struggling financially and so it's more important than ever to be able to host programmes like this so that our students can benefit from them."
Following the performance, the cadets joined General Carter and members of Mossbourne staff for afternoon tea at Grocers' Hall.
Update: this article was amended at 13:15 on Monday 30 September. General Carter's name is Nick rather than Nicholas, as it previously appeared, and Kevin Hall is the School Staff Instructor and not, as previously reported, the Borough Commander.