Moorfields Eye Hospital move to King's Cross backed by majority of staff and patients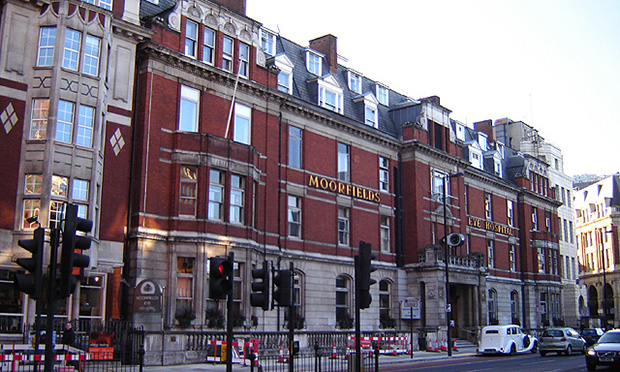 Overwhelmingly positive reactions from staff and patients have made the planned move of Moorfields Eye Hospital to a new site at King's Cross more and more likely.
A consultation of over 1,000 people carried out by the ophthalmology hub saw 73 per cent saying it should move, with 72 per cent agreeing that its destination should be a multi-million pound development on land that has become available on the site of St Pancras Hospital.
A final decision on whether and how the move should take place is expected by January of next year, with construction of the site starting in 2022 for a planned opening in 2025/6.
Consultant ophthalmic surgeon Nick Strouthidis said: "The hospital moved to Old Street in 1905, and the building was designed for the standards of Victorian doctors.
"There's been a great explosion in technology and surgical techniques that means it's a totally different kind of provision of care, and with an ageing population the demand for our services is increasing.
"One of the problems that patients face when they come to Old Street is dealing with very long waits and very confusing wayfinding. We are having to use workarounds to deliver 21st century care in a Victorian setting. We can't deliver groundbreaking changes in service because of those constraints."
Strouthidis added that part of the vision involved a wider opening up of Moorfields' science and research element, with patients able to "see and contribute to, take part and participate in" the science behind the institute.
Were the decision to go ahead, Moorfields would sell its current City Road site, with all proceeds of the sale to be reinvested back into the new centre.
In discussions over the plans at a meeting scrutinising health services across NE London, Cllr Yvonne Maxwell (Lab, Hoxton West) called it a "shame" that Moorfields had not written to every person using its services as part of the consultation.
The hospital, which provides eye health services to more than 750,000 people each year, responded that the process had been graded 'best practice' through its use of the Consultation Institute.
Also discussed at the meeting was the need to provide affordable housing for NHS workers as part of the new plans, as the health service continues to face a major recruitment crisis
Cllr Ben Hayhurst (Lab, Hackney Central) said: "I appreciate you have to make sums add up to build the new site, but to what extent was thought given to ensuring on development of new site there is some form of key worker housing?
"The NHS owns an awful lot of land, and there are significant recruitment retention problems. It seems that across the board opportunities need to be taken."
It was reported in April that NHS England had 39,148 nursing vacancies and 8,953 unfilled medical staff jobs including doctors, oncologists and paediatricians.
The plans are part of a wider scheme within North London in which mental health services at St Pancras Hospital would be moved to the Whittington Hospital.
Health bosses admitted in March that any decline in property values resulting from Brexit, resulting in the City Road building not being sold for the desired amount, could put the multimillion-pound project into question.
The relocation is projected to cost £400m, with £110m provided by central government and the rest from the sale of City Road and philanthropic donations.
Johanna Moss, Moorfields' director of strategy and business development, said in March: "The sales receipt from the City Road site is a significant part of the funding strategy for the proposed new building, so [a decline in property values resulting from Brexit] is up there on the top of our risk register.
"We'll be looking at affordability and what impact Brexit has or hasn't had on the land value."