'Raise the alarm': Hackney climate strikers take to the streets to demand change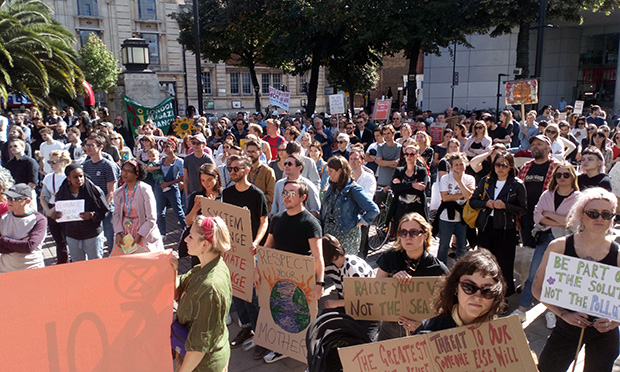 Bells, horns and sirens filled the air at Hackney Town Hall this afternoon when a crowd of climate school strikers and protesters 'raised the alarm' at the planet's continuing climate crisis.
The borough's central square was packed with banners, from 'Forget your exams, kids, the grown-ups ain't listening,' to 'We have to change faster than the climate', as well as many inspired by Swedish student activist Greta Thunberg's words, 'Our house is on fire.'
The crowd heard from political leaders, campaigners and union members, but central to the event were the school strikers themselves, with speakers of all ages taking the stand, from teenagers to some as young as six years old.
Dan, a climate striker from City Academy, said: "I'm scared of what my future will look like, and if it will be what I dreamed of as a child. I've come to accept the future of my generation will be drastically different to any in living memory.
"We should not need to be here. We should be in school, studying for our future. We should be looking forward to long, happy lives that are not threatened by a mass extinction.
"We are here because we are terrified, angry and impassioned. We will not stop until we have got what we came here for, and until our futures are what they are meant to be."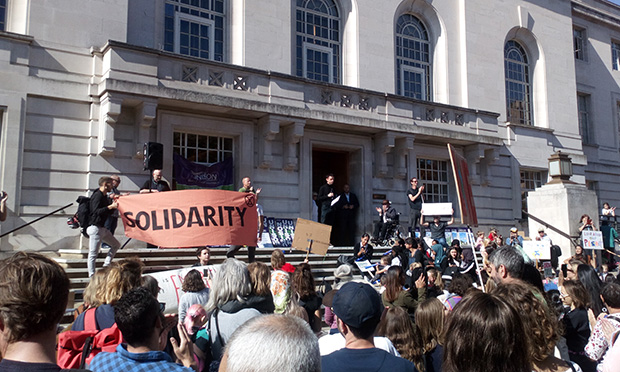 Another said: "We're from Daubeney. All of our animals could die, and we could die. We have to be careful. Earth will be a desert soon. It could blow away. Where would we live? We're only eight."
Following a countdown at 1 o'clock, the whole crowd raised the alarm with bells, horns, whistles and more.
The demonstration was a chance for Hackney's youth to call for collective action and societal change alongside representatives from groups including the Hackney branch of trade union UNISON, Sustainable Hackney, Hackney Labour Party, and the Woodcraft Folk.
Brian Debus, branch chair of Hackney UNISON, said: "All our futures are at a crossroads, and it's taken the actions of students for the horrors of climate change that threaten the very existence of mankind to hit the front pages of the mass media.
"We do have a choice, and that's not just to protest, but to bring about political change that puts the interests of the majority of the world's population before the interests of the major monopolies.
"We either continue with the anarchy of a failed capitalist economic system that protects the futures of the 1 per cent, or campaign for a society that puts the interests of the 99 per cent first. Planet before profit."
A 2018 report by the Intergovernmental Panel on Climate Change which warned of the catastrophic impact of global warming of 1.5 °C above pre-industrial levels, with temperatures at record highs across the world and deforestation in the Amazon accelerating.
Des Barrow, geography teacher at Clapton Girls' Academy and past president of Hackney National Education Union said: "I am sick and tired of having to teach my students about Hurricane Dorian sweeping through the Caribbean leaving a trail of destruction behind it when we live in a world of untold riches.
"They say there's no money for schools or solar panels or to transition to a green economy. We know they're lying, that money is there. We need to move this fight forward, and we need to be clear – there is not going to be a significant change with the current government of this country.
"We need system change, not climate change. Go back to your trade unions, and organise for the next one."
Richard Rieser of the Disabled People's Movements pointed out that disabled people are often forgotten in the environmental debate, saying: "When the effects of climate change hit, disabled people cannot run away. There are no plans in place to evacuate us. We are sacrificed on the wheel of climate change.
"This is a wake-up call to all those who rule the world. Stop being selfish and destructive to the peoples of the world. You want to be in power, you have to use that power now to save the world. If you don't do it, we will sweep you aside."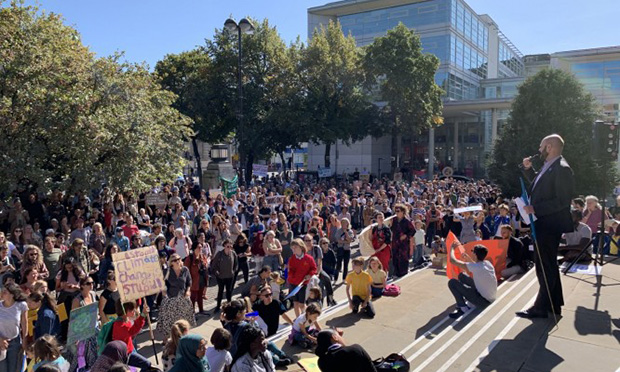 The borough's political leaders stood in solidarity with protesters, as Hackney Mayor Philip Glanville (Lab & Co-op) outlined what the council had done and would do on greener measures, in line with their demands.
Significantly, the Mayor promised the Town Hall would be rolling out "the largest new tree planting programme we've seen in a generation," as well as water fountains in every town centre in Hackney to make the borough more resilient to extremes of temperature.
The Town Hall declared a climate emergency in June, with plans to move to 100 per cent renewable energy across all council procurement from April next year.
Glanville added that the Town Hall was working to divest its pension fund from investment in fossil fuels, with activists from Hackney Divest recently pressuring Hackney Council to end its carbon investment faster, and entirely.
The Hackney Mayor said: "I know that we don't welcome you to this square – you take this square for activism like this. This has been a grassroots movement built by young people.
"The trade union movement, the young people and activists in Hackney have brought this square to life in a way that I haven't seen in recent years. THis is the largest protest in the Town Hall Square around climate action, and I am incredibly proud of what has been achieved here today.
"There are lots of council officers, school teachers and union members here in this square, and they're delivering a real difference. It's not about me coming out on the Town Hall steps and saying what I'm doing, I'm channelling what they're doing to make a difference to this borough with you.
"Keep up the activism. We have to win this fight."
Deputy Mayor Anntoinette Bramble added: "This is what the Town Hall is about. There is no room to move, and that's great, and it's mixed faces, cultures, backgrounds, old, young, babies in buggies, everyone is saying we need to come together and do something different."
One six-year-old stood alongside her mother, as the crowd heard she had gone to see her headteacher to let them know that "the whole school should be striking today."
Though too shy to speak, she told her parent to ask the crowd: "The Earth is taking care of us. Why are we not taking care of the Earth?"