Businesses and unions demand an end to council's fossil fuel investment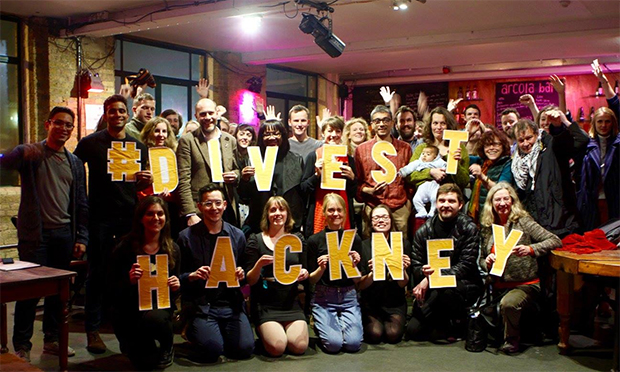 A host of Hackney businesses and unions are calling for an end to investment in fossil fuels by the council's pension fund.
Campaign group Divest Hackney's February open letter calling for 100 per cent divestment in 2019 has now attracted 57 signatories from businesses including the Arcola Theatre, Grow Hackney, and the Green Schools Project.
The Town Hall committed to 50 per cent divestment of the over £1.5bn fund in 2017, and has so far invested around £150m in assets in Blackrock's Low Carbon Target Fund and £195m in RBC GAM's Global Sustainable Equity strategy.
Hackney's pensions committee has also invested £160m in the private debt of mid-size companies, a strategy aimed at reducing exposure to multinational fossil fuel companies.
Henry Greenwood, founder of the Green Schools Project, said: "We need fossil fuels to not be being used at all, so those companies can't be a good long-term investment. It makes no sense to me that any pensions money is invested in an industry that has to disappear."
Reuben Jacobs, co-founder of Grow Hackney, said: "We should demand that our council is not profiting from, and financially supporting, the wanton destruction of our planet. We call on LB Hackney to be a leader in the fight for our future and to continue the ingenuity and creativity that this area has long been known for."
Glyn Harries, joint UNISON branch secretary, added: "Pension funds are obviously of massive importance to all our members, but we voted to support Divest Hackney as it's also clear that climate change is of massive importance too. We believe that our pension contributions should not be invested in companies that are damaging all of our futures."
Cllr Robert Chapman, Hackney's pensions committee chair, said in February that "the [climate] situation is much more serious than it was when we took our original position and at this stage nothing is off the table", adding that the council's fiduciary duty outweighed strictly "political and moral" concerns.
Divest Hackney said: "We hope that the council will listen to not just us, but all the people of Hackney who have signed the letter and move their money out of climate wrecking energy companies like BP and Shell."
The council were approached for comment but had not responded by time of going to press.