Macbeth of Hoxton avoids closure in 'compromise' with residents over noise complaints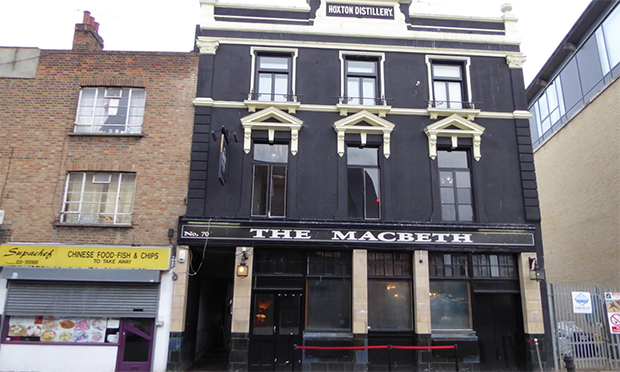 A popular Hoxton music and arts venue has avoided a costly suspension of its licence, following noise complaints from residents and council concerns over "poor management".
Hackney Council called the Macbeth on Hoxton Street into a 3 September crisis meeting at the Town Hall, with an accompanying threat to pull back its opening hours to 11pm on the weekends.
The pub has seen an outpouring of support since the review was announced, with around 120 people writing in to avert such an outcome, which would have seen the end of the grassroots music venue which has hosted acts such as The Horrors, Gallows, Plan B, Peter Doherty and Damian Marley.
The pub has now tweaked its operating hours, including pulling back its Monday-Wednesday closing time from 1am to midnight, has made a commitment to regulate its outside area more tightly, and will be holding regular community update meetings where residents will be able to raise any issues.
Speaking after the decision, owner Mark Robinson said: "A compromise was made, and I hope they're happy with it. Every minute counts in retail.
"We'd all like to go home early, but we just can't, because the economic climate is very, very difficult now, and you need all the hours you can get.
"The pressures of opening post-11pm mean you are constantly under threat from the authorities, and every minute you are, you're hugely aware of it, and you do everything you can to sort it out.
"For thirteen years, we have been making sure to steward the premises as potential nuisance to our neighbours is a constant concern, and we're really disappointed that it's ended up in a review situation."
Robinson added that the Macbeth's future remained under threat, with the loss of specific event days in which the pub could remain open till 3am meaning a potential cost to his business of tens of thousands of pounds.
The council had received three official complaints from neighbours on antisocial behaviour from customers outside the pub, with one resident, an employee of the Town Hall's street team, saying that he was losing work due to lack of sleep caused by the pub.
Hoxton Street residents calling for the review of the Macbeth's licence were represented by Alice White, curator of Peer Gallery on Hoxton Street.
White said: "I became implicated when we were working on an art project in the flats opposite the Macbeth.
"Residents living opposite the Macbeth have been victim to people coming out and defecating, urinating and having sex outside [residents'] kitchen windows.
"I work in arts and culture. Don't get me wrong, I don't want to see live music venues being shut down, but they have to respect the people who live there.
"They feel disempowered, and this is people's livelihoods. Something needs to change. I'm not saying it should be shut down, but people need to be working together."
Another resident said: "I have to sit up till half past three till the noise goes down. I should be living a quiet life, not listening to their bloody rubbish."
The Macbeth's licence review also saw an intervention from Night Czar Amy Lamé, who has previously faced criticism in the national media for not doing enough to oppose licensing restrictions imposed by Hackney Council last year.
Night Czar representative Paul Broadhurst said: "We take an interest in the critical loss of grassroots music venues across London, which has seen a 33 per cent decrease over the last ten years.
"The Macbeth is a venue we've categorised as a grassroots venue, and there are currently only 94 in London. It really is on a knife-edge.
"Music venues have a very limited time window to bring in revenue, just a few hours in the evening, so operating hours are really important."
Councillors on the licensing committee responded to Broadhurst that the concerns around the Macbeth remained "management concerns", including nuisance to neighbours.
Cllr Peter Snell (Lab, Dalston), who chaired the committee, said: "This is an issue that should have been sorted out a few years ago, and I hope this does genuinely represent a new leaf.
"Concerns raised by licensing officers have been adequately addressed by management changes and improvements.
"We do feel that those management changes and the changes in timing should address the main concerns which have been raised by residents, but we're not happy about the way this has gone on.
"If this needs to come back for another review in the next year or two, then we're obviously going to take a very dim view of it. We're giving you an extra opportunity here, and we expect much better liaison with our officers and residents in the future."